Basic Stats & Multiples

Company History
OmniVision Technologies Inc. (NASDAQ:OVTI) was incorporated in 2000, and though share price has been volatile in nature, the company has shown steady growth. The company has an impressive history of innovation through the past 12 years:
2002 - The first mobile handset camera accessory
2004 - The first 1.3MP & 2MP for mobile phones
2005 - Acquisition of WLO
2006 - The creation of the world's smallest NTSC camera
2007 - The first automotive HDR-SOC sensor launched
2008 - OmniBSI architecture launched
2010 - OmniBSI-2 pixel technology launched
2011 - Kodak patents acquired
2013 - PureCel CMOS image sensors launched
(company site)
OmniVision now primarily designs and produces image sensor devices, namely the CameraChip. These have a variety of applications, but are primarily used in mobile phone, tablet, notebooks, automotive, security, and LCoS end markets. Mobile phone end markets compose the majority of revenues, following with entertainment (tablets), notebook/webcams, and emerging markets.
PureCel is regarded as the best in class 1080p HD video to front-facing cameras in smartphones, tablets, and notebooks.
Q1 2015 Summary
Revenues: $406.5MM, an increase of 22.8% sequentially and 8.8% year-over-year, beating consensus of $381.5M
EPS (diluted): $0.91, handily beating Wall Street's estimate of $0.52, Q4 2014's $0.40
Gross Margin: 21.7%, an increase from 20.1% of Q4 2014. According to CFO Anson Chan,
Our gross margin improvement was primarily the result of favorable mix shift towards our high resolution products, a portion of which was represented by our newer and high margin PureCel sensors.
Growth is occurring in the value and mainstream markets, but competition is intense. Management retained a cautious, but optimistic outlook regarding gross margins heading into the second half of fiscal 2015.
Management also mentioned that they were offered to be bought out by Chinese based investment group Hua Capital for $29/share. No other details about this offer were given. This news initially broke August 14th. The $29/share offer translates to a $1.7B valuation. Shares of OVTI after hours 8/28/14 traded at a $1.56B valuation. I believe another offer could be in the works. Given the latest earnings release, I wouldn't be surprised to see an offer in the region of $34-$35.
Operating Margin: 10% - the highest in the last two years. Management stressed their focus on cost control and its contribution here.
EBITDA: $33.7M vs. $18.3M Q4 2014
Net Income: $45.3M vs. $15.1M Q4 2014
Cash and Short term investments: $524.2M vs. $450.9M Q4 2014, $212.3M Q4 2013
Ray Cisneros - VP Worldwide Sales, reflected an interest for their products in the automotive markets
Well in regards to the automotive segment it's one of our favorite segment[s] to talk about, I'm not going to comment too much about our competition, I can only tell you what we can do and what we have, I can tell you that our roadmap in regards to automotive is in many - in the eyes of many customers and we're talking about very high-end Tier-1 OEM customers that use our parts today as well as plan to use our parts in the future with socket designs, we have one recently. Our product roadmap is extremely advanced and highly regarded in the marketplace and we could point to a variety of very key strong OEM customers in Europe that have forged our business in the automotive segment and now we've seen extremely fast and big success in the discreet market. We've got in roads into the Japan market as well, so overall we are extremely pleased with our position and given our roadmap and roadmap we have today have publicly announce and in the future what we will be announcing. We feel our position in the automotive market is very strong for both imaging as well as machine vision type of the applications.
Competitive Advantage & Growth Prospects
As of the most recent data I could find (June 2013), OmniVision held 30% of all global CMOS image sensor unit shipments. This is simply because of the superiority of the technology in these chips. In size, power consumption, cost, and ease of design, no other manufacturer comes close.
The company holds several large, but diverse customers that will drive demand and thus revenues going forward. According to the most recent 10K, Foxconn Technology (OTC:FXCOF) (iPhone, iPad, Xbox, Playstation, Wii U…) and Cowell Electronics (rear guide cameras, vehicle image systems, security systems…) accounted for 13.8% and 12.5% of revenues. World Peace Industrial accounted for 11% of revenues. No other OEM, VAR, or distributor accounted for 10% or more of FY2014 revenues. This diversity is a good sign for OmniVision. Although I don't foresee it happening, if a customer was lost, the company would not be lost with it. Additionally, if one area of the globe is undergoing turmoil, the company should be able to make up for it in other regions.
Not only are its customers growing and therefore driving demand higher, but the emerging markets are expanding as well. As was seen in management's outlook for Q2 2015, the automotive outlook is bright. Parent company of Subaru, Fuji Heavy Industries (OTCPK:FUJHY), have integrated rear backup cameras into every new 2015 automobile produced. Additionally, their EyeSight safety system is an option more and more customers are opting for. This trend isn't just for Subaru however; Ford (NYSE:F), Chevrolet, Honda (NYSE:HMC), Nissan (OTCPK:NSANF), and every major car manufacturer is doing the same due to legislation passed in April.
Outside of automotive, the company is consistently finding new applications for their technology; including 3-D computer vision, gesture control, RGB-infraRed vs. RGB, and a Rolling vs. Global Shutter.
Liquid Crystal on Silicon, using all digital technology, offers 720p HD video that can be applied to projection systems in wearable electronics, mobile displays, pico projection, and automotive and medical applications. As we see more and more technology develop such as Google Glass, and more recently Samsung's (OTC:SSNLF) various smartwatches, the demand for LCOS chips will no doubt increase. Given OVTI's existing contracts and position in its markets, they will be able to capitalize on this demand.
Management has shown over the years that they have the ability to adapt and change to market demands, and the next 2-5 years we should see more diversification as far as product offerings to changes occurring in end markets both within existing markets and in emerging markets.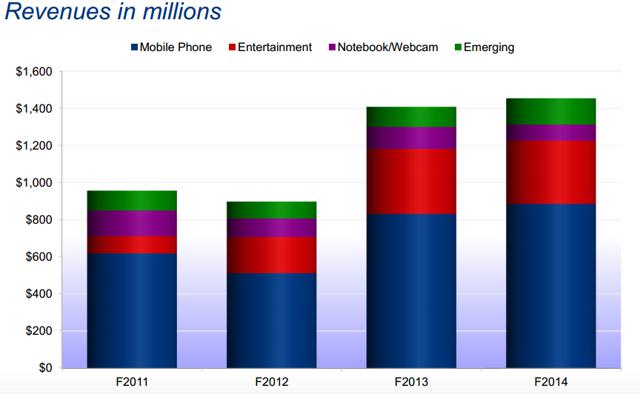 (company presentation)
Valuation & Comparison to Peers
As many of you reading have heard, Warren Buffett said "It's far better to buy a wonderful company at a fair price than a fair company at a wonderful price." As with any equity, if market value is more than fair value, the security shouldn't be purchased at that time. I don't believe however, that OmniVision's current share price prices in its growth potential.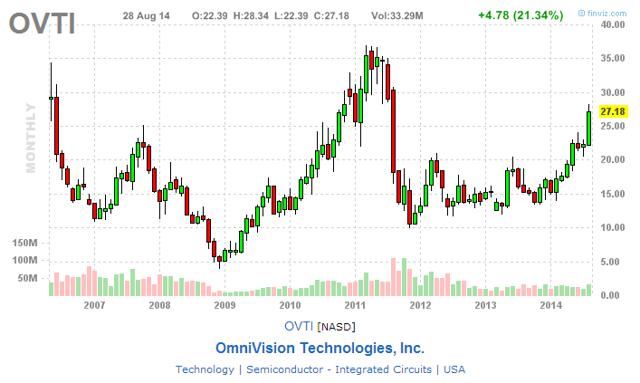 OmniVision has a P/E ratio of about 16. As shown by the charts below, it has held at that ratio for almost the past two years, despite a steady rise in share price over that same time.

Debt to equity has decreased steadily over time since 2010, adding value for shareholders.

(ycharts)
Additionally, gross margins as well as cash have shown steady growth over the last 8 quarters, and Q1 2015 was no exception, coming in at 21.7% gross margins and $524.2M in cash.
The spreadsheet shown below lists the top 26 companies in the Integrated Circuits industry by market cap. I used conditional formatting to compare these companies to OmniVision. For P/E, Debt/Equity, Price/Book, and Price/FreeCashFlow, those companies with higher ratios were highlighted. For ROE and Net Profit Margin, those companies with lower values were highlighted. As you can see, although some companies can claim one or more ratios/metrics are more desirable than OmniVision's, no one company can lay claim to beating OmniVision in every one of these six common metrics. I would argue that P/E is the most important ratio in valuing a company (after considering growth prospects, competitive landscape, etc.), and we can see here that although some come very close, no one else beats OmniVision in share value as measured by P/E. The P/E will in all likelihood rise slightly after hours and on 8/29/14, but I see no reason why this isn't justified given competitive landscape and the company's growth prospects.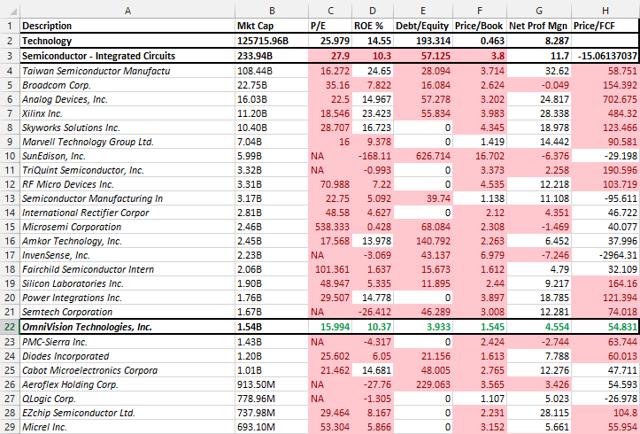 (Data via Yahoo! Finance)
Concerns
Diminishing margins - although margins have steadily grown over the years, pressure from competition will force OVTI to continue to innovate at a pace that will keep these margins growing, as newer product mixes provide higher margins. On the income statement we can see that management has committed to devoting more and more capital to R&D. (Left to right - annual data 2010-2014). This R&D expense has been in line with new product offerings which have driven margins upward, but the concern is still relevant given the nature of the industry.

(MarketWatch)
United States sales - US sales have declined, driven by decreased margins in the mobile markets, but overall sales have increased as the company sees growth in Chinese and Indian markets. The diminishing US sales are both a concern and an opportunity. Customers abroad will easily make up for the US, but the iPhone 6 as well as the increase in mobile wearable technology provides an opportunity to make these revenues up.
Conclusion
As I wrote on Skyworks Solutions (NASDAQ:SWKS) in May, OmniVision Technologies is one more company in prime positioning to capture additional value from the emerging sensor-based technology markets. Since its publishing May 12, Skyworks's share price has increased 34.32% from 36.20 to 55.54. Consequently, its P/E ratio has risen accordingly to reflect its strong growth prospects.


(ycharts)
I expect that OVTI will act in the same way. We have already seen a jump in share price due to the strong results of Q1 2015 and outlook of Q2 2015, but it's not too late to load some shares.
Disclosure: The author has no positions in any stocks mentioned, and no plans to initiate any positions within the next 72 hours.
The author wrote this article themselves, and it expresses their own opinions. The author is not receiving compensation for it (other than from Seeking Alpha). The author has no business relationship with any company whose stock is mentioned in this article.