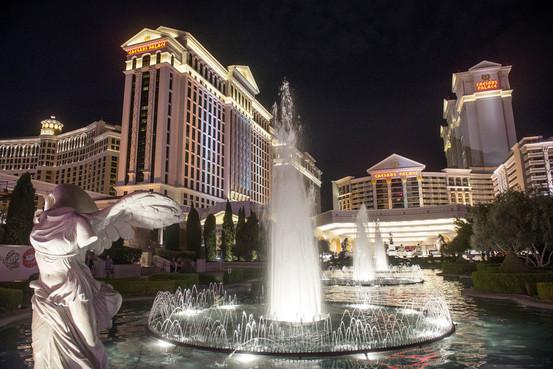 Picture: Caesars Palace Casino in Las Vegas
Given over $20 billion in long-term debt and flat to declining EBITDA, Caesars Entertainment Corporation (NASDAQ:CZR) was in deep trouble heading into its Q2 earnings. The company owns, operates and manages over 50 casinos in over 13 states and five countries. Its 39 casinos in the U.S. are primarily land-based, riverboat and dockside casinos. However, it has been unable to enter the Maucau market which has been a boon to competitors like Las Vegas Sands (NYSE:LVS), Wynn Resorts (NASDAQ:WYNN), and MGM Resorts (NYSE:MGM).
Analysts were expecting Q2 revenue of $2.22 billion, and loss per share of $1.19. However, Caesars delivered revenue of $2.19 billion and a loss per share of $3.24. On August 12th the stock dropped 7% from $13.67 to $12.78 immediately after earnings. The company was acquired in a leveraged buyout in 2008 at the height of the financial crisis for $6 billion in cash and $22 billion in debt. Debt holders have renegotiated financing packages to keep the company afloat. On August 14th Caesars reached an agreement with first-lien bondholders to facilitate negotiations with the holders of those notes to avoid default. The news buoyed the stock and it now trades at $13.41 per share - near its pre-earnings price. It all begs the question, "How much is Caesars worth today?" Based on a multiple of EBITDA through last 12 months ended June 30, 2014 ("LTM0614), Caesars' stock is worthless.
Below are the company's historical operating results: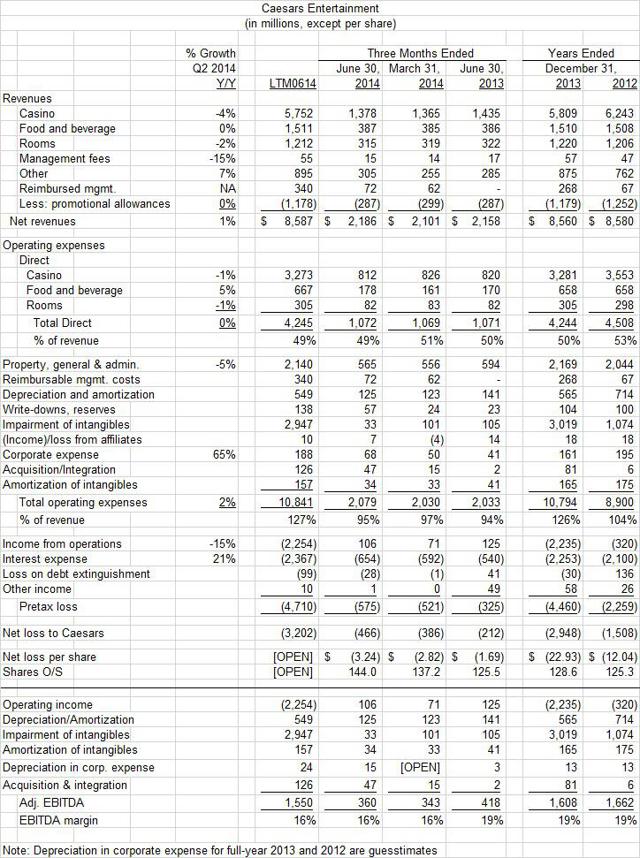 Q2 2014 revenue of $2.2 billion was flat Y/Y. "Other revenue" which includes online revenue, grew 7% Y/Y.
LTM0614 revenue of $8.6 billion was also flat versus full year 2013 and 2012.
LTM0614 EBITDA of $1.6 billion was flat to declining versus the $1.6 billion and $1.7 billion reported in 2013 and 2012, respectively.
Q2 2014 interest expense of $654 million dwarfed operating income of $106 million. Caesars' operating income has been unable to cover its interest expense for the past few years. The company's long-term debt at the end of the quarter was $24.2 billion.
Valuation
Caesars' LTM0614 adjusted EBITDA was $1.6 billion. Given the company's flat growth in revenue and EBITDA, brand name and defensible market presence, I applied a multiple of 8x - 10x to adjusted EBITDA; the company's debt alone is 16x LTM0614 adjusted EBITDA. Its enterprise value of $12.4 - $15.5 billion is not high enough to cover its $24.2 billion debt. That said, Caesars is worth $0 per share. The valuation methodology is below: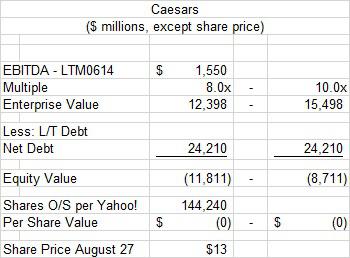 Conclusion
Caesars' long-term debt of $24 billion, largely leftover from a 2008 busted LBO, is about 16x LTM0614 EBITDA. At 8x - 10x LTM0614 EBITDA, the company's enterprise value of $12 - $15 billion is less than its debt load. Caesars' stock is worthless. I am currently short the stock.
Disclosure: The author is short CZR.
The author wrote this article themselves, and it expresses their own opinions. The author is not receiving compensation for it (other than from Seeking Alpha). The author has no business relationship with any company whose stock is mentioned in this article.