I am beginning to understand why they call this time of the year the dog days of summer and a good portion of Wall Street is already in the Hamptons about to enjoy a nice long holiday weekend on the beach. Trading volumes are anemic and equity bargains are getting harder to harder to find after what will go down as the best August in the market in 14 years.
Although I am not sanguine on the market over the next few months, I am still confident in the core positions within my portfolio. One of these I have not talked about for quite a while is a construction firm named Tutor Perini (NYSE:TPC). I have not done a solo article on this attractive equity for about a year.
This oversight is not a comment on Tutor Perini's performance over that time frame, as it has produced outstanding returns. Nor it is very excusable since I am woken up every morning by a Tutor Perini construction crew at 6am putting at in an 80 story condo complex behind my building on Brickell Bay here in Miami.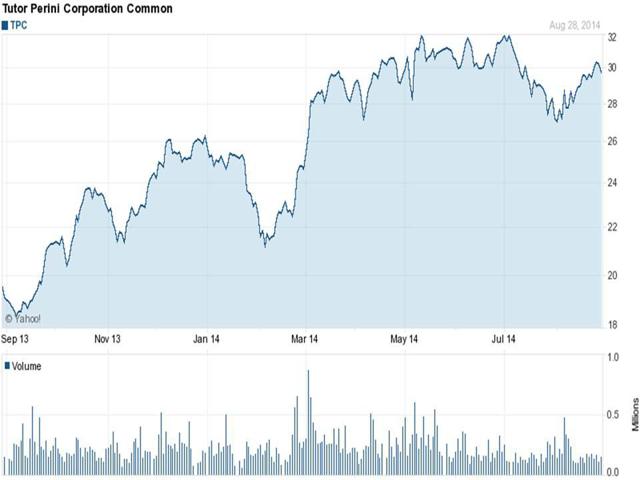 Despite the outstanding performance of these shares, they are still more than reasonably priced given their continued growth prospects.
Company Overview:
Tutor Perini Corporation is a leading civil and building construction company offering diversified general contracting and design/build services to private clients and public agencies throughout the world. The company was founded more than 100 years ago and has a market capitalization of just over $1.4 billion and an enterprise value including debt of over $2.1 billion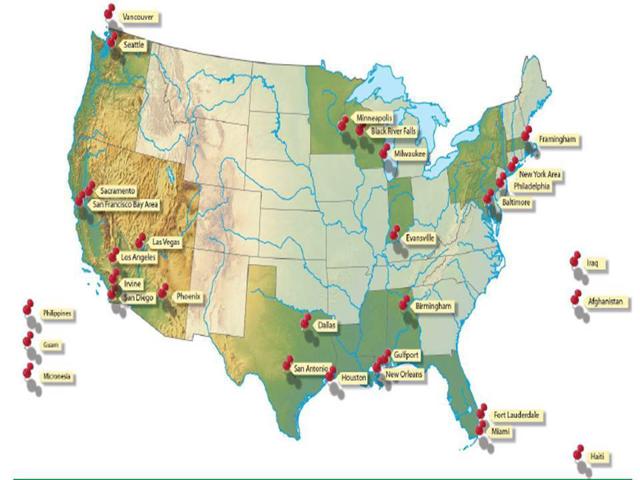 The company has done a fantastic job of diversifying its income streams over the past half dozen years with come from civil, building and specialty building segments. This lowers the risk of exposure to a downturn of any one segment of the market. It has also resulted in a current order backlog of ~$7.8 billion, the highest the company has sported since the onset of the financial crisis.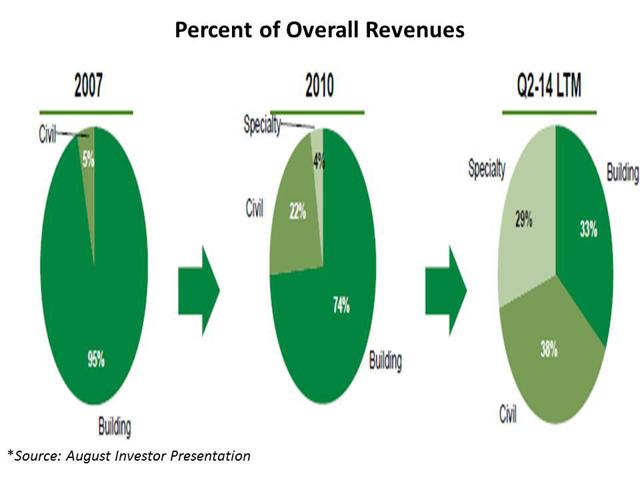 Growth & Valuation:
Earnings are tracking to post year-over-year gains of over ~20% in 2014 on back of a ~10% increase in revenues. Growth should accelerate in 2015 due to ongoing projects and the company's order backlog. The consensus currently calls for 25% to 30% year-over-year earnings gains on a 15% to 18% increase in sales. Even with the stock's rally over the past year, TPC is selling at just ~10 times next year's projected earnings. This is a 30% to 35% discount to the overall market multiple, even as Tutor Perini is posting faster earnings and revenue growth than the S&P.
Analyst Commentary & Summary:
The stock sells for just under $30 a share currently. Only four analysts cover this construction firm and they have price targets ranging from $35 to $42 a share on Tutor Perini. Given the valuation levels of the market, this construction play still seems undervalued given its growth prospects. I will add to my position on any significant pull back in the overall market. ACCUMULATE
Disclosure: The author is long TPC.
The author wrote this article themselves, and it expresses their own opinions. The author is not receiving compensation for it (other than from Seeking Alpha). The author has no business relationship with any company whose stock is mentioned in this article.