On July 31, 2014, World Wrestling Entertainment, Inc. (NYSE:WWE) reported 2Q14 earnings and provided some important updates. We see the updates and events since the earnings report as an inflection point in the story. Previously, management provided 2014 guidance on May 15, 2014 that was not well received. Net income guidance for a loss of $45 - $52 million in 2014 was below analysts' consensus of -$17 million, but the company did try to improve the picture by providing 2015 guidance that bookended the consensus forecast of $76 million. The effort was unsuccessful, and the stock sold off by 43%. The reduced guidance for 2014 was largely based on higher than expected costs associated with the WWE Network, which we discuss later. Management seemed unconcerned with the magnitude of the ongoing investment behind the WWE Network rollout, and the Street did not like that.
2Q14 Earnings Release and Management Comments were Positive
In that context, management comments and 2Q14 results were positive. Below is a quick summary of results from the quarter, with sales up 3% and OIBDA (operating income before depreciation and amortization) down to a loss of $14.6 million from a gain of $14.9 million in the same quarter a year ago. COGS and SG&A were up by 26% and 21.5% versus 2Q13 due to the rollout of the WWE Network. Accordingly, the margin in the Media Segment crashed to 6.58% from 26%.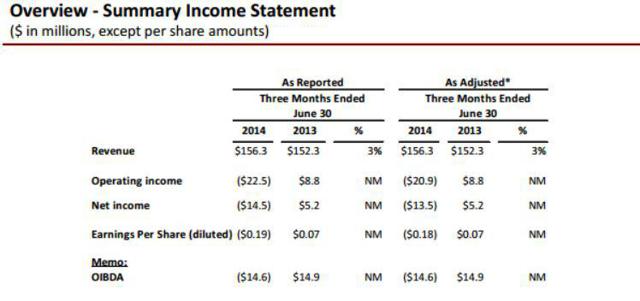 Source: 2Q WWE Earnings Presentation
EPS of -$0.18 beat analysts' consensus of -$0.21 but that is not the whole story. Management introduced a plan for staff reductions and cost cutting that would impact earnings in the second half of 2014, but especially benefit them in 2015. In the earlier guidance from May and subsequent management commentary at a June conference, the Street came to view WWE as going all in on the WWE Network that it would sacrifice cash flow and possibly its $0.12 per share dividend through aggressively investing in the domestic and international rollout.
The cost cuts are significant for WWE. Management included a 7% staff reduction in its plan, which should generate annual savings of $30 million in 2015. Given that costs were up by $60 million, this can make a substantial dent. In addition, it will cut another $10 million in costs elsewhere for annualized savings of $40 million total or an EPS impact of ~$0.45 - $0.55.
WWE Network Expansion Key to Future
Strategically, the company does have a lot riding on the WWE Network. The WWE Network was launched in February 2014 with 24/7 content. It is distributed through online devices (laptops, tablets, mobile phones, etc.) similar to Netflix. It has both on demand and live content for $9.99 per month and requires a 6-month contract. It is not currently available through satellite or cable providers.
Management sees this as the future. It has bet on it knowing it will hurt earnings in the near term through the investment necessary but also by cannibalizing its pay-per-view sales (PPV). It typically hosts twelve events per year on PPV, but it has made those available over the WWE Network. However, it sees higher subscription rates offsetting this lost revenue over time. Management estimates that 1.3 - 1.4 million subscribers would completely offset all profits from its PPV sales. It is noteworthy that PPV sales will not likely go to $0.
It had 700,000 subscribers at the end of the quarter, up from 667,000 as of WrestleMania on April 16, 2014. That included 161,000 new subscribers and 128,000 cancellations. In 2013, 38% of PPV purchases were international, an important dynamic as WWE offers the WWE Network internationally.
The rollout of the WWE Network has accounted for the shift from profitability to a loss. Management has invested in both programming, marketing, and other areas. Some of this is for one-time costs and as the subscriber base grows, the costs do not since they are largely fixed. A reasonable goal for 2015 is 1,000,000 by year-end. The following table provided by management shows the impact on OIBDA.

Source: 2Q WWE Earnings Presentation
WWE has moved up its international rollout plans, which should accelerate subscriber growth. Initially, it planned to offer its WWE Network in a host of languages to best attract international subscribers. That was slated for a slow implementation starting in the second half of 2014. However, instead of developing content in the native languages, management has decided to rollout 170 countries beginning August 12, 2014. This is less expensive than creating content for each country and allow for a quicker rollout. It will impact earnings in coming months and could provide upside to 3Q14 estimates. To give some scale to the size of the opportunity, for PPV events almost 40% of purchases were international. The rollout will accelerate subscriber growth and also avoid a huge cost of creating programming and customer service in multiple languages. Another sign management has shifted to being more cost conscience.
Additionally, it has changed its authentication to allow only one log-in at a time. We estimate up to 30% of logins are shared, especially for special events. This change in policy should lead to additional subscriber growth in the second half of 2014.
Balance Sheet and Cash Position Remain Strong
Despite its aggressive spend on the WWE Network, the balance sheet is in good shape. WWE has a debt to total capitalization rate of 11% at the end of 2Q14. It has $79 million in cash on hand, down from $109 million at the end of 2013. The decrease in cash should slow, and FCF is still positive at $2.7 million in 2Q14.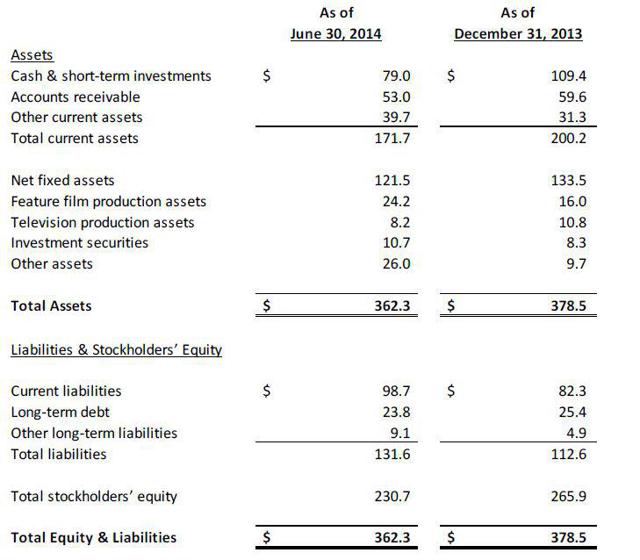 Source: SEC Filings
Earnings Turn Around in 2015
For analysts, the biggest focus for WWE is based on the ability of management to execute on their plans for the WWE Network and cost cuts. Current Thomson consensus is for a loss of $0.55 in 2014 but for a jump to $0.66 in 2015. This is based on sales growth of 9% and 28% in 2014 and 2015, respectively.
The range is very wide and leaves a lot of room for upside. The current analyst low is $0.34 and the high is $1.28. As we noted earlier, the staff and cost cuts alone are worth around $0.50 in earnings. Additionally, the earlier chart includes management estimates on OIBDA based on the number of subscribers.
The WWE is popular in international markets and that should drive subscriptions upwards. In 2013, emerging markets accounted for 22% of revenues. The following chart provides some insight into its foreign viewership.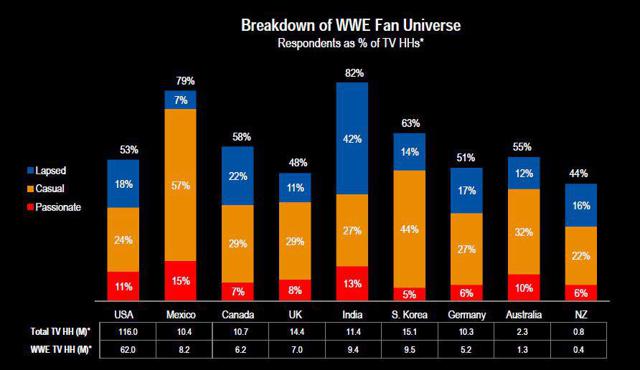 New TV Content Deals will Grow Sales
Management expects new deals in 2014 and 2015 will generate an additional $92 million in sales, up from $108 million annual (as of June 2014). As a reminder, 2013 total sales were $508 million. These new content agreements will contribute to earnings growth for WWE.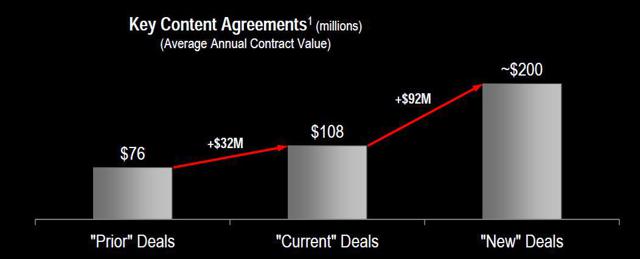 While we have focused on the impact of WWE Network, the core business is still intact and healthy. As the one-time impact from expenses associated with the rollout of the WWE Network wane, earnings will recover. Timing is the biggest question. Consensus for 2016 is currently $1.03 with significantly less variance in estimates.
In our view, the continued strength in viewership and WWE's popularity will lead to an earnings rebound. That makes the story less risky in our eyes compared to a media company that was facing challenges of declining viewership. The primary risk here is the success of WWE Network and making that portion of the company profitable.
Valuation
Based on these estimates, the stock is not expensive. Excluding the recent P/E ratios from after 2012, since they are abnormally high, we get a typical range of 18x - 22x.
| | | | |
| --- | --- | --- | --- |
| | 2014 | 2015 | 2016 |
| EPS | -0.55 | $0.66 | $1.03 |
| P/E | NA | 21.9x | 14.0x |
The stock is trading at the upper end of the range, which it should since it is still in the very early innings of an earnings recovery and cost cutting measures. There is an additional upside to estimates if WWE Network subscriptions can hit 1,000,000 million by the end of 2014 and management cuts costs. If estimates come close to $1.00 in 2015, still within the range of current estimates, the stock should rise to a range of $18-$22 based on its historic P/E ratios.
Conclusion
While the stock is up 21% since July 30, 2014, there is still more upside to the shares. The risk reward remains attractive. We view the downside limited to the $11-$12 range based on 22x the low end expectation for 2014 earnings (multiples are higher when earnings are at cyclical lows). The upside to the stock over the next twelve months is in the $18 - $22 range. The new network agreements (+$92M in sales), cost cutting, and additional WWE Network subscribers combined could drive a ~$1.50 per share in earnings resulting in EPS of about $1.00 (FY14 consensus for an EPS loss of $0.55).