Company Overview
IAMGOLD Corporation (NYSE:IAG) is a Toronto-based mining company, which focuses on the exploration, development, and refinement of gold and niobium. The company produces nearly one million ounces of gold at an all-in cost around $1,140/oz. as well as 4.7 million kilograms of niobium with a $15 profit margin per kilogram.
Recently, the company's stock price has suffered due to a number of adverse trends in the market, declining from its 2011 high of $21 to the current price (article written August 18th, 2014) of $3.99.
A sharp decline in the price of gold from $1,800 to $1,300 narrowed the company's margins. This was especially damaging to IAG, which currently has a relatively high cost of production.
The decline in profit margins also forced IAG to report asset impairment expenses of $888M last year, further driving down the company's stock price.
The market also reacted negatively to the decision to discontinue dividends in order to preserve liquidity needs.
Despite the market's pessimistic outlook, IAMGOLD enjoys a strong management team and attractive growth prospects. The company has taken measured actions to reduce their cash cost of production. Further, it has plans in place to diversify its mine portfolio by focusing on development projects in Canada which will decrease its all-in sustaining cost (AISC) in the process. IAMGOLD also enjoys a unique position among gold miners due to its considerable stake in niobium mining.
We believe that the company is undervalued because the market has overreacted to IAMGOLD's financial situation. The current price is one at which the company has tremendous upside potential with limited risk.
2013 Mine Production: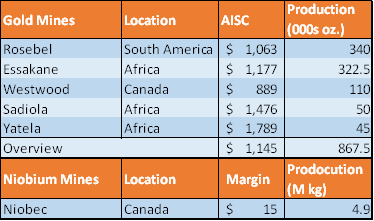 (Source: Company Filings; table created by author)
Thesis Point 1: Market is too pessimistic about IAMGOLD's financial position
Liquidity
IAMGOLD is in a good enough financial position to ride out a depressed gold price for multiple years. IAMGOLD's quick ratio is 1.0 which is equal to the industry average of 1.0. IAMGOLD's current ratio is 2.90 which is much higher than the industry average of 1.9. The debt to capital ratio is 18.7% which is lower than the industry average of 28.5%. In addition, IAMGOLD has a lower debt to market cap than similarly sized gold mining companies. IAMGOLD does not have to repay principal on its bonds ($650M) until October 2020. One of the many concerns currently apparent in the gold mining industry is the difficulty in accessing capital markets during periods of prolonged low gold prices. Without the capital, gold mining companies are not able to participate in enough exploration/development projects to maintain cash flows. In 2012, IAMGOLD renewed a revolving credit facility that uses a floating interest rate. This credit facility gives IAMGOLD access to a maximum of $750M for any corporate, operating, development, or acquisition expenses. IAMGOLD has not drawn any capital so far from the credit facility. The indebtedness of this credit facility is due in full on February 22, 2016. The term can be extended as long as more than two thirds of the financiers agree, which is probable considering the amount assets in relation to debts. We believe that this option will allow IAMGOLD enough flexibility to endure a depleted gold price and will allow it to pursue development projects that are strategically advantageous.
Cost Cutting Program
In response to declining gold prices, IAMGOLD launched a cost reduction program in the beginning of 2013 in order to improve their financial position. The original program called for $100M in cost reductions which was made up of a reduction of $54M in mine operation costs, a $40M in exploration expenditures, and a $6M in SG&A expenses. IAMGOLD was able to exceed its goal by 25% resulting in a total cost reduction of $125M which was made up of a reduction of $75M in mine operating costs, $41M in exploration costs, and $9M in SG&A costs. IAMGOLD also used to have a 6% dividend in 2011 through 2012. However, in order to have enough liquidity the company decided to halt all dividend payments until gold prices improve. The company has also forecasted CAPEX to be around $400M for 2014, which is a 40% reduction from 2013.
The management has said that they will continue to look for further opportunities to reduce costs and improve the efficiency of its business processes and systems. They believe that there is opportunity in optimizing its asset portfolio through further evaluation of Life of Mine (LOM) plans and the efficient allocation of capital and human resources.
The operating cost reductions as well as the decision related to dividends show IAMGOLD's ability to adapt to a changing and volatile gold price. We believe it also shows that IAMGOLD's management team is committed to having a stable financial position which is important, especially if gold prices remain unstable. The company has been steadily delivering results in reducing costs. In the latest earnings call, IAMGOLD reported that they were able to reduce AISC down to $1,136/oz.
Diversification
IAG is unique in that it also mines niobium, diversifying its revenue streams beyond gold. Niobium is an industrial mineral used to reinforce and reduce the weight of steel. It is primarily used in large infrastructure projects such as gas pipelines, bridges, and roads. IAG's niobium mining initiatives net a profit margin of $10/kg. on production costs of $22/kg., and represent 20% of IAG's revenue. The company produces 5M kg. per year of the metal and boasts 2.6B kg. of proven and probable reserves in Canada.
IAG's diversified holdings as well as its ability to meet cost targets is a testament to the company's ability to adapt to changing gold prices. We believe that this shows the management team's commitment to financial stability, which will be critical for maintaining healthy operations.
Thesis point 2: Gold prices have bottomed and have potential to increase
We believe that a long-term gold price below $1,200/oz. would be unsustainable at current production costs. Agnico Eagle group (Denver Gold Group Presentation May 2013) calculates the All-In-Sustaining Costs (AISC) per ounce of large gold producers to be in the range of $1,086 to $1,100. AISC does not include corporate taxes, interest expense, or project acquisition costs, leaving very little cash flows for gold miners if gold prices go below $1,200/oz.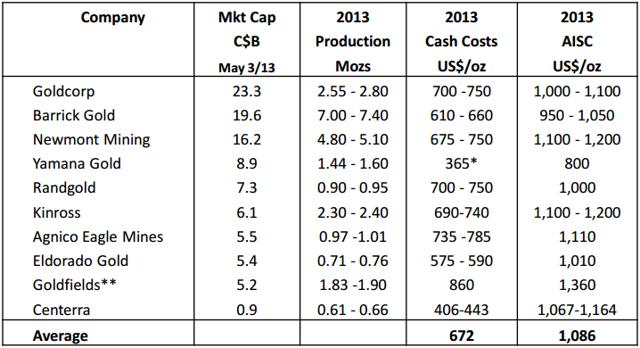 (Source: Agnico Eagle presentation)
The situation is even worse for mid-tier and junior miners. Our theory is that a dip below $1,200/oz. would cause many junior miners to halt production until it becomes economically viable to start operations again. This would obviously decrease supply and allow mid-tier and senior miners to ride on a higher equilibrium price. Keep in mind that IAMGOLD's AISC is expected to be in the range of $1,150 to $1,250 in 2014. While these costs would put them in the same cash flow situation as the junior miners, IAMGOLD has a better liquidity position than most junior miners, and would be able to ride out a depressed gold price for multiple years. On top of that, the company has an undrawn $750M credit line available to them until 2016. In addition, IAMGOLD's AISC has been trending down in recent quarters and continued expansion into Canada should provide even greater cost reductions in the long run.
Consumer Demand
Not only is a low gold price unsustainable from the supply perspective, but cheap gold also increases demand which will help maintain a floor for gold prices. Gold jewelry demand grew by 17% in 2013 in response to lower gold prices. Total bar and coin demand also increased by 28%.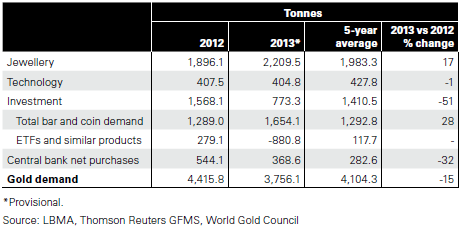 (Source: World Gold Council)
It is important to remember that demand for gold is very globally diversified, with majority of demand coming from China and India. Keeping this in mind, it is remarkable that consumer demand was able to support gold prices considering that India banned all imports of gold coins and imposed strict import rules on gold bars. The result of this was large amounts of smuggling which resulted in an artificially higher gold price, estimated to be around $1,450/oz. (a $150 premium to the current spot price). We believe that once India is able to decrease its deficit to manageable levels they will ease away from the strict import rules which should boost demand in India even more. Despite the high gold price, consumer demand in India still increased last year. We believe this trend will continue through at least 2014. A survey conducted by The World Gold Council shows that Indian and Chinese consumers plan on increasing their gold consumption in 2014.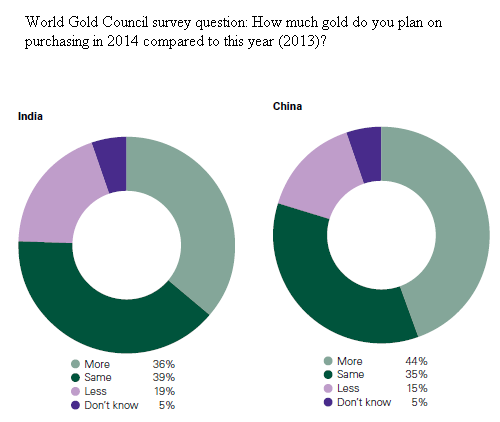 (Source: World Gold Council "Gold Demand Trends Full Year 2013")
Systematic Risks
Gold prices have a tendency to rise when investors are fearful of the future because it is considered a very high quality asset that can maintain value. We believe that emerging market economies are currently somewhat unstable due to currency devaluations, rising budget deficits, and divestments. If the economic status of these countries continues or deteriorates further, the wealthy individuals in these countries will continue to buy gold bars in order to maintain a store of value independent of their countries economy. In addition, current conflicts in Syria, Iraq, Ukraine, and Russia may escalate or cause disruptions to key commodities, such as oil. These global risks should allow gold to maintain its safe haven status, at least until IAMGOLD can lower costs further.
Thesis point 3: Attractive Risk/Reward Ratio
Mid-Tier miners
IAMGOLD is a mid-tier miner which means that it produces between 200K and 1M ounces of gold each year. We believe that the current and future production amounts make IAMGOLD less risky than many of its mid-tier competitors. IAMGOLD is at the high-end of the mid-tier segment which means that it has more assets and easier access to capital. By 2018, IAMGOLD should be producing enough gold to be considered a senior miner which would allow it to have even easier access to capital.
We have found that the mid-tier mining category has the best returns in relation to the price of gold. During the holding period between the peak gold price on October 4th (2012) and the gold bottom on December 19th (2013) the average mid-tier miner had 3% less downside as the senior mining category (-63.5%). In addition, during the holding period between the gold bottom in 2013 to the gold peak in 2014 the mid-tier category outperformed the senior miners by 3.47%. These returns do not include dividends, but is still a very interesting finding. One would expect the senior miners to have less downside potential due to easier access to capital and a more robust gold production pipeline.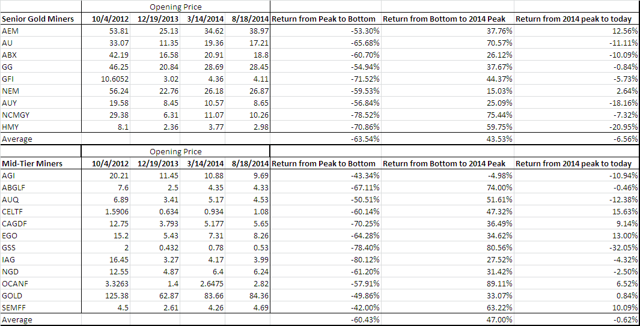 (Source: Historical Data; table created by author)
IAMGOLD's stock price was so beaten down that it had a loss of -80% from the gold peak to the gold bottom. The current price-to-book ratio of .52 gives us a margin of safety because we are paying for less than what IAMGOLD's assets would sell for on the open market. Our liquidation scenario actually results in an upside of 2.90% (see liquidation analysis below). Therefore, the risk/reward ratio is very attractive, as IAG is set up for a lot of upside potential if gold prices rise, while at the same time having a small downside risk due to the low price-to-book ratio.
Cote-Gold Project
Exploration projects are also very important to consider when evaluating a gold mining company. The Cote-Gold project is one of IAMGOLD's most attractive development projects that should be able to reach full production within six years. We believe that the Cote-Gold open pit mine in Ontario will be able to produce up to 450,000 ounces of gold per year which would put IAMGOLD into the senior mining category (1M+ oz.). We reached this estimate by dividing the indicated resources of 7,035,000 ounces by the estimated mine life of 15 years (provided by company). We did not include any inferred resources in our estimates. Cote-Gold project is currently in the environmental assessment stage of its development. We consider this an opportune time to invest in such a mine because this stage is considerably less risky than the feasibility stage while still offering an increase in value once construction and production begins.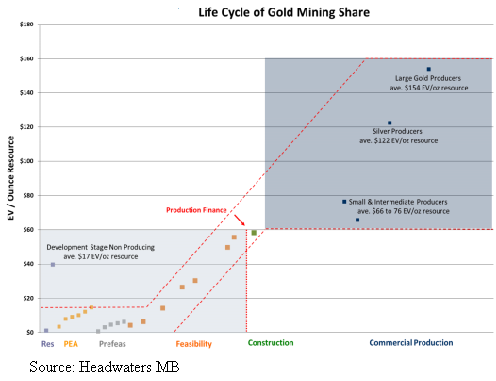 (Source: Headwaters MB)
More Focus in Canada
IAMGOLD should become much more valuable in the future due to a larger portion of its gold production coming from Canada. Canadian mines are much more valuable to investors than African mines because of the political stability, easy access to roads, highways, and rail, and lastly the decreased cost of energy and water. Currently, only about 13% of its gold is produced in Canada.
In 2013, IAMGOLD finished constructing its expansion project at the Doyon division in Canada. This expansion project should add 100K ounces per year to production by 2016. As mentioned before, the Cote-Gold project is also expected to start production by 2018 which could add as much as 450K ounces per year to production. Cote-Gold is also an attractive venture because it is located in Ontario which allows easy access to water, energy, rail, and highway. This should keep construction and operating costs relatively low. What this means for IAMGOLD is that in the long run at least 40% of its production will come from Canada which should lower its cost and add value to the company.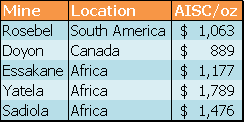 (Source: Company Filings)
Currently, almost 50% of gold produced by IAMGOLD comes from Africa. The above table shows the AISC of each mine at the end of 2013. Costs are considerably higher at the African mines. Yatela and Sadiola are joint ventures that IAMGOLD has a 40% stake in. Production at Yatela was stopped in the 4th quarter of 2013 due to high costs. We believe that a transition away from the Yatela and Sadiola mines into lower cost Canadian projects will add value to IAMGOLD in the future.
Thesis Risks
Cote-Gold Project Delays
If the Cote-Gold development project gets delayed then the cash flows from the project will come at a later date, thus lowering the intrinsic value of each share. Although the environmental assessment stage of development is relatively low risk, there is always a chance that the government will require more extensive environmental research. The cash flows could be delayed as well if the construction takes longer than expected. The construction of Cote-Gold may also be delayed if gold prices are too low to make it economically viable. This would again delay the cash flows of IAMGOLD and decrease the intrinsic value of the stock.
Gold Demand Goes Down
Although this scenario goes against our thesis that gold demand should stay stable, it is important to consider the implications of a decreased gold price. A scenario of decreasing gold prices would have to come from decreased demand, either by jewelry consumers or wealthy individuals. If the world economy obtains very stable economic conditions it is possible that sell offs of gold bars, coin, and ETF investments would outpace any increase in jewelry demand. The decrease would have to be so large that it outpaces the decrease in supply due to gold mining companies filing for bankruptcy.
A decrease in gold price would also decrease the quality of IAMGOLD's balance sheet. Asset impairments would decrease IAMGOLD's ability to pay its liabilities which in turn would hinder its ability to raise capital. In addition, a deteriorating balance sheet may cause the cost of debt to increase in the future, thus increasing the WACC in the DCF Analysis. An inability to raise capital would delay many of IAMGOLD's current development projects resulting in a substantial decrease in future cash flows.
The risk of bankruptcy for IAMGOLD is high if gold prices go down which would result in a significant decrease in free cash flow, thus reducing the intrinsic value per share. Its times-interest-earned ratio is only 3.63 which is below the average of its peer group (4.87). Moody's credit rating agency currently has a Ba3 rating for IAMGOLD with a negative outlook due to high cash costs at its mines. Standard & Poor's currently has a BB- rating for IAMGOLD with a negative outlook. However, we believe that if gold prices stabilize and IAMGOLD is able to finish its current development projects their cash costs should decrease and provide them more liquidity. If gold prices go down it is very possible that IAMGOLD could declare bankruptcy.
If gold prices decline further, the company may have to significantly reduce the output production of their gold mines as well as delay any other exploration projects. According to our liquidation analysis, the value left to equity holders would be $2.65 per share (-34%) if IAMGOLD were to declare bankruptcy at a gold price of $1,000/oz (see liquidation analysis below).
Share Dilution
IAMGOLD has a shelf registration which would allow it to issue new stock if it ever needed the capital. The shelf prospectus allows the company to issue up to $1 billion worth of shares, warrants, debt securities, subscription receipts or any combination thereof for the next 22 months. This would dilute equity ownership and decrease earnings per share. In addition, any new stock issue within the next 22 months would be the result of low gold prices and thus a low share price. It is generally not a good idea to issue stock when the stock price is deeply discounted and at historical lows. However, IAMGOLD should draw on its $750 million credit line before issuing new shares which will give us a warning of its capital needs.
Discounted Cash Flow and Liquidation Valuation
The success of an investment in a gold mining company is very dependent on gold prices. Therefore, we decided to use three scenarios. The worst case: gold prices trend down to $1,100 by 2019. The base case: gold prices remain relatively stable over the next six years with a slight upward movement to reach $1,400 by 2019. The best case: large upward trend in gold prices to $1,650 by 2019.
The following table shows the gold production forecast used in the valuation analysis.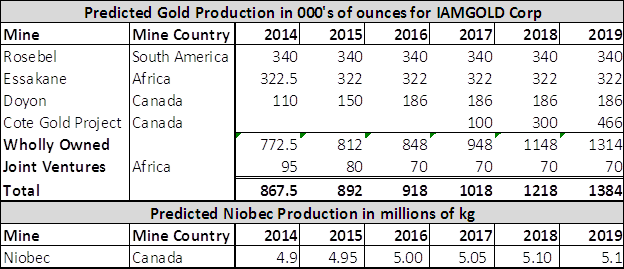 The 2014 mine production is taken from the company's guidance for the current year. In future years, stable mines with long enough mine lives were kept constant (Rosebel, Essakane). The Doyon division is expected to increase production as the Westwood mine reaches full production by 2016. The Cote-Gold project should begin construction sometime in 2016 or early 2017, which should allow it to reach full production by 2019. As part of our thesis, IAMGOLD should be slightly decreasing its operations in Africa over the long term, and so productions at the Joint Ventures are pared down slightly over time. Niobium production is estimated to increase by 1% each year.
The following table shows the revenue projections based on the gold production forecasts. The niobium prices are based on the expected growth in the price of steel, which is based on the average analyst estimates provided by Bloomberg.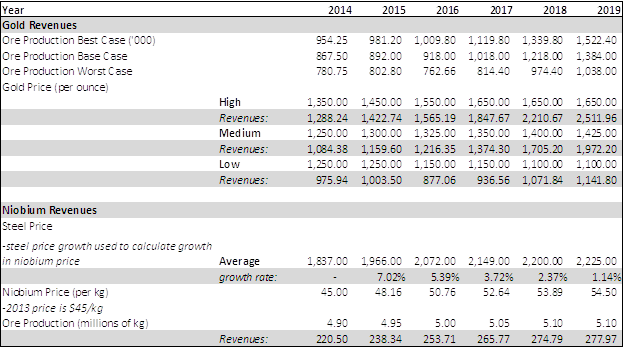 (Source: created by author)
Different scenarios were used to determine what the value of IAG would be at different gold prices. The production is higher in the best case scenario because we believe that a higher gold price will create more economical reserves available, while the opposite holds true for the worst case scenario. These revenue projections are used in the following discounted cash flow analysis.
DCF Assumptions/Explanations: Operating expenses, tax rates, depreciation, and net operating working capital are kept relatively stable in line with historical averages as a percentage of revenue in all scenarios. The 2014 CAPEX is based on guidance by the company. In 2015 we expect CAPEX to be slightly lower as IAMGOLD continues to try to cut costs and as expansion efforts slow down at Essakane and Westwood. CAPEX then trends up to account for the construction of the Cote-Gold project in 2017/2018. The WACC was calculated to be 10.02%. Cost of equity inputs: risk-free rate of 2.66%, a beta of .97, a market risk premium of 5.21%, and a 4% premium to account for small-cap premium and bankruptcy risk. The 9% cost of debt is the current YTM on IAMGOLD's bonds. The weight of debt and equity is provided by Bloomberg.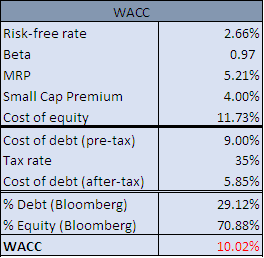 (Source: created by author)
In the worst case scenario, the effects of lower revenue coupled with high operating costs greatly reduce the free cash flow available to the firm. COGS trend slightly lower as IAMGOLD will be lowering costs, however the lower gold price does not allow a gross profit above 40%. It is obvious that if IAMGOLD were to continue to operate in such conditions that the firm would be destroying value. This scenario results in a complete loss of investment.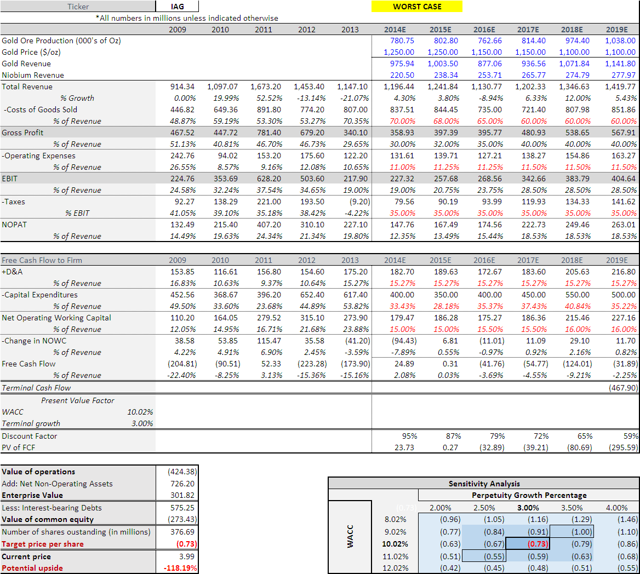 (Source: created by author)
In the base case scenario, gross profit is expected to trend upward as the gold price stabilizes above $1,250/oz. and IAG decreases costs. This scenario results in an intrinsic value per share of $7.16 (+79.44%).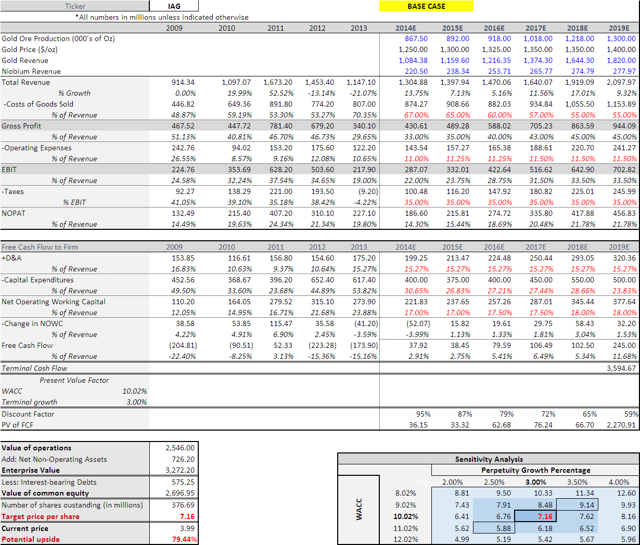 (Source: created by author)
In the best case scenario, a surge in gold prices allows IAMGOLD to generate a large amount of free cash flow. Gold production and CAPEX is expected to be slightly higher as the company pursues projects that it would not at a lower gold price. This scenario results in an intrinsic value per share of $12.42 (+211.40%).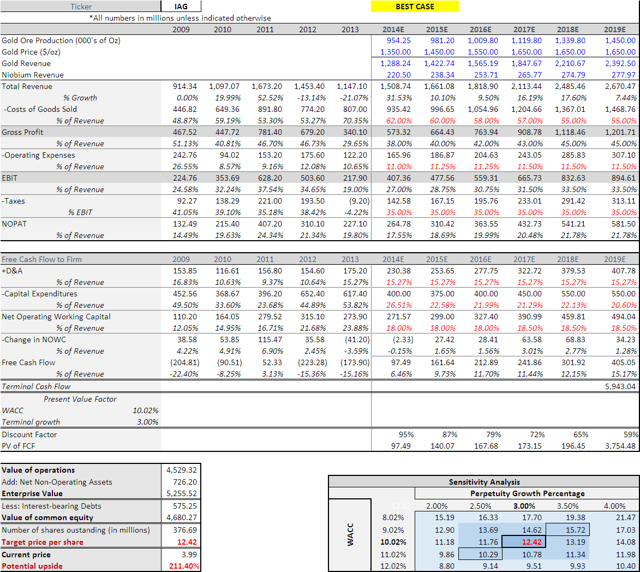 (Source: created by author)
Valuation summary
In addition to attractive price multiples, our discounted cash flow analysis of IAMGOLD shows tremendous upside potential. Our base case scenario suggests an upside of 79.44% to a share price of $7.16. Our best case scenario suggests an upside of 211.40% to a share price of $12.42. Our worst case scenario suggests a downside of -100% to a share price of $0. It is important to note that the worst case scenario will in all likelihood never play out completely. This is because the company would declare bankruptcy and liquidate before the share price could depreciate so far. We estimate the value per share in a liquidation scenario at a gold price of $1000/oz. to be around $2.65. All numbers are obtained from the most recent balance sheet figures.
Liquidation Analysis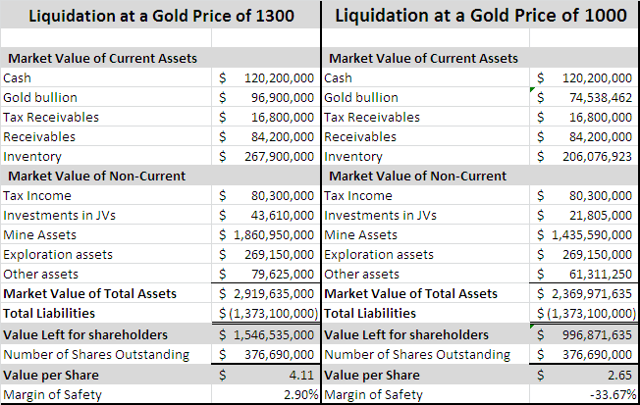 (Source: IAMGOLD Balance Sheet 6/30/2014; table created by author)
Assumptions made at a gold price of $1,300/oz.: Current assets will be able to sell at market for their book value (gold bullion and inventory are valued on IAMGOLD's balance sheet at $1300/oz.), the market value for tax income will be equal to book value, the market value of JV investments and Mine Assets were will be able to sell at a discounted gold price of $1,000/oz. (about 30% discount to book), exploration assets will to be able to sell at 50% discount to book value, and other assets will be able to sell at a 75% discount to book value.
Assumptions made at a gold price of $1,000/oz.: Current assets will be able to sell at market for $1,000/oz., the market value for tax income will be equal to book value, the market value of JV investments and Mine Assets were will be able to sell at a discounted gold price of $700/oz. (almost 50% discount to current book value), exploration assets will to be able to sell at 50% discount to book value, and other assets will be able to sell at a 80% discount to book value.
In our scenario analysis, you can see the effects of different probabilities and the effects of IAMGOLD liquidating instead of continuing operations. The upside ranges from 59% ($6.35 target price) to 85% ($7.36 target price).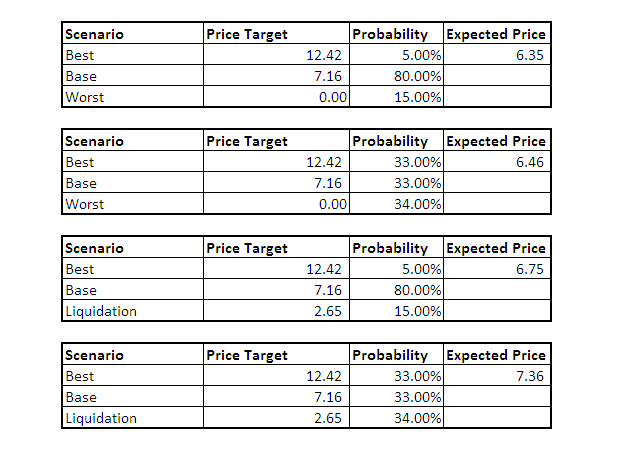 (Source: created by author)
Conclusion
IAMGOLD's fundamentals are slowly improving. Gold prices seem to have found a home above $1,250/oz., at least in the short to medium term which should allow IAMGOLD enough time to lower costs to a manageable level. IAMGOLD's current price offers an attractive risk/reward ratio due to the large discount the market is applying to the company's book value. Depending on which probabilities are used and which scenario (liquidation vs. continuing operations), the upside potential ranges from 59% to 85%. The successful construction of the cote-gold project is critical to the success of this investment. The cote-gold project will in all likelihood not be able to be constructed if gold prices trend down to the $1,000/oz. range. Therefore, the major risk of this investment is the strong dependence on gold prices, which are very difficult to predict. We suggest periodic evaluations of the gold market outlook to ensure that fundamentals remain attractive.
Disclosure: The author is long IAG.
The author wrote this article themselves, and it expresses their own opinions. The author is not receiving compensation for it. The author has no business relationship with any company whose stock is mentioned in this article.