BPFH Warrant Features
In February 2011, the Treasury auctioned off 2,887,500 warrants to buy common stock in Boston Private Financial Holdings Inc. (NASDAQ:BPFH) at an initial strike price of $8.00 per share that can be exercised on or before November 21, 2018. The warrants represent approximately 3.6% of the company's shares outstanding.
Like other TARP warrants, Boston Private warrants offer features that adjust the strike price downward and the number of shares purchasable per warrant upward in certain events.
In the case of dividend payments, any quarterly dividend in excess of $0.01 per share (this is the "dividend threshold amount") will trigger an adjustment to the strike price downward through the formula described below:
"The exercise price in effect prior to such record date will be reduced immediately thereafter to the price determined by multiplying the exercise price in effect immediately prior to the reduction by the quotient of [x] the market price (as defined below) of our common stock on the last trading day preceding the first date on which our common stock trades regular way on the principal national securities exchange on which our common stock is listed or admitted to trading without the right to receive such distribution, minus the amount of cash and/or the fair market value of the securities, evidences of indebtedness, assets, rights or warrants to be so distributed in respect of one share of our common stock, such subtracted amount and/or fair market value referred to as the "Per Share Fair Market Value," divided by [y] such market price on the date specified in clause"
To translate that into a more succinct formula, the strike price would be adjusted as follows: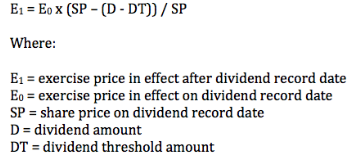 So far, considering all of the company's dividends through third quarter 2014, the strike price has been adjusted downward to $7.71, a decrease of $0.29 or 3.6% from the initial strike.
Additionally, with each dividend in excess of the threshold, not only is the strike price adjusted downward, but the number of common shares purchasable per warrant is adjusted upward as follows:
"The number of warrant shares will be increased to the number obtained by multiplying the number of warrant shares issuable upon exercise of a warrant immediately prior to such adjustment by the quotient of [a] the exercise price in effect immediately prior to the distribution giving rise to this adjustment divided by [b] the new exercise price as determined in accordance with the immediately preceding sentence"
*The "preceding sentence" refers to the dividend adjustment described above.
Again, since these descriptions aren't exactly reader friendly, it may be better to visualize it as a formula:

So far, considering all of the company's dividends through third quarter 2014, the number of shares issuable per warrant has increased to 1.0373, up 3.7% from the original number of shares issuable per warrant of 1.0000.
BPFH Common Stock
To get a better idea of how the warrants will perform from now until expiration, we have to try to come up with a reasonable valuation model for the underlying asset: Boston Private Financial. The company has nearly recaptured its pre-recession 2007 market cap of ~$1 billion, currently trading at around $974 million. Additionally, the company is trading at a P/B multiple of 1.6x, which is also in line with the company's 2007 valuation levels. So, for those of you out there who are looking for steep value, it appears that Boston Private has already recouped much of the discount that the financial crisis endowed us. However, Boston Private is still showing decent growth rates in terms of normalized EPS and book value.
First off we'll take a look at normalized EPS.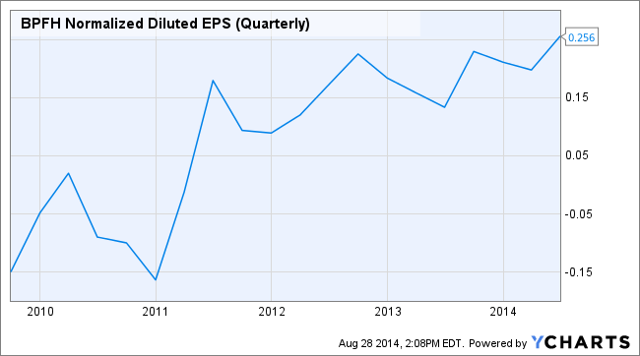 Over the past 5 years, the company has shown strong progress in reaching pre-recession normalized EPS levels. Before the crisis, the company was earning from around $0.30 to $0.40 per share on a quarterly basis, so there's still quite a way to go to reach those levels, but the company has beaten analyst estimates the past three quarters, so we may see the company reach those levels sooner than analysts expect.
Regarding book value, the company has shown consistent recovery and growth over the past 5 years.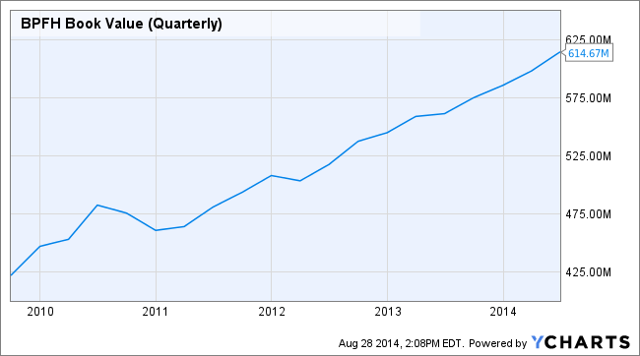 On a compounded annualized basis, book value has grown about 7.8% per year, but is still about $75 million shy of its all time high of $690.5 million. The company has obviously been making great strides in recouping and increasing shareholder's equity, and it doesn't seem as though this trend will stop anytime soon.
Now to estimate the company's future share price, we'll be making a few assumptions, each of which we will assume through 2018. 1) The company's P/B multiple of 1.60 increases .025 points each quarter. 2) Book value starts at $7.65 per share and grows 1% per quarter. 3) The company increases its dividend 2.5% per quarter. 4) Shares outstanding remains constant.
Under these conditions, the share price would increase 49.25% (including dividends) to $17.94. Those are some solid gains, but how do they stack up against the warrants?
Warrant Returns Relative To Common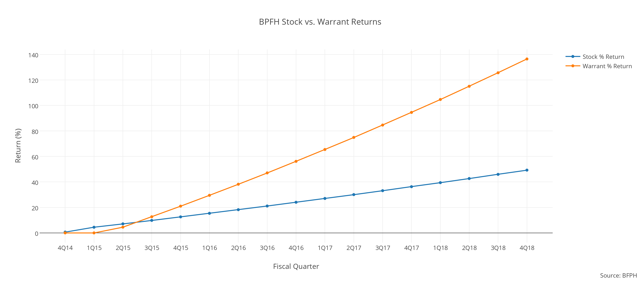 Under the common stock valuation scenario that we walked through, the warrants would appreciate 136.43%, including strike adjustments and shares issuable per warrant increases. In total, the strike price would be adjusted down to $6.98 per share, and shares issuable per warrant would increase to 1.147. Of course this is only a rough approximation, and many variables will affect the true strike and shares issuable per warrant adjustments; but personally, I believe that the assumptions are reasonable.
Currently the warrant premium is only 11.5%, so the stock would only have to appreciate 2.6% per year from now until expiration for you to break even. To me, if you are in fact long Boston Private Financial, you'd be crazy not to at least consider gaining exposure to BPFH through the warrants rather than the common stock. The leverage here offers excellent upside potential compared to the common stock.
Disclosure: The author has no positions in any stocks mentioned, and no plans to initiate any positions within the next 72 hours.
The author wrote this article themselves, and it expresses their own opinions. The author is not receiving compensation for it (other than from Seeking Alpha). The author has no business relationship with any company whose stock is mentioned in this article.