InvenSense (NYSE:INVN) is a technology company that belongs to the industry of semiconductor ICs. The company provides motion sensor and audio sensor solutions for consumer electronic devices such as smartphones, tablets and wearable devices. These sensors are based on micro-electro-mechanical systems, or MEMS.
Products
Motion tracking devices
Motion tracking products for InvenSense are offered in several combinations including a nine-axis motion tracking device, six-axis motion processor, 3-axis gyroscope and 3-axis accelerometer. Nine-axis device, or combo MEMS, combines gyroscope, accelerometer and compass on one SoC.
Microphone devices
The microphone portfolio for InvenSense includes both analog and digital microphones. The company acquired ADI's mic unit in 2013 to beef-up its audio portfolio. MEMS-based microphones from the company offer a higher signal to noise ratio. InvenSense has microphones with SNR as high as 70dB. Higher SNR smartphones easily pick up weak input signals, thereby enhancing user experience in contextually aware applications.
Revenue classification
For reporting purposes, revenue for InvenSense is split into smartphone and tablets, optical image stabilization, and gaming. The company generated 80% of its revenue from smartphones and tablets in the first quarter of fiscal year 2015. From a geographical perspective, Korea contributed 43% while China contributed 26% toward the revenue in the first quarter of fiscal 2015. Note that revenue from China is growing rapidly, thanks to growth of smartphones and tablets in the country.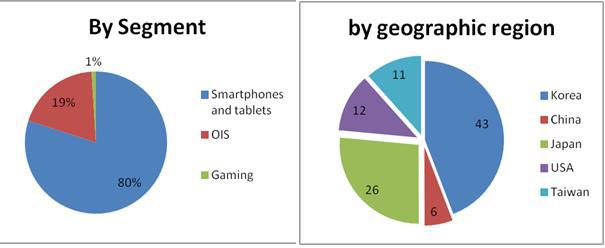 Source: InvenSense SEC filing
Samsung and LG drove sales in Korea as they made up 30% and 12% of InvenSense's revenue respectively. Growth in China was mainly derived from Xiaomi, which added 10% to the revenue for InvenSense in the first fiscal quarter of 2015.
Dissecting pros and cons
InvenSense has shown stellar growth in the last couple of years. There are many indications that it will continue to do the same in future. However, there are also some alarming pointers about the company. Detailed analysis follows below.
Pros
As far as a bull's case of InvenSense is concerned, the most important thing is that the company belongs to a growth industry. According to InvenSense's presentation, it is exposed to the growth prospects of the motion sensor and microphone market. The total addressable market of motion sensors is expected to grow to $2.56 billion by 2016, which currently stands at $1.97 billion. The microphone market will grow to $4.2 billion at a CAGR of 21%. Yole development forecasts that MEMS market will grow at a CAGR of 12% until 2018. MEMS navigation and environment sensing market and MEMS sound quality market will grow at a CAGR of 23% and 12%, respectively. Furthermore, IHS forecasts that combo sensors are heading for major growth this year. The firms believe that the combo sensor market will cross the $1 billion threshold by bringing in $1.03 billion in 2017, as shown in the figure. This translates to a CAGR of 23%.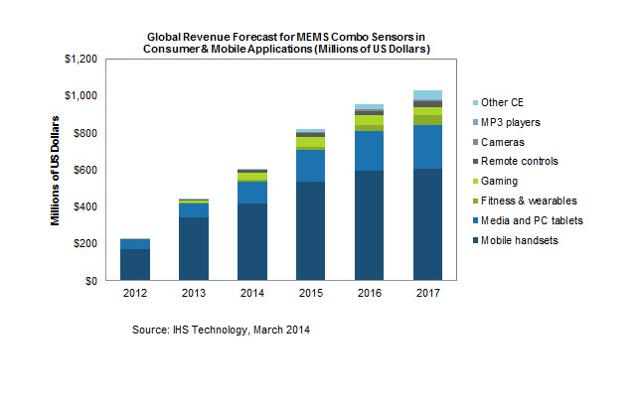 Combo sensors' penetration is expected to increase going forward. It was just around 3% in 2011, but it is poised to surpass 50% by 2016 according to IHS. Therefore, InvenSense will grow due to the growth of the MEMS sensor industry. Most of this growth will come from combo sensors. The company's share of combo sensors, or 6DOF IMU, was lower as compared to STMicroelectronics back in 2012.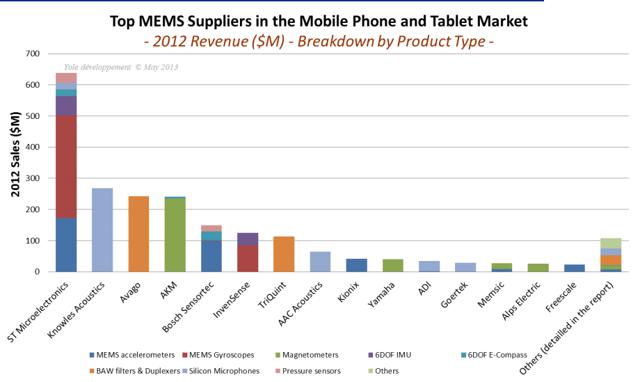 Source: Yole development
However, the competitive scenario is different now. The company stole the Galaxy S5 design away from STMicroelectronics (NYSE: STM), and this can very much be the case with the iPhone 6. According to TheStreet.com contributor Adam Gefvert,
An analyst friend conducted a channel check with a source in the iPhone supply chain in Taiwan. That source said that STM will lose the gyro socket in the iPhone 6 coming this fall. I believe Apple (NASDAQ: AAPL) is now buying InvenSense's gyro for the iPhone.
InvenSense also has a seven-axis combo sensor that combines gyroscope, accelerometer and a pressure sensor. This IMU, or combo sensor, will gain traction in the next year or so. Many OEMs have expressed strong interest in this particular combo device. It will surpass 6-axis compasses by 2017, IHS anticipates. Canaccord Genuity thinks that integrated pressure sensing and optical image stabilization, or OIS, will increase dollar content per phone by 25%. So six-axis and seven-axis outlook is healthy for InvenSense. It should also be noted that InvenSense holds 80%-90% of the gyroscope Android market.
Another pro for InvenSense is that it is better positioned than its competitors. For instance, it is a fab-less business model in contrast to STMicroelectronics' fab business model. This gives InvenSense added flexibility and cost advantage. Secondly, InvenSense concentrates on MEMS only, while MEMS is just one of the many products in STMicroelectronics' case. Therefore, InveSense is a more focused MEMS player. Furthermore, the company doesn't just offer hardware. It offers complete solutions that include hardware and software. Having software for optimization is always a competitive advantage. The Acquisition of Movea (provider of software for ultra-low power tracking and context sensing) and Trusted Positioning Inc. (indoor/outdoor positioning software company) are examples of InvenSense's dedication to software platforms along with hardware. This will be a key differentiator for InvenSense going forward.
On the microphone front, the industry is set to grow. Microphone is a necessity for contextually aware applications. As a result, microphones per device are increasing. InvenSense's MEMS microphones offer high SNR, which enhances user experience while using voice interface.
Overall InvenSense is set to grow because of industry growth prospects, the leading position of the company in six-axis IMU, possibility of a major design win (think Apple), and its better competitive positioning. Note that STMicroelectronics lost 6-axis IMU to InvenSense in the Galaxy S5. This indicates either differentiation or cost leadership for InvenSense. In either case, the competitive advantage lies with InvenSense.
Cons
Let's talk about the risks, weaknesses and threats facing the company. Most of the smartphone growth is expected to come from emerging markets. The Average selling price of smartphones in emerging markets will not be as high as it is in North America and Europe. Companies like Xiaomi and Lenovo are among the market leaders in emerging markets. So, naturally, OEMs will not pay higher rates for components and hence ASP of components will decline going forward. Gyro penetration stands at 20% in Chinese handset OEMs. Growth from these OEMs will definitely drive ASPs down. Moreover, products from InvenSense may be differentiated but STM and Bosch can't be written-off completely. Competitor pressure will also add to the ASP decline. Management of the company also mentioned in the recent quarterly report,
We expect a continued trend of declining unit average selling prices for our products during their life cycles.
The point is that lower ASPs will partially offset the benefit of the industry growth. It can already be seen in the gross margin decline.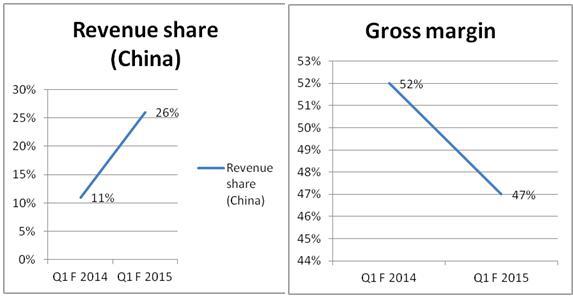 Source: InvenSense SEC filing
Revenue growth is declining. The company posted revenue growth of 19% in the recent quarter. This is alarming as the consensus growth projection is around 25%. Net income is under pressure. The company posted a net loss in the most recent quarter as compared to net profit in the same quarter the previous year. However, this can be explained by heavy R&D expenditures in the current year.
The risk also is high because of the cyclical nature of the business. The CEO himself acknowledges that execution is the biggest risk, and a single slip up can be material for the outlook of the company. A look at inventories reveals an alarming trend. A 213% increase was recorded in one year (fiscal 2014). In the first quarter of 2015, inventory increased further 6% despite the Galaxy S5 rollout. Increasing inventory can be risky in a cyclical environment where products get obsolete frequently. However, the Apple iPhone 6 design win can explain this inventory ramp-up. Otherwise, this is an alarming development.
Overall, ASPs will remain under pressure amid growth in the emerging market and also because of intense competition in the industry. Net income will remain under pressure due to the intensity of R&D expenditures. Execution and inventory are significant risks.
Investment value
Assumptions
Revenue growth is assumed to be around 25% in the next five years while 5% growth is assumed in perpetuity. (Generous assumption).
Historic CAPEX average is applied in perpetuity.
Cash flow is assumed to grow in line with revenue, and standard CAPM assumptions apply.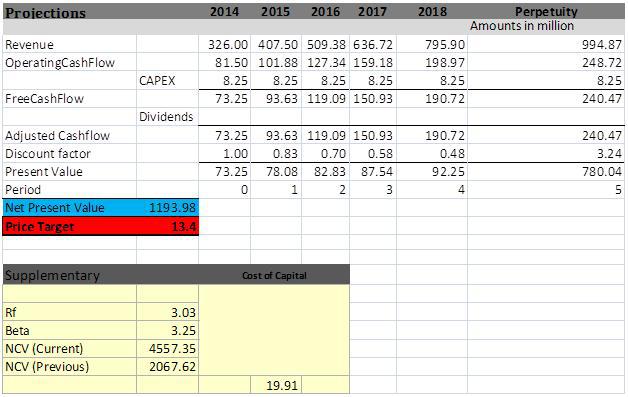 Focus Equity estimates
A cash flow based model reveals that the stock is overpriced at the current valuation. Despite relaxed assumptions, the price target is at a discount to current market valuation. One can argue that InvenSense is currently R&D intensive but, going forward, R&D will come down and cash flow will go up. Although the cash flow model is adjusted for R&D expenses, a P/S valuation can be carried out to eliminate the effect of R&D expenses altogether.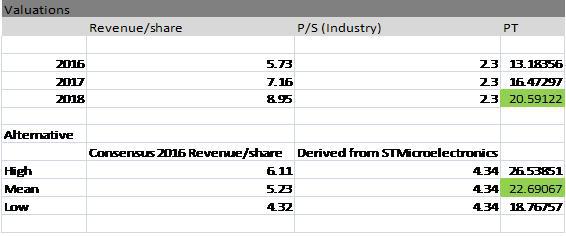 Source: Yahoo Finance and author estimates
Now, two different approaches are used to drive P/S based price targets in the above table. In the first approach, revenue per share for each year is calculated using revenue projections from the cash flow valuation table above. Industry average P/S is used as a multiplier. This approach reveals the share price will reach $20 by 2016. A second approach uses consensus analysts' estimates of revenue per share instead of revenue projected in the cash flow table. P/S for this valuation was derived by taking P/S of STMicroelectronics and the industry and then incorporating growth of InvenSense in it. The rationale is that STM is a mature company and hence its P/S correctly reflects what the investor will be willing to pay for $1 of sale in this industry. And P/S is adjusted because InvenSense's future growth prospects are higher than that of STMicroelectronics and the industry. Calculation details are as follows:

Source: Yahoo Finance and author calculations
Only one scenario, the one that adjusts P/S ratio of STMicroelectronics and the industry to reflect InvenSense growth, drives a price target close to current market value. So, according to valuations, the price of InvenSense will fluctuate in the range of $13-$26 in the coming years. There is no upside for InvenSense under the current scenario, while people with short positions can benefit from InvenSense. However, shorts must exercise caution because short interest is already very high and this can result in short-covering upward movement.
Bottom line
By viewing pros and cons, it can be seen that profitability will remain under pressure in the short term. However, light R&D expenditures and volume growth will result in earnings growth in the long run. However, it should be kept in mind that competition, cyclical nature of business, and sensitivity of execution add to the risk profile of InvenSense. Emerging markets also will put pressure on ASP going forward. In a nutshell, InvenSense will grow but the stock is already valued fully based on generous estimates. Hence, this is a time for profit taking. Investors should wait for a lower priced entry. A careful short sell can also reward investors.
Disclosure: The author has no positions in any stocks mentioned, and no plans to initiate any positions within the next 72 hours.
The author wrote this article themselves, and it expresses their own opinions. The author is not receiving compensation for it (other than from Seeking Alpha). The author has no business relationship with any company whose stock is mentioned in this article.