The market sentiment in Brazil is changing. Right after the release of a poll that shows Marina Silva winning the Brazilian presidential elections, the Ibovespa started to go up. The elections in the country, which will take place in October, are getting intense. Silva became a presidential candidate when her running mate Eduardo Campos died in a plane crash two weeks ago. In barely that time span, Silva managed to attract undecided voters and even dispute votes that current President Dilma Rousseff was counting on. What is going on?
Silva's humble past - she was a maid washing dishes 40 years ago - is appealing among the poor. The majority of this wide segment of the population was expected to vote for Rousseff. After all, her administration along with Lula da Silva's brought 12 years of social welfare policies for them. This incipient voter's shift could mean a new economic scenario for Brazil looking ahead.
Domestic rally
The main index in Brazil, the Ibovespa, is up 33% since this year's low on March 14. Quite a nice move. In fact, this index was the best performer during that time span among major stock markets. Take a look at the chart.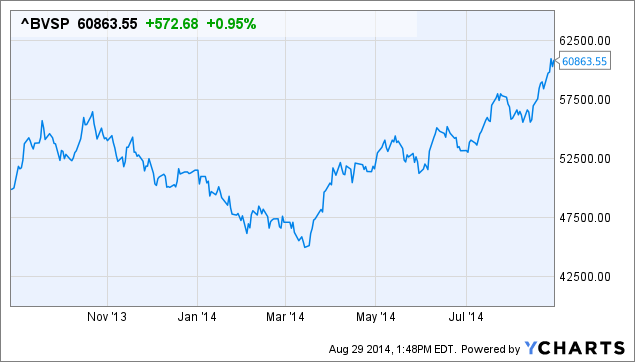 As you might be guessing, a lot of this movement could be attributable to expectations. It seems the Brazilian market is betting on a political renovation as the excitement for the domestic index coincides with the first polls that showed Rousseff not reaching the minimum number of votes to win in the first round.
A new term led by Rousseff is perceived as the continuation of a slow economic decline. Brazil's economy is already decelerating, and analysts surveyed by the central bank have cut their annual growth forecast for this year to 0.7%. According to the Brazilian statistics bureau IBGE, the economy contracted 0.6% sequentially in Q2. The forecasted annual inflation rate is at 6.27%, which is not that scary, but if realized, it would mean another target miss. The country has been missing its inflation targets for the past four years.
A political renovation is interpreted as a catalyst that would bring new investments to the country, revitalizing the economy. Why? A change in government would bring a reduction in intervention in several industries including banking, oil & gas, telecommunications, and electricity. The two biggest contestants defend an independent central bank, criticize the current monetary policy, and propose less government intervention in public companies.
Silva particularly, has been adopting economic positions that are increasingly friendlier to business leaders and investors, encouraging these bets. She is openly criticizing the surge in consumer prices and pledging to slow inflation. Plus, she even proposed undoing the fiscal policies that led to a sovereign credit downgrade, which happened in late March.
Brazilian ADRs
Despite the recent rally in the Bovespa index, many Brazilian ADRs have not performed as well. The S&P Brazil ADR Index is down about 12% year to date and more than 20% since mid-October. The growing optimism has not yet reached all of these assets.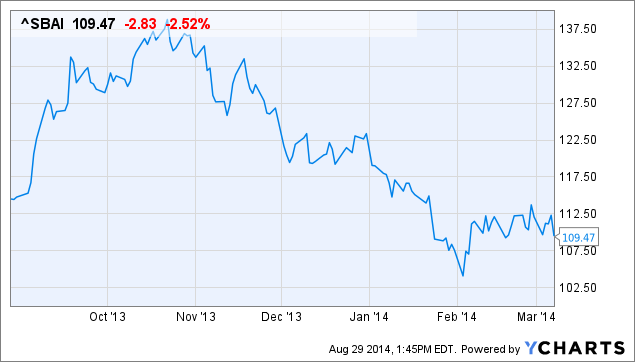 Nonetheless, we are missing the story of a well-known company, Petrobras (NYSE: PBR). Just like Bovespa, its stock price has been going up since mid-March. Impressive.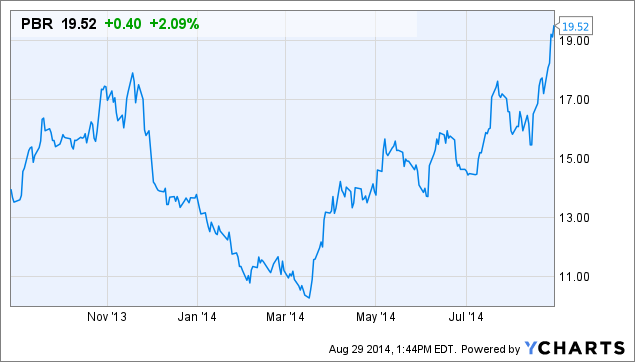 However, Petrobras' latest results are not that encouraging. Net income for the first half of 2014 is down 34% year over year to $4.5 billion. Despite reaching a record production level at the pre-salt layer of 520,000 bpd, total crude oil & gas production is only 1% up in the period.
The company is making efforts to increase its processing and refining capacity, which cannot cope with domestic demand. Processed feedstock is at 43,000 barrels/day, up 2% sequentially for the second quarter and hitting a new crude oil processing record this past June.
Looking forward
Despite market optimism, we do not know for sure who will be Brazil's next president nor what policies in particular would be implemented. Currently, the government holds a 54% stake in Petrobras and commands the domestic gasoline pricing policy along with exploration and extraction regulations.
In an scenario with Rousseff being re-elected, the company would most likely continue to make progress in the pre-salt fields and continue to add refining capacity to reduce dependence on other refiners. Regarding refining in the second quarter, total oil products output reached 2,180 thousand bpd, up by 3% sequentially. A higher refining capacity is already expected for the second half of this year, when the start-up of the first train at the Abreu e Lima refinery (RNEST) will begin.
On the other hand, Silva's attempt to control inflation and reverse the country's credit rating downgrade would lead to lower financial costs for the company and eventually more investments in the sector.
From now through November, we will probably see more accurate election polls as well as the presidential candidates giving more information about their plans for Petrobras. Stay tuned.
Disclosure: The author has no positions in any stocks mentioned, and no plans to initiate any positions within the next 72 hours.
The author wrote this article themselves, and it expresses their own opinions. The author is not receiving compensation for it (other than from Seeking Alpha). The author has no business relationship with any company whose stock is mentioned in this article.