It's no secret that the French State doesn't have the best reputation on Seeking Alpha! The French Government is famous for its pationate intervention in the economy even though Mr Montebourg (the Minister of Economy who managed PSA, SFR and Alstom cases) just stepped down.
However, the French Government is also an investor who enjoys a nice dividend and protects its financial interests. Indeed, the French State is still a historical shareholder of many CAC40 companies including some of France's most important assets (ie. nuclear, telecommunications, energy etc.).
This article will focus on the performance of the companies owned by the French State compared with the CAC40 (main French index). The results are interesting!
EDF (84.5% of ownership)

Source: Yahoo finance
EDF (OTC:OTCPK:ECIFF OTCPK:OTCPK:ECIFY) is one of the world's largest producers of electricity with €75.6b in revenues in 2013 (+2.9% yoy). The French company employs more than 150,000 collaborators and operates worldwide. The Group operates on various segments such as electricity generation and distribution, power plant design, construction & dismantling of nuclear plants and is one of France's most strategic assets.
The Company has a strong expertise in nuclear that it can now sell worldwide, which should drive the revenues in the long-term. As EDF improved its financials (EBITDA margin and debt ratios), the share price has skyrocketed. An interesting short-term catalyst could be the potential increase in the amortization period for (its quite old) nuclear plants.
Aéroports de Paris (50.6% of ownership)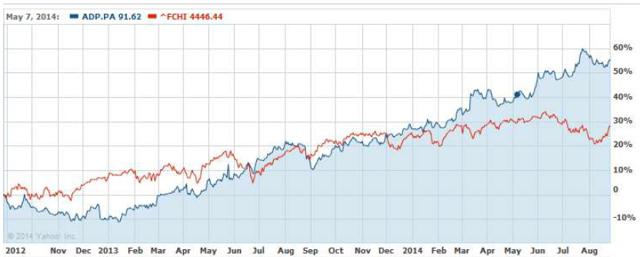 Source: Yahoo finance
Aéroports de Paris (OTC:AEOXF) owns and manages several airports in the Paris area including Charles de Gaulle, Orly and Le Bourget. The French company also invested in the Mediterranean area and in Turkey. ADP benefits from a strong traffic growth (+4.2% yoy) and keeps improving its financial indicators. Revenues and EBITDA grew by 4.3% and 4.7% in 2013 and Net debt/EBITDA decreased to 2.79x from 2.93x. The geographical diversification in Turkey (+10.7% traffic growth yoy) is very appreciated by the investors.
GDF Suez (36.7% of ownership)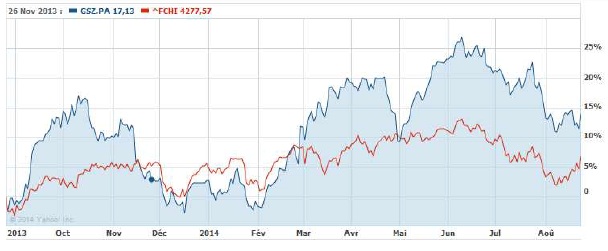 Source: Yahoo finance
GDF Suez (OTCPK:OTCPK:GDSZF GDFZY) is the world's largest utilities with €81.3b in revenues in 2013. The French company employs more than 140,000 collaborators and operates worldwide. GDF is just the number one independent power producer in the world. The Group mainly operates in the Natural Gas industry (59% of the production in 2013). The company is reducing its debt quicker than expected (€43.9 after the acquisition of International Power in 2012 to €30b in 2013), which is positive. However, GDF will probably cut its dividend from €1.50 to €1.0 in 2014 (the current 5.4% yield remains pretty interesting).
Thales (26.6% of ownership)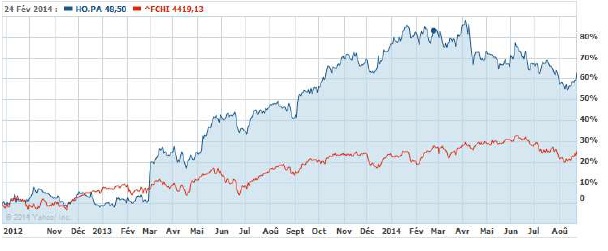 Source: Yahoo finance
Thales (OTCPK:OTCPK:THLEF OTC:OTCPK:THLEY)provides services to various industries such as aerospace, defense and security. The company employs more than 60,000 collaborators and operates worldwide. Thales benefited from increasing revenues over the last years but the trend seems to slowdown. However, the French company managed to improve its margins in 2014.
Safran (22.4% of ownership)
Source: Yahoo finance
Safran (OTC:OTCPK:SAFRF OTCPK:OTCPK:SAFRY) produces aircrafts, rockets and aerospace components. The company employs more than 60,000 collaborators and is a very strategic asset. Safran has been performing very well in the last years (increasing revenues, margins and cash flows), which triggered higher analysts expectations. As a consequence, the French company has disappointed the market in 2014.
Areva (21.7% of ownership)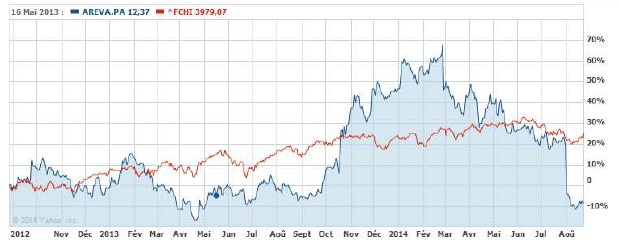 Source: Yahoo finance
Areva (OTCPK:OTCPK:ARVCF OTCPK:OTCPK:ARVCY) is the world's largest nuclear company with €9.2b in revenues in 2013. Areva operates on the entire nuclear chain, from mining to dismantling. The Group employs more than 45,000 collaborators and operates worldwide. 2014 has been a tragedy for Areva with plummeting revenues and net income. The company has been impacted negatively by the decrease in Uranium prices, the slowdown of Japanese plants and by provisions regarding its renewable energy division.
Air France (15.9% of ownership)

Source: Yahoo finance
Air France (OTC:OTCPK:AFRAF OTCQX:OTCPK:AFLYY) is the main French carrier with €25.5b in revenues in 2013. The company employs more than 65,000 collaborators and operates worldwide. Air France has gone through many restructurings and cost cuts in order to be competitive again (Transform 2015 plan). The company now focuses on high end customer as well as on low cost flights (Hop). Thanks to a clearer strategy and cost reductions, the share price has skyrocketed over the last year but Air France announced a profit warning this summer(the company is still far from being profitable). However, half year results better than expected are now driving the share price higher. The new Perform 2020 plan will be announced in September, which should be seen positively by the markets.
Renault (15% of ownership)

Source: Yahoo finance
Renault (OTC:RNSDF) is a car manufacturer that generated €40.9b in revenues in 2013 and employs more than 125,000 collaborators. The French company was impacted negatively by the crisis of the European car industry but managed to expand in emerging countries (thanks to partnerships and a dedicated low cost brands). However HY14 revenues (€19.8b) and free cash flows (€-361m) disappointed. Be that as it may, the French company should keep benefiting from the improvement of the European market. Renault maintained its 2014 objectives.
Orange (13.4% of ownership)

Source: Yahoo finance
Orange (formerly known as France Telecom) (NYSE:ORAN) is the main French Telecommunication Corporation and a global provider for mobile phones, Internet and television services. The French company could benefit from the consolidation of the European Telecom industry and become a major player. Moreover, Orange is likely to expand its operations in Africa and generate increasing revenues, especially in the telecom and payment services segments (€4,060b in 2013 and already 8.9 million customers for Orange Money). Revenues kept decreasing in 2013 as the competition increased in France (thanks to Iliad) but margins start improving and cost reductions keep going on.
Airbus (11% of ownership)

Source: Yahoo finance
Airbus (OTCPK:OTCPK:EADSF OTCPK:OTCPK:EADSY) (known as EADS until December 2013) is a European corporation that operates on the aerospace and defense segments. The Group is Boeing's main competitor and produces the Airbus planes. The company has been able to increase orders while keeping innovating over the last years. As a consequence Airbus keeps announcing better revenues, profitability and dividends. YE2013 results slightly disappointed (EPS below consensus) but the company is back on track after half year results.
Conclusion
As an investor, the French State has been outperforming the CAC40 (and many other investors) for the last years.
I believe that you can trust the French State for the following reasons:
The French state is a very long-term investor like you and me;
These companies are leaders of their industries and operate worldwide;
Most of these companies are strategic assets, they should keep generating revenues in the upcoming years;
These companies are being restructured and are now managed better (cost reductions, enhanced productivity and profitability);
The French State likes a nice dividend like you and me (it got €4.4b in 2013!).
As a consequence, some of these stocks can be interesting for long-term investors who target companies that will keep operating in strategic industries and generating dividends. As a long-term investor, one could find its interests aligned with the French Government.
The main issues are that the French State can impact (positively but also negatively) the profitability of its assets by changing the regulation (especially regarding the energy and the telecom industry). The French State can also focus on employment rather than on productivity and profitability (ie Orange but it's improving).
However, the new Valls government appears to be seen very positively by the largest French union of employers (MEDEF) and investors, which could impact positively the share prices in the short and medium-term.
Disclosure: The author is long ORAN, EADSF, GDSZF.
The author wrote this article themselves, and it expresses their own opinions. The author is not receiving compensation for it (other than from Seeking Alpha). The author has no business relationship with any company whose stock is mentioned in this article.
Editor's Note: This article discusses one or more securities that do not trade on a major U.S. exchange. Please be aware of the risks associated with these stocks.