A lot has been written about BlackBerry's (NYSE: BBRY) turnaround and how to evaluate its financial progress. Ultimately, every investor will need to come to their own conclusion on whether they want to believe in a turnaround story or not. Most of the discussion about BlackBerry centers on BlackBerry's revenues and earnings situation (and we will need to continue to see progress), but it is also noteworthy that sentiment with respect to the smartphone company seems to be slowly changing.
Investor sentiment
Those readers who follow my articles know, that I want to think differently from the crowd and that I make controversial investments. If you saw a snapshot of my contrarian portfolio right now, you would find a small group of companies that most investors wouldn't want to touch with a pair of nippers: Fannie Mae (OTCQB:FNMA), J.C. Penney (NYSE:JCP), Best Buy (NYSE:BBY), American International Group (NYSE:AIG) or BlackBerry.
Though I do my research and preferably look at a company's free cash flow and standard valuation metrics such as price to earnings or price to book ratios, I found one theme in particular to be an extremely promising indicator for above-average return potential: Pessimism.
I cannot emphasize this enough: The best returns I have ever made in the marketplace originated from companies that were thrown under the bus and were rumored to face bankruptcy. This is possible because most investors simply give in to fear and sell their shares without regard for intrinsic value. Perfect.
I found another indicator to be predictive of attractive return potential: Overwhelmingly negative comments on "long" articles about an "impending bankruptcy" of a company solely based on the status quo.
I have repeatedly pointed out at the end of last year and the beginning of this year that talk about a BlackBerry bankruptcy was pure nonsense as the company held more than $2 billion on cash on its balance sheet. The same was true for J.C. Penney by the way, which pulled off a game-changing secondary equity offering in September 2013.
Another, most timely, example of the value of contrarian investing would be RadioShack (NYSE:RSH), which I have aggressively recommended to contrarians as Bears were drowning themselves in pessimism over the last three months. RadioShack's shares have increased 112% in value over the last five days as a large shareholder was said to lead a restructuring effort for the embattled retailer. RadioShack is an example of extreme herding behavior.
Many other, much more accomplished and successful investors have already asserted that if you seek above-average return potential, you have got to look where nobody else would, and that includes dismissed turnaround plays like BlackBerry. Naturally, distressed investments such as the smartphone maker make fantastic turnaround bets and give investors access to asymmetric return potential.
Short interest
As of August 15, 2014, BlackBerry's short interest stood at 89 million shares, which is down significantly from the 167 million in November 2013 when BlackBerry was in the early stages of its housecleaning operation.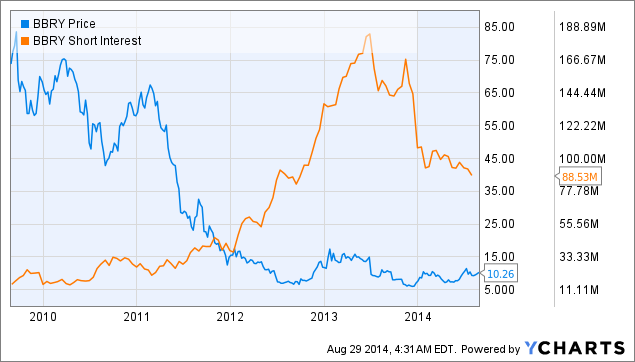 BBRY data by YCharts
What's really spectacular about the chart above, I believe, is that the short interest ballooned up just when the stock marked its bottom. Take a minute to reflect upon this profound implication and what it says about the majority of investors: The market, as a whole, agreed at the bottom that BlackBerry's stock could only fall further. It is truly mind-boggling. And just another reminder to immediately head into the opposite direction no matter where the herd wanders.
It is the same kind of mindless herding behavior you see in bull markets when people buy at the top of the market at ridiculous valuations. There can be only one conclusion: To stay away from the crowd at all costs or as Mark Twain phrased it more eloquently: "Whenever you find yourself on the side of the majority, it is time to pause and reflect."
(By the way, if you headed over to SA's charting tool you'd see the same relationship between bottoming stock prices and peaking short interest for both J.C. Penney as well as RadioShack.)
Chart situation
BlackBerry's share chart is characterized by temporary bursts of volatility around results release dates. This is not really spectacular and to be expected of a company that causes investor anxiety.
The good thing, though, is that BlackBerry has regained strength lately and recaptured the $9.50 mark while at the same time exhibiting lower levels of volatility. Both are good signs and basically point to the fact, that investors have already been repricing BlackBerry's turnaround odds in the past.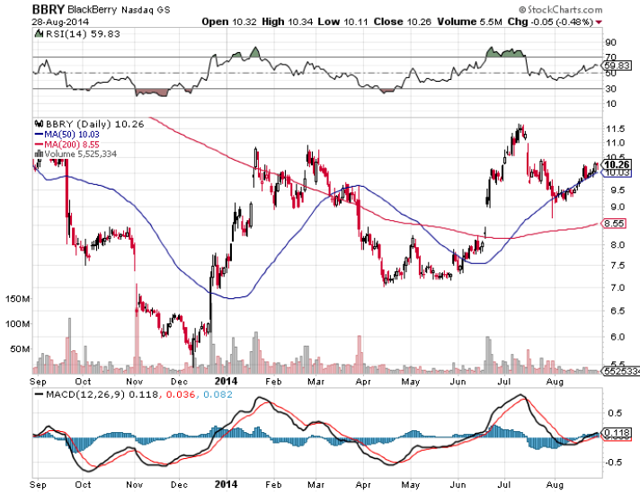 (StockCharts.com)
Conclusion
As weird as it may sound to financial-driven investors, the best indicators of significant rebound value remains collective pessimism and the extrapolation of the status quo.
BlackBerry's short interest has peaked just when the stock bottomed - which is a fascinating insight into the psychological workings of the stock market - and it has declined significantly from its peak last year.
BlackBerry remains an interesting rebound candidate with a variety of operational catalysts such as the Z3 emerging market sales initiative, the new Passport smartphone and a monetization of BBM. Strong Buy.
Disclosure: The author is long BBRY, JCP, BBY, FNMA, AIG.
The author wrote this article themselves, and it expresses their own opinions. The author is not receiving compensation for it (other than from Seeking Alpha). The author has no business relationship with any company whose stock is mentioned in this article.