The intermediate term is what concerns me about Fifth Street Senior Floating Rate Corp. (NASDAQ:FSFR). The corporation is externally managed by Fifth Street Finance (NYSE:FSC) and has been in existence since May 2013. It invests in privately-held companies that tend to have no credit rating, and otherwise would be junk-rated. Most of the loans are senior, however -- in bankruptcy there can be an 80% haircut on subordinated debt, 60% on mezzanine, and 50% to others. Further, it has just issued a shocking secondary offering and it is not known for certain how the new capital is to be deployed.
The overall environment is one in which there has been ongoing suspicion that interest rates have nowhere to go but up after years of aggressive, or accommodative, central bank policies. If rates move higher, there should be increased demand for sources of capital that businesses need. However, the situation has probably been confounding to many, perhaps even Fifth Street management: borrowing transactions can still be executed cheaply.
The London Interbank Offered Rate ("LIBOR") is central to FSFR's business model. The company has cash and investments earning interest at rates based on LIBOR, and lends at floating rates that are typically equal to LIBOR plus a percentage. As shown in the following graphic from its quarterly SEC filing, the majority of the company's interest bearing cash and investments is at the 90 day LIBOR rate: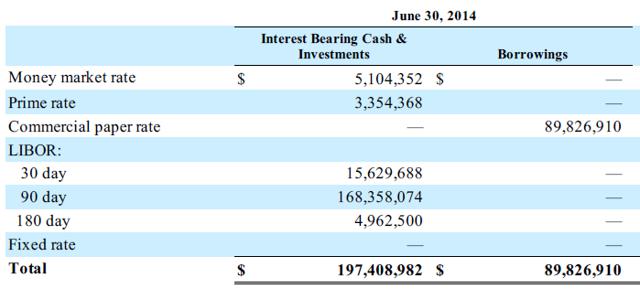 Here is a graphic from YCharts showing what LIBOR has done over the past 10 years: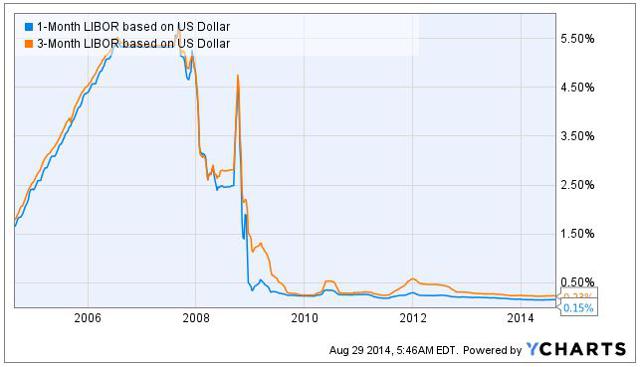 Rates should rise eventually, though it may be years from now. Ergo there could be a chance to enjoy the compounding effects of reinvesting dividends in anticipation. One means that could be worthwhile is the UBS ETRACS 2X Leveraged Long Wells Fargo Business Development Company ETN (NYSEARCA:BDCL). In exchange for the risks of borrowing to amplify returns, the risk is spread across approximately 32 different business development companies. The dividend has been close $1, it is paid four times a year, and shares are priced in the mid $20s.
Returning to FSFR, it could theoretically be safer than components of the BDCL ETN just mentioned, as its loans tend to be senior and non-subordinated. Loans are first or second liens at rates based on LIBOR; plus an additional percentage, with a specified floor at or just above 1%. First term lienholders have preeminent rights to collateral, second term are next in line.
Meanwhile, low rates should reduce the risk of default:
An increase in interest rates from their historically low present levels may make it more difficult for our portfolio companies to service their obligations under the debt investments that we will hold.
However, make no mistake about it:
…A general increase in interest rates will likely have the effect of increasing our net investment income (Source: Form 10-K).
The company currently invests in 26 different areas, the only two comprising a double-digit percentage of total fair value being healthcare services (12.97%) and internet software & services (12.11%). Healthcare is now substantially lower as a percentage than in the past; and the changing regulatory environment presents several risks. Investing activities are also dispersed geographically, with the highest percentage in the northeast (28%), mid to high double digit percentages throughout the rest of the nation, and only 2.71%, or $5,194,501 deployed internationally.
The company's IPO of 6,666,668 shares priced at $15.00 occurred in July, 2013. There was $11.7 million in unfunded commitments, or off balance sheet arrangements. A shockingly large recent transaction, issuing 22.8 million new shares at $12.91, caused material change and uncertainty. It is visible in the stock's chart: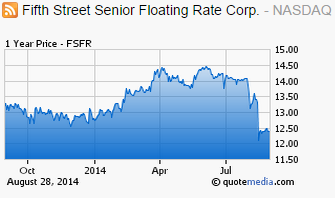 MLV & Co. is maintaining a Buy rating on the stock but lowering its price target to $13, equal to its 4Q 2015E NAV per share, as of an August 15th company update. An included table shows that FSFR shares have had a Net Asset Value ("NAV") of close to $15.13 during most of 2014:

As can be summarized from the chart and table, shares have been trading at a price lower than NAV. The new equity has issued at a 15% discount, and the estimate above shows a projected NAV of $13.15.
The company pays fees to its manager, Fifth Street Management LLC. Leonard Tannenbaum, the chief executive officer of Fifth Street Finance Corp. and Fifth Street Senior Floating Rate Corp., has been snapping up shares at prices under $13, with the bulk purchased at $12.91. It is a favorable sign; though additional insider buying would offer a better signal.
The company ranks its investments, and as of the past quarter, 100% lie within Ranking 2, denoting performance in line with expectations. MLV & Co. anticipates that FSFR will not be fully invested until after 2015, and will use 30% of its new capital for off balance sheet joint venture arrangements. Under the scenario, EPS is projected to eventually be the same as before the dilutive offering: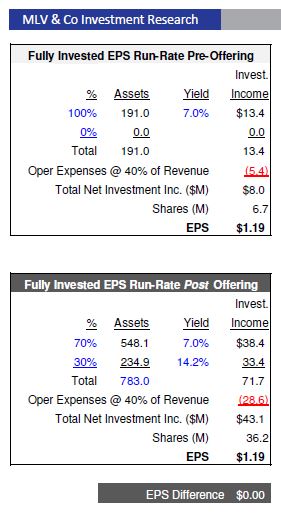 Fifth Street Senior Floating Rate Corp. is required to distribute annually to its stockholders at least 90% of its net taxable income and net realized short-term capital gains in excess of net realized long-term capital losses. Net taxable income goes to shareholders as dividends. A $0.30 dividend for shareholders of record in mid-September has been declared. It is the highest dividend made to shareholders shown in company records, and results from several consecutive quarterly increases.
What is concerning is a potentially lower dividend until results pick up again; provided there is no issue or problem. Here is MLV's commentary:
Lowering our dividend outlook for fiscal 1Q15 and 2Q15 - We are lowering our outlook for the quarterly dividend from the current $0.23/share to $0.14/share in fiscal 1Q15 and $0.19/share in fiscal 2Q15. This is based on our lowered earnings per share outlook for fiscal 2015, and assumes FSFR will seek to keep its dividend payout roughly in-line with earnings rather than cannibalize NAV.
The company's Third Quarter conference call is scheduled for September 10th, and better information may be available then. The dividend outlook and overall capital allocation are key questions.
Fifth Street Senior Floating Rate Corp. has just declared its highest dividend payment ever to investors. However, with rates remaining low, there has been a need to multiply the share count. Over the short term, there may not be much difference. In the intermediate term, there could be some difficulty deploying capital and earning returns. It could all pan out eventually and be worthwhile for shareholders who reinvest the dividend.
Disclosure: The author is long FSFR, BDCL.
The author wrote this article themselves, and it expresses their own opinions. The author is not receiving compensation for it (other than from Seeking Alpha). The author has no business relationship with any company whose stock is mentioned in this article.
Additional disclosure: Shares of FSFR may be liquidated over the next 72 hours.