After the strongest holiday spending season in 4 years, consumers are showing signs typical of the post-Christmas hangover as retail sales softened in the first week of 2011. January is usually the lightest month of the year, as retailers focus on closing out inventory and shoppers stick to bargain hunting and redeeming gift cards.
The International Council of Shopping Centers (ICSC) reported that chain store sales rose 3.5% from the year-ago period, but fell a sharp 3.2% when compared to the prior week.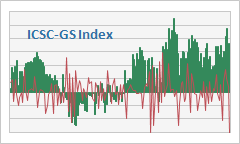 Michael Niemira, ICSC vice president of research and chief economist, said:
Although sales fell sharply during this past week, the week-over-week decline probably was exaggerated by the seasonal adjustment given a low volume week. More importantly for January, retailers should see some improvements over the next few weeks as consumers redeem their gift cards throughout the month.
ICSC Research expects January same-store sales to increase about 2.5%, as surveys suggest consumers may redeem a smaller share of their gift-cards in January 2011 than they did in that month in the prior year.
Redbook Research said that same-store sales posted a 2.8% increase for the week ending January 8th, following a 3.5% gain the prior week. However, sales dropped 0.5% relative to December. Gift card redemption will be the main driver this month, and outerwear and seasonal clothing led the way this past week as colder weather drove shoppers to snap up winter clothing.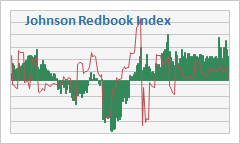 Catlin Levis, Redbook analyst, said:
Retailers at department stores said consumers were motivated by prices as January clearance sales got under way. Some discounters reported that consumption had reverted to more normal patterns, with a focus on basic commodities and food. Clearance is the key theme in January, with most retailers planning to bring in new Valentine's Day and spring merchandise from about the middle of the month.
ShopperTrak won't report weekly spending until later today. However, the company did say that overall holiday spending increased 4.0% and foot traffic was flat to last year.
Bill Martin, co-founder of ShopperTrak, said:
The 2010 holiday retail season undoubtedly provided unexpected ups and down, some good, some a bit challenging. Although early November door buster sales and promotions had been planned months in advance, the dramatic response, which quite possibly saved the season, was a very welcome surprise. Then just as retailers were beginning to shake off sluggish returns from early December, the blizzard in the East and Northeast essentially wiped out traffic and sales in the days immediately following Christmas, strongly impacting overall monthly performance.

Although we're still essentially comparing to depressed levels, the four percent sales rise this season is the first real positivity in two years and should be seen as a relatively encouraging sign for retailers heading into 2011.
Disclosure: I have no positions in any stocks mentioned, and no plans to initiate any positions within the next 72 hours.