Three companies are looking for an FDA approval in January. Those companies are Depomed (NASDAQ:DEPO), Clinical Data (NASDAQ:CLDA), and Orexigen Therapeutics (NASDAQ:OREX). Based on the lower short interest of Depomed, it seems the market believes their drug might receive an FDA approval. This article will focus on Depomed while looking at the short interest in the other two companies as well.
Depomed has moved higher in the past few weeks as the PDUFA date of Jan 30th approaches for DM-1796 to treat post-herpetic neuralgia (PHN). The short interest has changed by almost 1/2 million from Nov 30 to Dec15th when the short numbers were made public. This is not a large amount as overall it is only 8% of the float of 39 million and an outstanding share count of only 52 million. The overall sentiment based on this short sales data seems to be that most investors believe that DM-1796 will be approved. Significantly shorting a small float stock on what could be positive news for DM-1796 come Jan 30th could prove to be costly for short sellers. Depomed continues to break through 52-wk highs in the month of January, suggesting that there is overall bullish sentiment in their chances with the FDA.
Click images to enlarge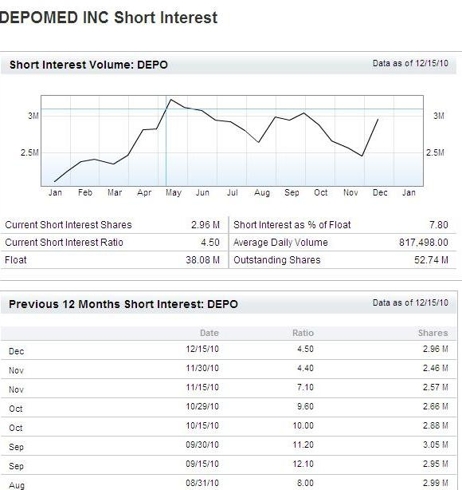 In the past, stocks facing PDUFA dates as well as current ones have experienced high short interest, which could indicate that investors are not as confident on approval for those companies' drugs. In October, Avanir (AVNR) had a short position as high as 25% for their drug going into their PDUFA date. This forced a bear raid on Oct 29th as investors saw the stock move from $3.05, with 2 hours left in the trading day, to $1.31 with one hour remaining. The stock closed near $2.50 heading into the approval at the business close of day. The stock moved well over 100% the following Monday after the drug was approved for their company and it hit an intraday 52 wk high of $5.80.
Current companies facing a PFUDA date within January also have high short positions. This could be a result of the lack of investor confidence that these drugs will see approval and may receive a denial or a complete response letter when they are up for FDA review. These companies are Clinical Data on Jan 22nd and Orexigen Therapeutics on Jan 31st. CLDA has a short interest of 22% of their float or 3.17 million of the 14.4 million float. OREX has a 27.60% of float or 6.88 million of the 24.9 million in the float. Both high short interests can be viewed by investors with either caution or an opportunity depending on what they believe will happen on those respective companies' PDUFA dates.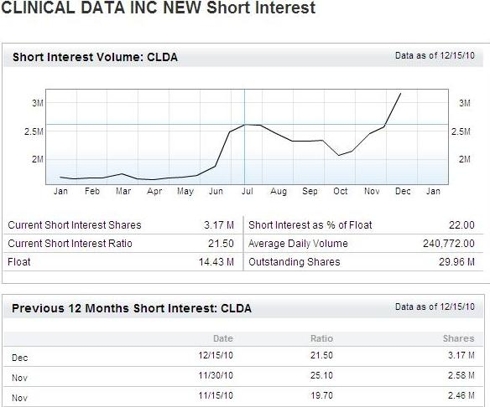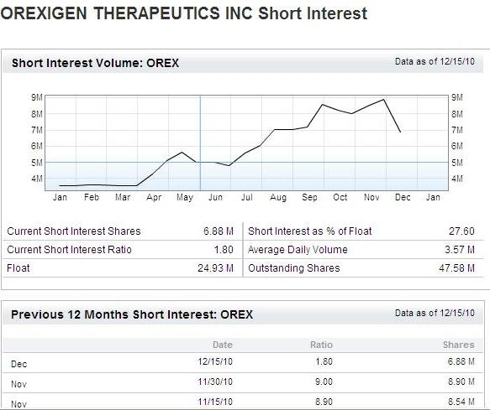 The share count of Depomed it is still a high enough percentage to drive the shares on approval but not so high to manipulate the stock so much that the MM's will do a bear raid. This sentiment is based on the low short position so close to approval. DEPO has been trading in solid ranges and there has not been too much volatility higher or lower. Consistent accumulation has been demonstrated in the stock and the stock has moved much higher in the past few weeks. Investors should continue to watch the shares of Depomed as it moves closer to growing its company significantly in 2011 should it obtain approval of DM-1796 on January 30th.
Disclosure: I am long DEPO.

Additional disclosure: My position in a stock can change at any time.