I have been cautioning against Frontline Ltd. (NYSE:FRO) for almost two years now, and in the last two quarters, the company has admitted the fact that solvency will be an issue in the next six months. The market conditions and depressed rates drove down revenue at a time when Frontline went on a spending spree and ordered multiple ships. Now the notes are starting to come due, and Frontline doesn't have the cash to pay them.
Frontline is one of a number of companies owned by billionaire John Fredriksen. The company just reported 2nd Quarter 2014 earnings, and once again signaled to investors that it might not be able to pull out of the tailspin it has found itself in.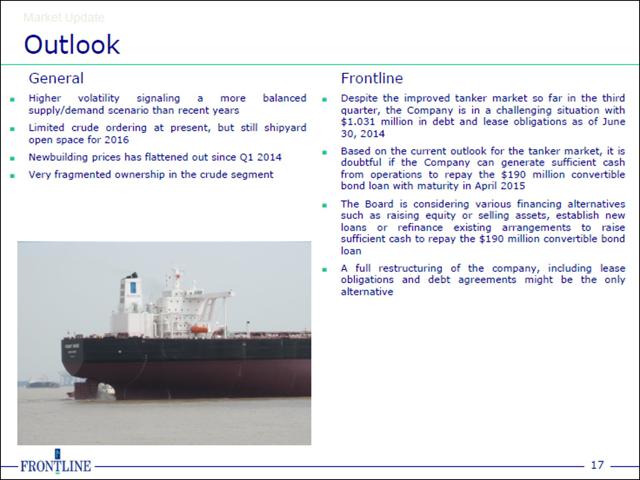 (Source: company presentation)
The company reported:
Net loss of $78.2 million for the second quarter of 2014, equivalent to a loss per share of $0.81.
Net loss of $22.1 million for the second quarter of 2014, when excluding impairment loss of $56.2 million, equivalent to a loss per share of $0.23.
Issued 2,865,511 new shares under the ATM program in the second quarter and a further 1,140,226 new shares in July 2014.
During the last quarter, the company reported a decrease in the cash position by $49 million due to newbuilding payments in the quarter of $41.5 million. This leaves the company at a cash position of $62 million. During the conference call, the company further outlined that another $41.5 million will be paid in the 4th Quarter when the newest Suezmax tanker is delivered. To make that payment it's doubtful the company would empty their coffers, so investors will likely either see additional shares issued or more debt.
Will John Fredriksen save the company?
About the only thing that will save the company is if John Fredriksen comes in to save it. I find the likelihood of that very remote. Fredriksen owns multiple companies, either through his own investment companies Hemen Holdings and Meisha, or through his own holdings, and has to think of the whole. While he maintains a role as CEO or Chairman at some of them, others he is content to let be run by trusted allies.
Frontline has a market cap of just over $200 million. With assets totaling $1.2 billion, stockholders have -$67 million in equity. That compared to his other companies: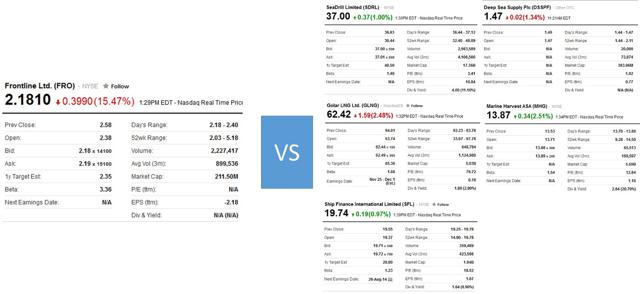 While Fredriksen has a fiduciary responsibility as the Chairman, CEO and President to his shareholders, he is under no responsibility to commit his own money to save a company that may have become over extended. For the last two quarters, the company has been telling investors that it may not have the ability to repay the convertible bond loan that will mature in April 2015. That is in addition to almost $1 billion in long-term liabilities the company is currently facing.
This quarter the company went one step further and stated:
"A full restructuring of the company, including lease obligations and debt agreements might be the only alternative."
During the question and answer session of the conference call, investors and analysts were very focused on assets and options going forward; however, management was very guarded about the options going forward.
John Reardon - Merriman Capital: Good afternoon. Does Frontline still have their shareholding in Frontline 2012?

Jens Martin Jensen - CEO of Frontline Management AS: Yes.

John Reardon - Merriman Capital: And is that approximate value still around $70 million?

Inger Klemp - CFO of Frontline Management AS: No, it's higher. It's more than that, around $90 million.

John Reardon - Merriman Capital: Okay. So, that could be one of the options to access some cash going forward, is that correct?

Inger Klemp - CFO of Frontline Management AS: One of the alternatives, yes.
and
Galia Velim of GLG: And you cannot make any comments on different options you're exploring and how far you are in terms of reaching some kind of financing?

Jens Martin Jensen - CEO of Frontline Management AS: It depends on the overall solution we go for and then that will be communicated when that is ready.
The highly speculative case
The speculative case for the company is:
FRO is able to restructure debt
Shipping rates recover
Fredriksen takes the company private
The likelihood of restructuring $190 million is remote. Over the past year, the market has seen two other shipping companies go bankrupt: Genco Shipping & Trading Ltd. (GNKOQ) and Eagle Bulk Shipping, Inc. (NASDAQ:EGLE). While both of them were in the bulk shipping industries, financiers are starting to grow impatient with the impending recovery.
Shipping rates are starting to move into a cyclic upturn in the industry, and will likely continue to move up during the 3rd quarter: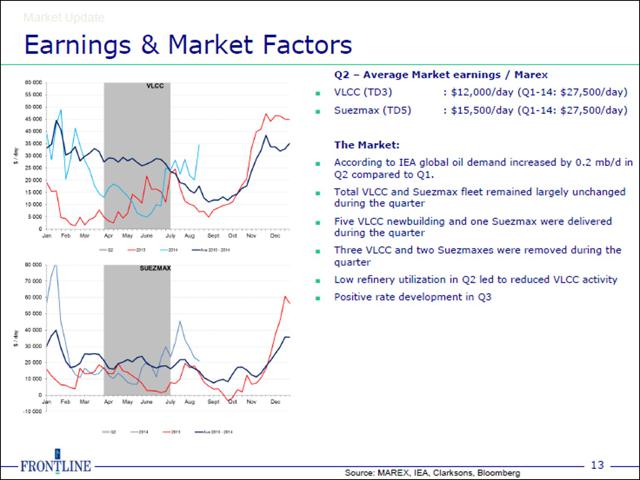 (Source: company presentation)
The company estimates the break even rates for VLCCs to be $24K/day and Suezmax to be almost $18K/day. In order to make the $190 million in the next three quarters, the company will have to post an average profit of just over $63 million per quarter.

In order to meet the demands of the debt due in April, the company would need average day rates of $33.3K for Suezmax and $40K for VLCC. While rates have been at these levels before, the market hasn't been able to sustain them for a prolonged period of time.
The last possibility would be for Fredriksen to take the company private. This again seems unlikely since Frontline 2012 was launched in 2012 to buy up the assets that Frontline couldn't afford. While Fredriksen would loose money with his shares of FRO, he could sell off the assets to Frontline 2012 and recoup those losses while expanding his private empire.
Conclusion
Frontline was once a high flying company, but is now arriving at the door of bankruptcy. There is a way for the company to avoid it; however, it would take either a major commitment from John Fredriksen or a major sustained change in the crude shipping industry. Neither of which look likely.
Disclosure: The author has no positions in any stocks mentioned, and no plans to initiate any positions within the next 72 hours.
The author wrote this article themselves, and it expresses their own opinions. The author is not receiving compensation for it (other than from Seeking Alpha). The author has no business relationship with any company whose stock is mentioned in this article.