One would expect that when a company announces that it expects to see revenues increase from $200 million to $500 million in only two years the market would react favorably. Especially when that company has a market cap of less than $400 million and is trading at extremely cheap P/E and forward P/E ratios. However, this was not the case for NQ Mobile (NYSE:NQ). This article published two days ago includes a translated quote from NQ's CEO and Co-founder Yu Lin that confirmed that NQ expects to reach $500 million by 2015. Investors originally heard this expectation earlier in the year, just a few weeks after Muddy Waters' report was released. At that time the stock was trading around $14 and was on its way to rebounding. This time around, the market has shown it is not buying NQ's forecast as can be seen from NQ's price action.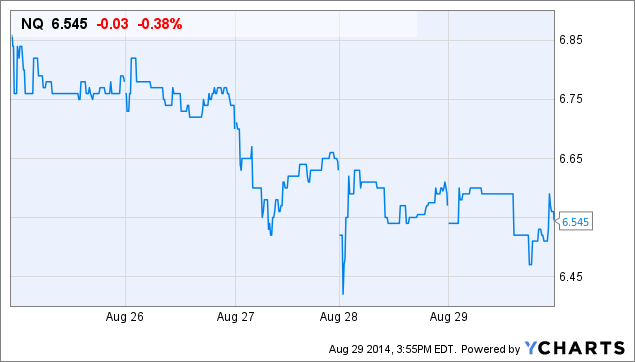 A more significant observation about the company concerns NQ's advertising numbers. A few months ago an article on Seeking Alpha laid out nicely how NQ's reported $36.6 million in advertising revenue for 2013 seems rather high. Based on NQ's Q4 2013 numbers, advertising revenue was 18.6% of total revenue. Given that fact, I was shocked to see that in the recent article it says that, according to Yu Lin, mobile advertising now accounts for close to 50% of revenue. I find it hard to digest that in just a few months since last April, mobile advertising has gone from 18% of total to now close to 50%. Let's take a look at some numbers: analysts expect $326 million in revenue for 2014, according to Yahoo, which would mean full-year advertising revenue would be somewhere in the area of $130 million (40% of revenue) to $163 million (50% of revenue). To be fair, NQ said advertising revenue increased over 300% YoY (312% to be exact) in 2013. But in order for their current advertising revenue to make up 50% of their total revenue, it would mean that NQ would have to increase advertising by roughly 300% again, something that I would argue is very unrealistic.
Yu Lin went on to discuss how advertising is expected to be one the company's main growth areas and while I don't disagree with that strategy, I find it hard to accept that the company could see its advertising revenue jump 300% in consecutive years, and that in just under five months, advertising could jump from 18% of total revenue to close to 50%.
Disclosure: The author has no positions in any stocks mentioned, and no plans to initiate any positions within the next 72 hours.
The author wrote this article themselves, and it expresses their own opinions. The author is not receiving compensation for it (other than from Seeking Alpha). The author has no business relationship with any company whose stock is mentioned in this article.