The market for 3D printing was $2.8 billion by the end of 2013, and is projected to grow geometrically from there to $10 billion by 2020. 3D printing companies are quickly developing new products and expanding business to take advantage of the growth of additive manufacturing. Investors took notice of 3D printing in a big way throughout 2013, with Stratasys Ltd. (NASDAQ:SSYS) gaining over 400% and 3D Systems Corp. (NYSE:DDD) gaining 100% (Chart 1).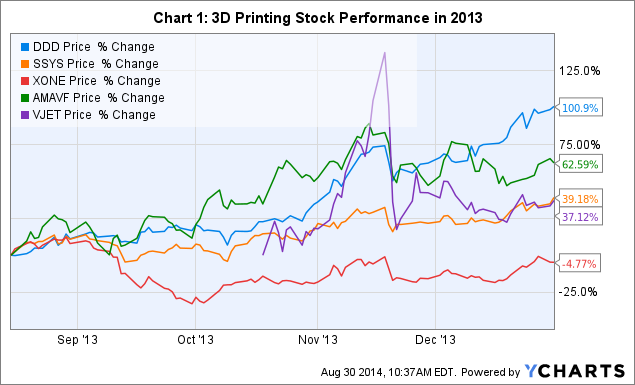 (Source: YCharts)
However in January 2014, investors decided that revenues from 3D printing weren't growing as quickly as they liked and sold off shares (Chart 2). SSYS is now down 10% and DDD down 40% this year. Smaller printers were likewise hit hard, and are now down roughly 50% this year.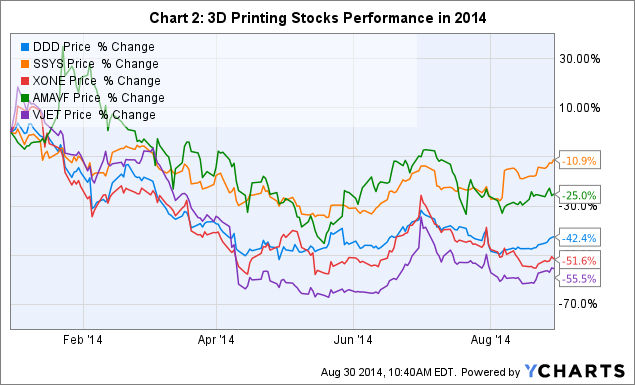 (Source: YCharts)
Although the business goals of 3D printing weren't changed and the potential for market growth still remains for additive manufacturing, impatient investors became disillusioned and 3D printing stocks fell out of favor. Short interest in 3D printing companies is now upwards of 15% of float for SSYS and even as high as 34% of float for DDD. The 3D printing market appears to be a playpen for short investors attempting to make money off of DDD, SSYS and the smaller printers. However while the shorts play, long-term investors wait, pick up bargains, and store up 3D printing stocks to prepare for the growth and maturity of the industry.
The larger 3D printers, SSYS and DDD, are dissected to no end by commentators, analysts, and armchair investors like myself. Their quarterly results move the entire industry since many investors in 3D printing are purchasing shares in multiple companies in order to not miss out on any gains. The most recent DDD earnings report sank DDD by 10%, SSYS by 4%, and ExOne Co. (NASDAQ:XONE) by 7%, while the recent earnings beat by SSYS lifted the industry by amounts ranging from 2% for DDD to 7% for XONE to 14% for SSYS. Sometimes the news of the larger printers overshadows interesting developments or capabilities from the smaller printers.
Voxeljet (NYSE:VJET) is one such small 3D printer that has a focus on industrial printing, and provides on-demand printing of molds or models. VJET printers range from 0.15x0.2x0.3 cubic meters (6x8x12 cubic inches) printing space in the VX 200, to 1x2x4 cubic meters printing space (3.3x6.5x13.1 cubic feet) in the VX 4000, which is the largest industrial sized printer available in its class. All VJET printers are marketed as being able to print in plastic, silicates, and printing molds for casting metal objects. The size of the VJET printers combined with the variety of printing materials are an important step towards the large-scale manufacturing of bigger objects like cars, engines, boats, airplanes, or construction materials. Q2 earnings reported revenues of €2.7 million or $3.7 million, a 31% increase over Q2 2013. The earnings were helped by VJET selling two printers in Q2, compared to only one in Q2 2013. Additionally, profit was up in Q2 2014, 31.5% compared to 28.7% from Q1 2014. However VJET reported a net loss of €1.4 million or $1.9 million due to R&D and marketing expenses. VJET is currently expanding its present facilities, acquiring 40,000 square feet in building space in Freidelburg, Germany. Additionally they are expanding overseas to Canton, MI outside Detroit, to a new 50,000 square foot facility, to serve the American auto industry as well as gain access to customers in the Midwestern United States and Canada.
XONE is another industrial printer, capable of printing in glass, ceramics, and metals. Normally printers are each formulated for printing in one material, but the XONE M-Flex is able to print in all three. Printers range in size to the XONE S-Max 70x39x27 cubic inch printing space to the X1-Lab 1.5x2.3x1.3 cubic inch space. During Q2 2014 XONE sold 6 printers, which contributed to revenues of $11.2 million, a 21% increase over Q2 2013. Although revenues were up, XONE reported a $4.7 million operating loss due to increased R&D ($1.9 million for Q2, up from $0.6 million in Q2 2013) and SG&A expenses ($5.3 million, up from $3.9 in Q2 2013). XONE operates 8 production service centers in the U.S., Germany, Japan, and Italy. The company has been expanding, having added the Italian service center this year to gain access to more European customers.
Arcam AB (OTCPK:AMAVF) is another additive manufacturer that deals largely in production of metals for medical devices such as orthopedic implants and aerospace. However AMAVF uses a different method than the layered-printing method used by XONE and VJET. AMAVF fabricates goods using electron beam melting (EBM), where material is laid down and shaped in a vacuum at high temperature by an electron beam that has been split multiple times. EBM forms goods at ambient temperatures to avoid precipitous temperature gradients that can crack or warp surfaces. AMAVF printers are capable of printing titanium and cobalt-chrome alloys, lightweight durable materials that can form dense microstructures. Because EBM is able to split the main electron beam, the multiple beams are able to synthesize the structures faster than the single or double beams used by other 3D printing techniques like selective laser sintering. From 6 product centers around the world, AMAVF received orders for 10 systems for Q2 2014, and delivered 4 of them over the same period. Sales for the quarter were $6.6 million, with profits amounting to $57,000. In the February of 2014, AMAVF acquired Canadian metal powder manufacturer AP&C to allow a more streamlined acquisition of powders necessary to material production. The business has been increasing personnel, having grown from 55 in June 2013 to 113 in June 2014. Increasing personnel should help AMAVF moving forward in the production and delivering of its systems.
Year-end 2013 revenues for VJET were $15 million, XONE reported $40 million, and AMAVF reported $29 million. Market share from the $2.8 billion estimated for 2013 for each would then be 0.5% for VJET, 1.5% for XONE, and 1.0% for AMAVF. Were market share distribution status quo to be maintained until 2020, VJET revenues could be $107 million, for XONE $286 million, and $201 million for AMAVF. However, were spending allocations to stay the same the only of the three to produce any actual revenues would be AMAVF, since VJET and XONE currently report losses due to R&D spending and SG&A. However since the 3D printing market is not yet mature, elevated levels of R&D are necessary to produce products that will sell. The elevated SG&A costs for XONE are worrying. It might seem that XONE has too many service centers for its size. If it continues growth the centers will be needed, but perhaps shutting down one of the 5 in the U.S. might help cut costs. Alternately moving one to another country would increase coverage and even bring in more product and service revenues to offset expenses of maintaining the center.
Investors seeking to take advantage of the growth of 3D printing should take a long-term standpoint. Volatility over the next couple years should be expected as existing companies develop and new companies enter the scene. Purchasing shares in multiple 3D companies might help spread gains and cut some losses, as investors in both DDD and SSYS found when those companies reported their most recent quarters. Moving forward, potential investors should watch quarterly reports for affirmation of future goals of growth and development. VJET appears to be growing, but future reports should be watched for details on how its expansion to the U.S. helps its earnings. XONE is likewise growing, but SG&A costs should be watched going forward. AMAVF is also growing and making acquisitions to streamline its supply chain. With the speed of EBM, AMAVF could see significant growth in the aerospace industry. AMAVF quarterly reports should be monitored to see whether AMAVF can deliver ordered systems. As the 3D printing industry grows VJET, XONE, and AMAVF are likely to grow as well.
Disclosure: The author is long AMAVF, DDD.
The author wrote this article themselves, and it expresses their own opinions. The author is not receiving compensation for it (other than from Seeking Alpha). The author has no business relationship with any company whose stock is mentioned in this article.
Additional disclosure: The data provided here is for informational purposes. Before buying or selling stock you should do your own research to reach your own conclusion. Investing includes risk, and potentially loss of principal.