We have a feeling that things are going to be a bit more difficult from here. In no particular order:
Putin, after a show summit with the Ukrainian president, seems to go all-in in Ukraine
US consumption actually declined in July
Eurozone inflation came in at a frighteningly low 0.3%
We've had a long stock rally with the S&P at 2000
QE in the US is coming to an end and the talk is about when, not if rates are up
Bonds have rallied almost world-wide and are at dizzying heights
Stock buybacks are declining
Of these development a war between Russia and Ukraine is by far the biggest danger. Should there have been any doubt that Putin can't be trusted, these doubts should have settled by now. When Putin was talking peace with the Ukrainian president Poroshenko, his troops were preparing a ground offensive at the same time, and this has put Ukraine in a very awkward situation.
It either confronts them militarily with the risk of all-out war with Russia, something that the Ukraine can't win, or it accepts a cease fire with a humiliating loss of territory. As long as Putin's popularity is riding sky-high back home on the Ukrainian issue, he isn't likely to back down anytime soon.
In either case, the likelihood of further crippling sanctions and counter-sanctions is rife, as is the prospect of the collapse of the Ukrainian economy.
Add in the worrying lack of growth in the eurozone and we have the prospect of further economic headwinds, just at a time when we can least use it. While this is likely to prompt the ECB out of its slumber, even a dramatic asset purchasing program (QE) isn't likely to turn economic fortunes around just like that.
QE isn't a miracle cure, far from it. It mainly works by lowering bond yields, which are already very low, boosting asset prices, which are already high, and lowering the euro, which has already come down quite a bit. It's helpful, boosting market confidence and it might keep the eurozone from falling into outright deflation, but one shouldn't expect it to boost economic growth by much, if at all.
If the ECB should embark on QE just when the Fed is ending its QE program, this will increase the dollar further, which produces some headwinds in the US. And there are already some headwinds. In July, consumption actually declined.
Although that decline was minimal (0.1%) and it's just one month, the forces behind low consumption growth are all too real. Wages aren't growing all that much and the real unemployment rate is almost certainly much higher due to the discouraged worker effect.
Consumption is two-thirds of the US economy, stagnation here will have large ripple effects, not only in the US, but in the rest of the world. With stocks and bonds already at or close to record highs, we think that the risks are increasing.
One of the factors underpinning the rally in the stock market, stock buybacks, is diminishing as well, while the debt to finance these is piling up: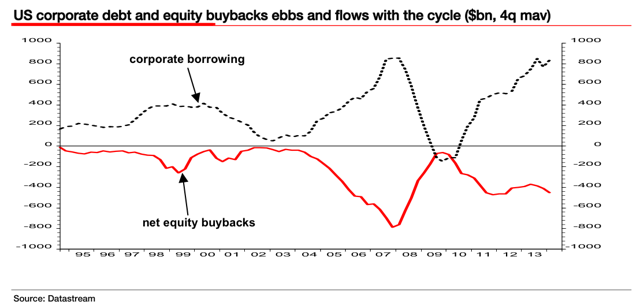 Société Générale's Albert Edwards argues that this is entirely QE fuelled and is now coming to an end. We're not quite convinced of that, as we think it's fuelled by low bond yields, which are only partly driven by QE (the well telegraphed ending of QE hasn't caused any spike in bond yields, quite the contrary, as it happens).
However, it does seem reasonable to assume that this cannot continue forever, certainly not on this scale, and it provides some explanation on why bonds and stocks have rallied hand in hand.
Investment consequences
With rallies extending and the clouds darkening somewhat, we generally urge you to be more careful and have some cash available. More specificly:
We think the euro will continue to go lower
We think that the VIX is likely to spike
We think that stocks are more vulnerable than bonds, which tend to provide safe haven in times of geo-political troubles
Play the euro on the currency markets, these are the cheapest and most liquid, but you can also chose EFT's like iPath EUR/USD Exchange Rate ETN (NYSEARCA:ERO) and CurrencyShares Euro Trust (NYSEARCA:FXE). A spike in the VIX can be played on the futures market with VIX futures, the most well known is iPath S&P 500 VIX Short Term Futures ETN (NYSEARCA:VXX) but you can go long in the inverse VelocityShares Daily Inverse VIX Short Term ETN (NASDAQ:XIV).
We generally don't advice to go long in the leveraged VIX ETFs for any length of time as the roll-over of future contracts ("negative roll yield") eats away your returns, so you have to be very accurate with timing. It usually is a much better idea to short these after a big spike.
Disclosure: The author has no positions in any stocks mentioned, and no plans to initiate any positions within the next 72 hours.
The author wrote this article themselves, and it expresses their own opinions. The author is not receiving compensation for it (other than from Seeking Alpha). The author has no business relationship with any company whose stock is mentioned in this article.
Additional disclosure: We are short EUR/USD