TD Bank (NYSE:TD) reported a solid Q3FY14 with adjusted EPS $1.15 that was above consensus $1.10. Most important, each segment net income was ahead of consensus, led by wholesale (+46% y/y) and wealth (+14% y/y), Canadian P&C (+11%) and US P&C (+9%). The result reflects TD's solid execution amid a soft environment and, when coupled with above-average growth profile, the stock is still the one to own among the Canadian large cap banks. At 12.5x next year's earnings and 2x book, valuation looks attractive at this point.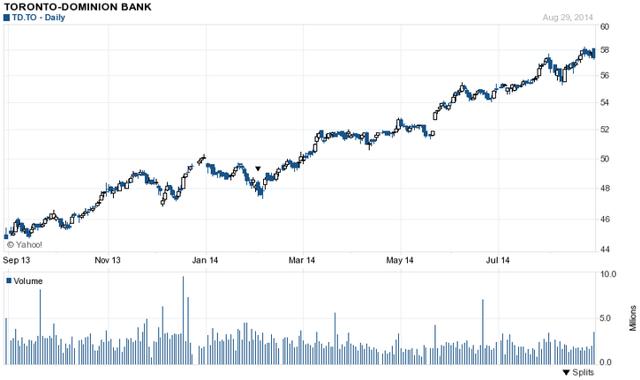 Canadian banking
Canadian P&C net income was +11% y/y, partially helped by the acquisition of Aeroplan. Revenue grew +7% (vs. expense +5%) and PCL grew +6% during the quarter. Credit and expense remain well controlled for the quarter but expect minor uptick in Q4 on the expense side due to the income restructuring initiatives. Loan volume grew +6% y/y, with residential +6% y/y and commercial +1.8% q/q and +11% y/y (a good sign of strength). Retail NIM was flat sequentially at 2.87%.
Canadian wealth and insurance
Canadian wealth and insurance had another balanced quarter with wealth net income +13% y/y and insurance showing early signs of rebound after some mixed results in the prior quarters. Asset growth remains healthy with AUA +6% y/y and AUM +16% y/y.
Wholesale
Net income of $216m (+46% y/y) was helped by $325m in trading revenue, of which equity-trading revenue was $103m (vs. $101m in the prior quarter). Advisory and underwriting were both strong with revenue of $148m (vs. $109m in the prior quarter). I expect wholesale to maintain the current momentum heading into Q4 and continue to beat consensus.
US banking
US P&C excluding Ameritrade earnings were driven by favorable credit although it is worth noting that topline growth is still muted, highlighting the challenges that TD faces in the US. In addition, PCL was significantly lower, which was another driving factor behind earnings. Volume growth is slightly weak with personal loan growth +3% while commercial loan +13% drove the overall +8% growth. US continue to remain a challenge, with management expect lower NIM and higher expenses in Q4 given the competitive landscape and the low interest rate environment.
Conclusion, TD remains my favorite pick among the Canadian large cap banks given its near-term growth profile. Operating outlook remains positive as Canadian P&C and wholesale are likely to deliver in the near-term. In addition, the US banking segment will likely to benefit from the ongoing US recovery. At 12.5x forward earnings and 2x book, the valuation look attractive.
Disclosure: The author has no positions in any stocks mentioned, and no plans to initiate any positions within the next 72 hours.
The author wrote this article themselves, and it expresses their own opinions. The author is not receiving compensation for it (other than from Seeking Alpha). The author has no business relationship with any company whose stock is mentioned in this article.