Long-term care insurance remains a challenging business segment for Genworth (NYSE:GNW). Despite price increases and product changes over the last several years, LTC operating earnings in the second quarter plunged to $6 million, down 87% from 1Q14 and down 77% from 2Q13. The operating margin fell to 0.7%, down from 5.4% last quarter and 3.2% last year. The loss ratio jumped up to 73.2%, compared to a range of 65% to 68% over the past three years. The weak results caused the company to miss analysts' second-quarter estimates, sending the stock down 14%.

The results took management by surprise. The company's last annual review in the third quarter of 2013 had indicated that reserves were adequate. First quarter 2014 results had shown continuing margin improvement. On the 2Q14 conference call, CEO Tom McInerney indicated he did not know whether second-quarter LTC results were an aberration or the start of a trend. A comprehensive review of the reserves and their underlying assumptions will be completed in the third quarter of 2014. The company has indicated that an increase to reserves "may or may not be material."
GNW has long recognized that its older block of LTC policies was underpriced. In 2012, the company initiated rate increases of 50% on older generation policies and 25% on new generation policies, which are expected to increase annual premiums by $250 to $300 million by 2017. These increases require state-by-state approval. For states which granted GNW the full rate increase requested, GNW has agreed not to request another rate increase for five years. For the thirty states that did not grant the full increase, GNW plans to go back and request more premium increases.
What is causing these products to be so unprofitable? The chart below shows the demographics for the older generation products (Pre PCS, PCS I, PCS II) as well as Choice I, which is a new generation product. These policies account for 647,000 in-force lives, or 53% of the total 1.2 million lives covered by GNW policies. Customers are currently 70-85 years old and have held these policies for 10-20 years. Over 30% have lifetime benefits, a feature which is not offered in GNW's newer products.

This group has not performed in line with GNW's original assumptions: they are living longer, have held their policies longer than expected, have longer payout periods, and have higher health care costs. The bulk of the $250-300 million of annual premium increases will be applied to these policies. The company hopes this will bring them to breakeven status.
GNW has 50,000 people on claim status, which is 4% of total policies. As the customer base continues to age and more enter claim status, the pressure on GNW will escalate. The problem is especially acute for those policies offering lifetime benefits.
GNW would benefit if customers cancelled their policies in response to higher pricing, or opted for lower levels of benefits to reduce their costs. However, an 80-year old who has held the policy for 20 years will be reluctant to cancel or accept lower benefits, just when he is reaching the age to need the product most. Those who can afford the increase are likely to hold onto their policies.
The newer generation of policies (Choice II, PC Flex, MFMP, PC Flex II) is priced more attractively for GNW, as shown in the chart below. More importantly, the percentage of lifetime coverage policies has been greatly reduced, even totally eliminated in the PC Flex II product. With average benefit periods of 3-4 years, these will be much more manageable for the company. However, these account for only 47% of outstanding policies. The 53% of older generation products will continue to be a drag on earnings, especially as the customer base ages.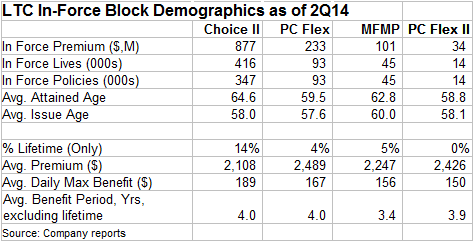 It is not reassuring that James Boyle left the company after only six months. He joined GNW on January 31, 2014 as CEO of the U.S. Life segment (which includes LTC), then left the company in July 2014 to become chairman of HealthFleet. Perhaps this was just a marvelous opportunity for him. Or perhaps it hints at continuing problems at GNW. Tom McInerney, CEO of GNW, has taken over CEO responsibilities for the U.S. Life segment.
GNW has been in recovery mode ever since the 2008 financial crisis. It has sold assets, improved profitability in its global mortgage insurance business, and completed the IPO of 34% of its Australian mortgage insurance business. As a result, the company has outperformed the S&P 500 index over the past two years. However, that performance is not likely to continue until there is more clarity on future profitability of the LTC business segment.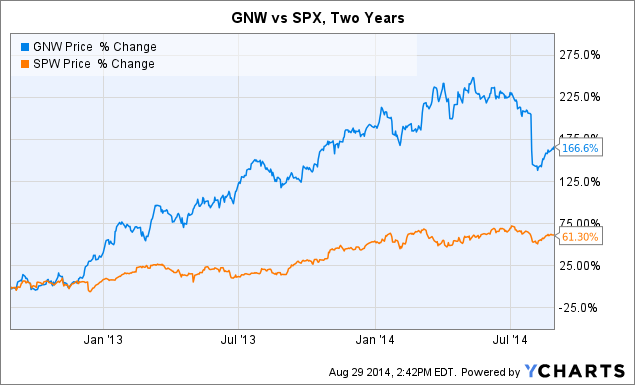 Disclosure: The author has no positions in any stocks mentioned, and no plans to initiate any positions within the next 72 hours.
The author wrote this article themselves, and it expresses their own opinions. The author is not receiving compensation for it. The author has no business relationship with any company whose stock is mentioned in this article.