CIBC (NYSE:CM) reported Q3 adjusted EPS of $2.23 (-1% y/y) that was ahead of consensus $2.21 driven by the strong wholesale segment and wealth management that offset the slight weakness in the P&C segment due to the loss of the Aeroplan portfolio. Dividend remained at $1.00, equivalent to a 45% payout ratio.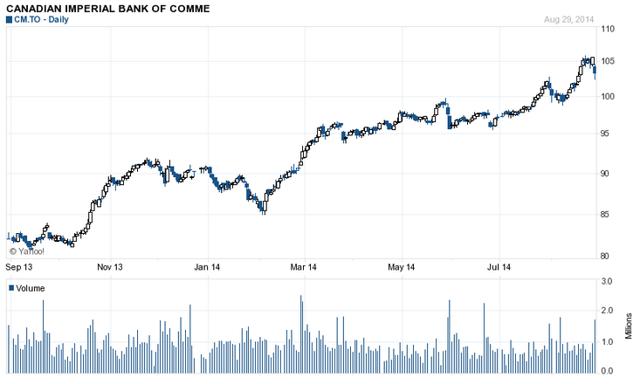 The new CEO Victor Dodig gave investors some insight on the strategies going forward, including M&As that will enhance and complement CM's existing wealth management unit and returning capital to the shareholders.
Canadian P&C
Canadian P&C was slightly disappointing with earnings -5% y/y due to the sale of Aeroplan. Expense +5% y/y but was offset by lower PCL (-20% y/y). Margins remained steady. Management indicated that cost will rise in the coming quarter due to several spending initiatives which limit the chance of positive operating leverage in 2015.
Volume growth of 2% was a function of residential growing +3% y/y. Most notably, CIBC's own branded mortgage saw +15% y/y growth. However, commercial volume was a bit weak, +1.5% y/y, and continues to lag the overall group.
Wealth Management
Earnings +20% y/y was solid overall. Asset growth is solid with AUA +31% and AUM +47% y/y, including Atlantic Trust, which continues to be accretive to revenue (+20% y/y) and asset growth. However, the pickup in spending within Atlantic Trust is putting some pressure on the overall expenses.
Wholesale
Wholesale had a decent quarter, which is consistent with that we saw from the other Canadian banks. Earnings of $245m (+17% y/y) was better than consensus with revenue +4% y/y. Trading revenue was fairly light this quarter with $224m (vs. $250 in Q2), mainly due to weak equity trading revenue of $88m (vs. $109m last Q) but underwriting and advisory revenue saw a nice uptick to $150m (vs. $88m in the prior quarter). Overall, a decent quarter and I expect modest growth going forward.
Despite the solid quarter, I expect earnings and revenue growth to be challenging in the coming quarters post the sale of Aeroplan portfolio. In addition, there are still uncertainties regarding the future strategic directions of each segment so shares could trade range bound in the near term. However, at 10x next year's earnings, CM is the cheapest among the group, and I view this valuation to be fairly compelling.
Disclosure: The author has no positions in any stocks mentioned, and no plans to initiate any positions within the next 72 hours.
The author wrote this article themselves, and it expresses their own opinions. The author is not receiving compensation for it (other than from Seeking Alpha). The author has no business relationship with any company whose stock is mentioned in this article.