Google's (NASDAQ: GOOG) traffic acquisition costs (TAC) are one of the company's most significant, yet difficult to model, costs. Google's TAC is divided into two parts:
TAC by Google's network members
TAC by Google's distribution partners such as Apple (NASDAQ: AAPL) and Mozilla.
Although Google's TAC by its network members as a percentage of revenue has been gradually coming down, the opposite has been happening for its TAC by distribution partners.
Google's TAC by its distribution partners currently accounts for about 5% of its overall revenue, and have been steadily rising over the years. Google routinely pays search royalties to companies such as Mozilla and Apple so that it becomes the default search engine on their browsers. Google pays $1 billion to Apple, and about $300 million to Mozilla every year as TAC. Google TAC by its distribution partners in the first quarter clocked in at $845 million, or 5.48% of its gross revenue. In the second quarter, it shot up to $893 million, or 5.6% of overall revenue.
Google's TAC by its Distribution Partners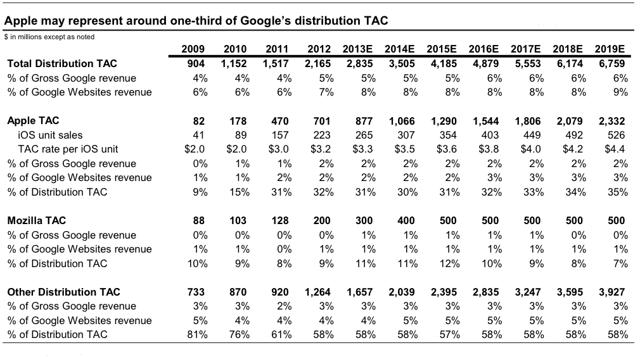 Source: Business Insider (Morgan Stanley Estimates)
There are several factors, however, that are working in Google's favor that may prevent its TAC by its distribution partners from spiraling out of control.
Rising Popularity of Google Chrome and Android Browser
Google Chrome recently surpassed Microsoft's (NASDAQ: MSFT) Internet Explorer for the first time as the number one web browser in the U.S. Google Chrome now owns 32% of the desktop and mobile browser market, with IE's share having steadily slipped from more than 80% six years ago to just 31% currently.
IE, however, still rules the desktop, while Safari browser, Apple's mobile browser, calls the shots in the mobile space.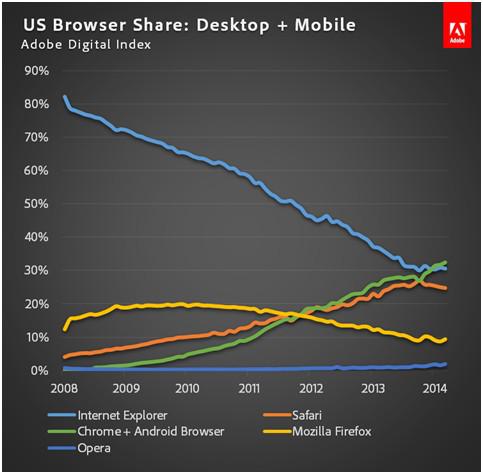 Source: CMO.com
The rapid rise in the popularity of Google Chrome and Android browser over the last five years, and the gradual fall of Mozilla Firefox as the second most popular web browser, are all working in Google's favor. Growth in Safari browser's market share is also showing signs of being close to hitting a plateau. Apple accounts for close to a third of Google TAC. The more people connect to the internet using Google Chrome and Android browser instead of competing web browsers, the less money Google will have to pay as TAC in future.
IE has been the default web browser for Windows devices, especially PCs, for a long time. Microsoft was one of the first companies to offer a free web browser at a time when companies such as Netscape charged about $5 per copy. Microsoft decided to embed a free copy of IE on every Windows device it shipped, and the strategy worked amazingly well in making the web browser the most dominant browser.
Many PC users are, however, gradually replacing IE with Chrome on their devices, contributing to the gradual demise of the browser. There are rumors that Google has plans to make Chrome the default web browser across all Android devices. This will of course help to entrench its web browser even further.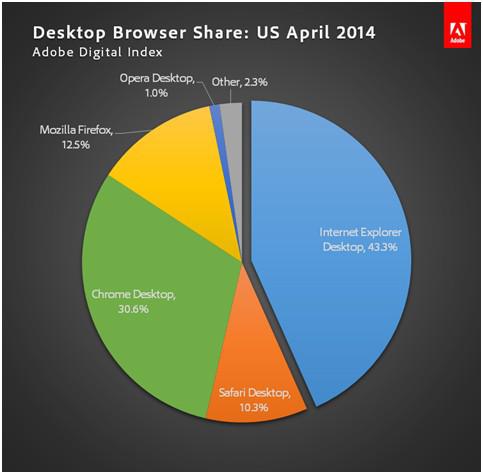 Source: CMO.com
Microsoft is losing the browser wars due to its rather weak mobile presence compared to Android and iOS. Firefox OS, on the other hand, has yet to make any tangible impact on the mobile space to be any major threat.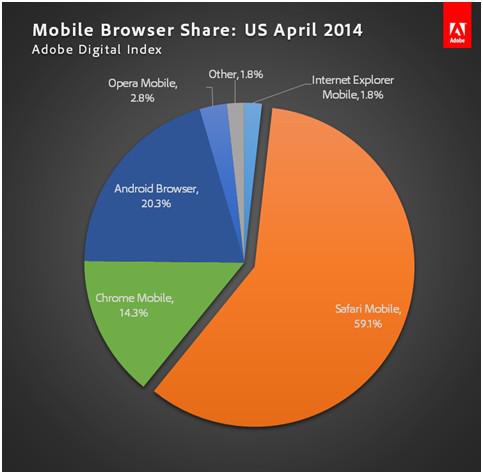 Source: CMO.com
Google has integrated many products in its ecosystem such as Google Plus, Gmail, Android software, and many others. The company offers some of these services for free, but charges for the premium versions. Google makes more than 80% of its revenue from ads. A larger user-base viewing ads and purchasing its services means more revenue for the company.
The increasing popularity of chromebooks will further accelerate adoption of Google Chrome since it's the default web browser on these devices. Chromebooks account for about 25% of all low-cost laptops sold in the U.S., and are amongst the most popular laptops sold on Amazon today. Chromebooks are reputed to provide a great web browsing experience, which makes it easier for users to view even more ads. Google's Chromebook strategy has been working so well that Microsoft is now thinking of following suit by launching its own low cost laptops.
Yahoo Ends Deal with Microsoft
Yahoo (YHOO) struck a 10-year revenue sharing deal with Microsoft that allows Yahoo to use Bing search results. Microsoft gets a 12% cut from all revenue that Yahoo makes from ads displayed alongside search results on the Yahoo site. There are rumors that Yahoo wants to end its deal with Microsoft and use Google instead. The deal has been working great for Microsoft, whose global ad revenue is set to surpass Yahoo's for the first time in the current fiscal year.
Yahoo's search engine market share has been gradually falling over the last couple of years, from 14% in 2012 to around 6.65% currently as more people prefer to use Google instead of Bing. Google is still by far the most dominant search engine with 68% market share.
Admittedly, it's going to be hard for Yahoo to terminate its partnership with Microsoft before mid-2015. Partnering with Google could also raise antitrust concerns like what happened in 2008 when the two attempted a search engine partnership. But if Yahoo can figure a way to do it without raising such concerns, then it could work in Google's favor.
Potential cost savings
Google derives more than 90% of its revenue from ads. Most of the company's moonshot projects simply do not make a significant contribution to its topline--at least not yet.
Google's overall TAC as percentage of revenue has been falling over the last few years, mainly due to Google paying a smaller percentage of its ad revenue to its network members. Overall TAC in 2012 stood at 25% of ad revenue. The figure has however, been steadily coming down to the current 20.6%. This has led to an improvement in the company's gross margin from 55.8% in the fourth quarter of fiscal 2013 to 61.68% currently.
By controlling its TAC, Google can potentially keep improving its gross margin to maybe 65% in 2 years or less. This cost saving has been trickling down to its bottom line since Google's EPS improved by 4.6% in the second quarter of the current fiscal year to $4.99. The EPS can grow by up to 10% in two years as TAC continue to fall.
Google does not pay a dividend. But given its huge cash hoard (close to $60 billion) and rising profitability, it might not be long before it takes the Apple route and either institute a dividend and/or commence a massive share buyback program.
Bottom line
The growing popularity of Google Chrome and Android browser as the most dominant web browsers will help Google control its ballooning TAC. The more people use Chrome as their preferred web browser instead of competing web browsers, the less money Google has to fork out to companies that own these web browsers.
Disclosure: The author has no positions in any stocks mentioned, and no plans to initiate any positions within the next 72 hours.
The author wrote this article themselves, and it expresses their own opinions. The author is not receiving compensation for it (other than from Seeking Alpha). The author has no business relationship with any company whose stock is mentioned in this article.