The last time I analyzed Walt Disney Co. (NYSE:DIS) on April 11, 2014, I stated, "Due to the bearish momentum, low dividend yield, and overall market volatility I will not be pulling the trigger on this name right now." Since the article was published the stock has increased 15.96% versus the 9.28% gain the S&P 500 (NYSEARCA:SPY) posted. Unfortunately, I missed out on the move but at least the shares I already owned appreciated. Disney is a diversified worldwide entertainment company which operates in five business segments: Media Networks, Parks and Resorts, Studio Entertainment, Consumer Products and Interactive.
On August 5, 2014, the company reported third-quarter earnings of $1.28 per share, which beat the consensus of analysts' estimates by $0.11. In the past year, the company's stock is up 45.6%, excluding dividends (up 46.83% including dividends), and is beating the S&P 500, which has gained 20.42% in the same time frame. Since initiating my position back on May 21, 2013, I'm up 30.91% inclusive of reinvested dividends and dollar cost averaging. With all this in mind, I'd like to take a moment to evaluate the stock to see if right now is a good time to purchase more for the services sector of my dividend portfolio.
Fundamentals
The company currently trades at a trailing 12-month P/E ratio of 21.55, which is fairly priced, but I mainly like to purchase a stock based on where the company is going in the future as opposed to what it has done in the past. On that note, the 1-year forward-looking P/E ratio of 19.15 is currently fairly priced for the future in terms of the right here, right now. The 1-year PEG ratio (2.3), which measures the ratio of the price you're currently paying for the trailing 12-month earnings on the stock while dividing it by the earnings growth of the company for a specified amount of time (I like looking at a 1-year horizon), tells me that the company is expensively priced based on a 1-year EPS growth rate of 9.37%. In addition, the company has great long-term future earnings growth potential with a projected EPS growth rate of 16.14%. Below is a comparison table of the fundamental metrics for the company for when I wrote all articles pertaining to the company.
| | | | | | | | |
| --- | --- | --- | --- | --- | --- | --- | --- |
| Article Date | Price ($) | TTM P/E | Fwd P/E | EPS Next YR ($) | Target Price ($) | PEG | EPS next YR (%) |
| 24Dec13 | 72.40 | 21.42 | 16.09 | 4.50 | 67 | 1.49 | 14.36 |
| 10Apr14 | 77.51 | 21.24 | 16.93 | 4.58 | 68 | 1.59 | 13.37 |
| 30Aug14 | 89.88 | 21.55 | 19.15 | 4.69 | 70 | 2.30 | 9.37 |
Financials
On a financial basis, the things I look for are the dividend payouts, return on assets, equity and investment. The company pays a dividend of 0.96% with a payout ratio of 21% of trailing 12-month earnings while sporting return on assets, equity and investment values of 8.9%, 16.4% and 9.9%, respectively, which are all respectable values. Because I believe the market may get a bit choppy here and would like a safety play, I don't believe the 0.96% yield of this company alone is good enough for me to take shelter in for the time being. The company has been increasing its dividends for the past 4 years. Below is a comparison table of the financial metrics for when I wrote all articles pertaining to the company.
| | | | | | |
| --- | --- | --- | --- | --- | --- |
| Article Date | Yield (%) | Payout TTM (%) | ROA (%) | ROE (%) | ROI (%) |
| 24Dec13 | 1.19 | 25 | 7.6 | 14.3 | 9.9 |
| 10Apr14 | 1.11 | 24 | 8.1 | 15.0 | 9.9 |
| 30Aug14 | 0.96 | 21 | 8.9 | 16.4 | 9.9 |
Technicals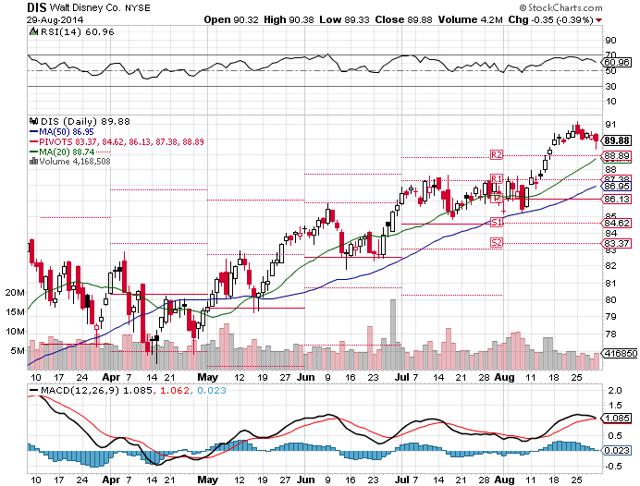 Looking first at the relative strength index chart [RSI] at the top, I see the stock dropping from overbought territory with a current value of 60.96. I will look at the moving average convergence-divergence [MACD] chart next. I see that the black line is about to cross below the red line with the divergence bars decreasing in height indicating bearish momentum. As for the stock price itself ($89.88), I'm looking at $91 to act as resistance and $88.89 to act as support for a risk/reward ratio which plays out to be -1.10% to 1.25%.
Star Wars On Track
The company is still on track for the release date of December 18, 2015 for Star Wars Episode VII despite Harrison Ford getting injured earlier in the summer. As a result of the injury, the production process was delayed a few weeks but thankfully Han Solo keeps on chugging along. Mr. Ford actually injured his leg while on-set due to the Millennium Falcon getting in the way. The anticipated draw for this film, which is still a year and half out by the way, is a whopping $2 billion. If that value is attained, it will be only the third movie ever to reach it.
Conclusion
There is no doubt that this stock has been on a beastly move upward, really offering no great time to purchase it either. Pullbacks in the name are rare and quick. Fundamentally, I believe the stock to be fairly valued on next year's earnings estimates and on earnings growth potential while 2015 earnings estimates have increased 2.4% in the past four months. Financially, the dividend is pretty small but has quite a bit more room to grow and management has increased its financial efficiency ratios since earlier in the year. On a technical basis, the risk/reward ratio shows me equal opportunity on both sides. I won't be buying any shares in the name right now because the risk/reward ratio is about equal and the momentum in the name seems to be to the downside.
Disclaimer: This article is meant to serve as a journal for myself as to the rationale of why I bought/sold this stock when I look back on it in the future. These are only my personal opinions and you should do your own homework. Only you are responsible for what you trade and happy investing!
Disclosure: The author is long DIS, SPY.
The author wrote this article themselves, and it expresses their own opinions. The author is not receiving compensation for it (other than from Seeking Alpha). The author has no business relationship with any company whose stock is mentioned in this article.