By Mike Yamamoto
Bullish traders are piling into Patriot Coal (PCX) for the third time in less than a week even as the stock pulls back.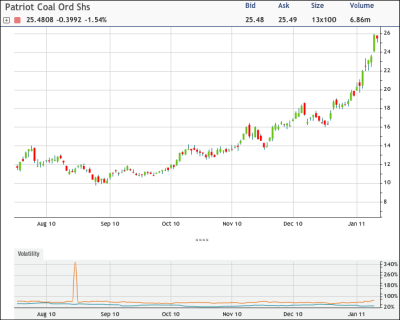 optionMONSTER's Heat Seeker shows that nearly 7,200 January 26 calls traded in a strong buying pattern against previous open interest of 1,276 contracts. The largest block of 3,000 calls went for $0.80.
It was the second round of buying in the January contracts, as traders were snapping up calls at the 25 strike last Thursday after Patriot was upgraded at BB&T with a $28 target price. Yesterday Pete cited activity in the February 25 calls.
Shares of the thermal coal producer are down 1.54 percent to $25.48 in midday trading. PCX is up more than 150 percent since August.
For the January 26 calls bought today to turn a profit, the stock must gain more than 5 percent before the options expire at the end of next week. The company's next earnings report is scheduled for Feb. 2.

Disclosure: No position