Gold and silver prices rose together for the first time in seven weeks, but the metals stayed within well-defined ranges during quiet, end-of-summer trading, setting the stage for positive seasonal factors and possibly rising prices in the period ahead. The strengthening dollar continues to be a major impediment to higher metal prices and dollar bearish developments are sorely needed for any sustained gold rally this fall.
Safe haven demand remains strong due to developments in both Ukraine and Iraq while gold buying in Asia has stayed soft, as is usually the case at this time of the year. With stock markets reaching fresh record highs and investors bidding bond prices higher as well ahead of an important Federal Reserve meeting in September, look for volatility to return and for gold and silver prices to soon break free from their recent trading ranges.
For the week, the gold price rose 0.5 percent, from $1,280.80 an ounce to $1,287.20, and silver gained six cents to $19.46 an ounce. Spot gold is now up 6.8 percent for the year, still one-third lower than its record high of over $1,920 an ounce three years ago, and silver moved back into positive territory for 2014, now up 0.1 percent for the year but still 61 percent below its all-time high of about $50 an ounce reached in early 2011.
After a June surge (a month during which prices normally move lower), it's been a difficult summer for the monetary metals that always seem to run into some sort of trouble between March and August. Seasonal trends are clear to see in the chart below and recent months have been marked by an ever-narrowing trading range that is ripe for a break-out. The good news for gold bulls is that the best six months of the year are about to begin.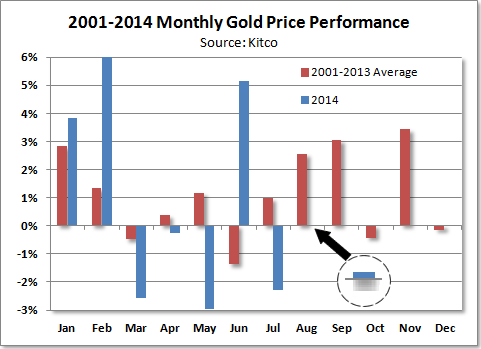 Of course, there are no guarantees that late-2014 will be kind to gold and silver, though an end-of-the-year rally is long overdue, the last one occurring four years ago in 2010.
Prior to the miniscule 50 cent gain during what is normally the fourth best month of the year for gold in August as shown in the chart, metal prices had moved opposite the seasonal trend for four straight months. Perhaps a return to following seasonal trends is in store for the months ahead, a development that would put the gold price on a solid path back toward $1,400 an ounce, a level it has not visited in over a year.
One thing that could stand in the way of this development is the surging trade-weighted dollar that has certainly not been making it easy for the metals to advance of late.
Last week, after more reports of lower inflation prompted more warnings of outright deflation in Europe, it became more likely that the European Central Bank will embark on their own money printing effort. This comes as the Federal Reserve here in the U.S. winds down its asset purchase program this fall and this combination is likely to see the euro weaken further.
Recall that precious metals and the U.S. dollar usually move in opposite directions and a stronger dollar also hurts commodities markets. It's difficult for gold and silver to mount a sustained rally when the rest of the commodities sector is seeing prices move lower and many traders no doubt took note last week when major commodity indexes moved into negative territory for the year as U.S. stocks notched new record highs.
The inverse correlation between stocks and gold is not nearly as strong as the one between the dollar and gold, however, it will be virtually impossible for precious metals to gain much ground as long as both the dollar and U.S. equity markets continue to rally. Inflation remains tame and, with pressure seeming to build on the Federal Reserve to acknowledge an improving U.S. economy and signal its rate raising plans as soon at their September policy meeting, it's not clear what might cause a dollar reversal. But some catalyst is clearly needed.
Safe haven demand remains a key support for gold and silver as geopolitical concerns over Ukraine and Iraq increase by the day. Reports of the Russian military invading Ukraine boosted demand for precious metals in recent days as did the latest news from Iraq where Sunni insurgents are weathering U.S. air strikes while expanding their territorial gains in Syria.
A major escalation of either of these conflicts could take some of the steam out of the U.S. stock market rally and negate much of the impact of a stronger dollar, leading to higher metal prices, particularly with higher volume trading that comes in September when vacations end and financial markets once again are in focus.
As evidenced by flows into and out of the world's most popular gold ETF, there is little sign of any substantive change in sentiment toward the metal in the West.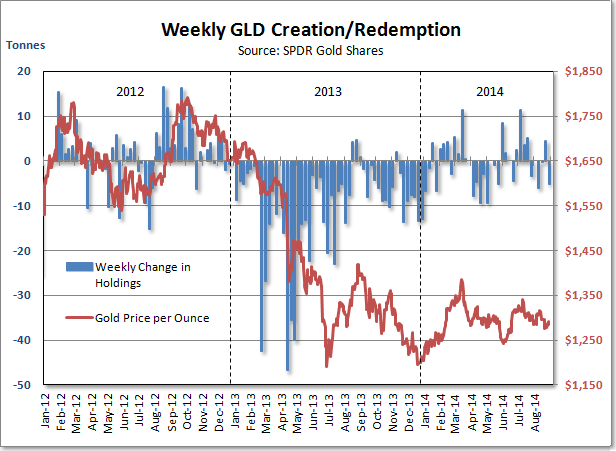 Holdings for the SPDR Gold Shares ETF (NYSEARCA:GLD) fell by five tonnes last week after five tonnes were added the week prior and, after eight months, its holdings are within four-tenths of one percent of where they began the year.
Silver, on the other hand, has seen renewed buying of the iShares Silver Trust ETF (NYSEARCA:SLV) where the holdings increased for the second week in a row, up 39 tonnes to 10,312 tonnes following a gain of 141 tonnes the week prior.
Silver investors are again "buying the dip" and this can be seen in a relatively high premium for the Sprott Physical Silver Trust (NYSEARCA:PSLV) that ended the week at 4.62 percent.
Recall that the premium for this closed-end fund rose to over 30 percent a few years ago when the silver price was much higher, but the current premium compares favorably to recent years and indicates more positive sentiment amongst U.S. and Canadian investors.
Gold demand in China is either slowing sharply or holding steady at elevated levels, depending upon which news source you happen to read.
Bloomberg reported that gold imports to Mainland China via Hong Kong dropped from 36 tonnes in June to 21 tonnes in July, down from 113 tonnes a year and that this indicated "slowing demand in China". They fail to mention that new, opaque import routes were recently opened and that Hong Kong, once used as a proxy for overall China gold imports, no longer serves that purpose well at all.
In this item at Bullionstar, Koos Jansen puts net gold imports to China through the first week of August at 723 tonnes and some simple math would lead anyone to conclude that there is very little value in noting how much gold is imported via Hong Kong. There is more on this subject in this very good article by Lawrence Williams at Mineweb.
The Indian gold market has also become much more opaque recently and now looks as though it will continue to be so after the government's refusal to roll back its gold import curbs as detailed in another good Mineweb report.
The Indian bullion industry is none too pleased with this development and this will surely result in a significant amount of gold continuing to enter the country illegally. It's ironic that in both of the world's biggest markets for physical gold - China and India - where buyers are extremely price-sensitive, no one really knows how much gold they're importing.
I suppose if I wanted to continue to buy gold without pushing the price higher, I'd be happy with this arrangement too!
As for how gold and silver are priced in the U.S., it seems clear that something is going to shake loose here before long.
Precious metals have been trading in an ever-narrowing range that does not seem likely to continue much longer. The Federal Reserve policy meeting on September 16th and 17th could be a catalyst for a big move up or down as any hawkish signals about interest rate hikes could drive the dollar higher and squash any renewed safe haven buying interest. Alternatively (and what I think is the more likely outcome), the Janet Yellen Fed will remain dovish, citing labor market weakness and being careful not to spook a jittery stock market that now sits at record highs.
Knowing that the 2015 Fed policy committee will be much more dovish than the current one, this could cut the dollar rally short and send the price of just about every financial market asset even higher. With the start of September, gold's summer headwinds will quickly fade and higher prices could be ahead, depending upon what sort of message is sent by the Fed at mid-month.
Disclosure: The author is long PSLV.
The author wrote this article themselves, and it expresses their own opinions. The author is not receiving compensation for it (other than from Seeking Alpha). The author has no business relationship with any company whose stock is mentioned in this article.
Additional disclosure: I also own gold and silver coins and bars.