The Buy Thesis
Bluerock Residential Growth REIT (NYSEMKT:BRG) is a freshly IPOed multi-family REIT surrounded by misconceptions that make it substantially undervalued. Trading at a deep discount to peers on a P/FFO basis as well as to NAV, BRG has material upside as its growth is realized. Its current market price of $12.74 is just over a 40% discount to what we see as its fair value of $18.0 If its true value is $18.0, how could it possible trade so cheaply? Let us begin with a discussion of how BRG became so cheap.
Creation of opportunity
In an investing world driven by Big Data, the market simply does not have enough data points to feel comfortable with this name. However, a less statistical but deeper analytical approach reveals the value embedded in BRG. A superficial, data-driven analysis will reveal the following issues with BRG:
Weakness in operations
Externally managed
Lack of experience
Class B share overhang
For many institutions as well as individual investors, the analysis stops there. They merely move on to the next stock on their list. This sort of dismissal has left BRG with a very small pool of interested investors, low liquidity, and a deeply discounted market price. In the following paragraphs, we will demonstrate why each of the flaws listed above may appear to be true, but is actually false.
Operations
Having IPOed in April, Q1'14 was BRG's first publicly reported quarter. Same-store NOI was down 9.4% YoY on both decreased revenues and increased expenses. Total NOI was down 23.7% YoY.

BRG's operations appeared very weak, but let us look at why the NOI was down.
With such a small portfolio, (9 properties currently, and even less in Q1'14), anomalous events can make huge impacts. Same-store revenues were largely down from sequestration, as BRG has a property near an air force base and another property heavily influenced by naval contracts. Already in April, the occupancy at the property near the air force base had leased back up to 96%, and a $17.6B government contract was signed for submarine production, which stimulates the local employers at the other property.
I view these as one-time events, as sequestration is completely outside of the company's control and is unlikely to be taken to a further level. BRG appropriately responded to the situation, which led to strong performance in Q2'14 with positive YoY NOI growth of 7.6%.
This only accounts for the decline in same-store NOI, why was the non-same store NOI down even more?
Well, it largely has to do with the accretive disposition of a stabilized property.

Data from SNL Financial
The Gardens at Hillsboro Village was sold for $5.5mm in September of 2013. Thus, its income showed up on the Q1'13 comp, but not in the Q1'14 earnings report. BRG had purchased this property in September of 2010 for $4.05mm, and aggressively pushed rents.

Data from SNL Financial
Once stabilized, it was sold for a ~36% gain on its purchase price in only 3 years.
The macro-level analysis of looking just at the data has led the market to believe that BRG is a poor property level operator, but the micro view of its incremental decision making suggests BRG is a strong property manager. Going forward, its portfolio is getting large enough that its results will no longer be so skewed by anomalous events and the strong management will show through. In time, there may be enough data for the broader market to begin to appreciate the value.
Externally managed
Externally managed REITs trade at a discount to their internally managed peers. External management is viewed as a risk factor and a signal of misalignment between management and shareholders. It is, however, cheaper for a small company. With a market cap of only $71mm, BRG is not yet large enough to afford internalization. As external management is typically charged as a % of assets or a % of equity, while internal management is generally paid a salary in absolute dollars; the percent of a small market cap typically ends up being smaller than the absolute dollar figure of aggregate salaries. As a company grows, there is an inflection point at which the percent becomes larger than the absolute cost.
BRG has found this inflection point and targeted it as a time to internalize management. On the Q2'14 conference call, management stated their intent to internally manage once the company is large enough to afford it. In so doing, management is appropriately adapting their G&A costs so as to remain competitive with other REITs.
External management is arguably a risk factor, but in this case, it is a necessary risk and one that is being handled in a fiduciarily responsible way.
Perceived lack of experience
The recent IPO date and the small size of BRG lead many to believe the company is inexperienced. While it may be true that it are new to presenting to the public, its operational and real estate experience is rather vast.
A perusal of BRG's latest presentation reveals a rather enormous platform from which to source acquisitions for such a small REIT.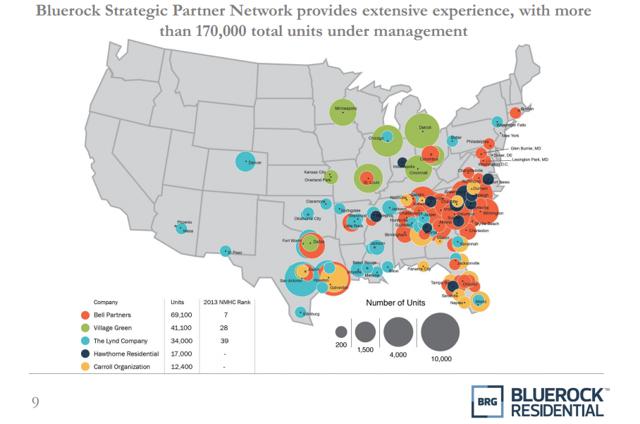 It is through this platform that BRG is able to scout and acquire off-market properties such that they can be obtained at discounts to market rates.
Another upside of such a network is that it gives it a pipeline far larger than BRG can handle. Thus, BRG turns down a majority of deals, only accepting the most opportune.
Class B share overhang
In addition to the publicly traded common stock, BRG has 3 tranches of class B common stock that are currently illiquid.

The class B-1, B-2 and B-3 convert into class A shares 1 year, 1.5 years and 2 years after the IPO respectively. While this sort of overhang is fairly common among REIT IPOs, the cause for concern is that the triggered liquidity events can cause a sell-off as the former illiquid holders rush to cash in their position.
We believe such a sell-off is highly unlikely for BRG for 2 reasons.
The 3-stage process makes each liquidity event quite small, at less than 10% of float.
Those who wanted out were already given an opportunity
On July 25th, MacKenzie Realty Capital made a tender offer for 30,000 of each tranche of class B shares at $11.00, $10.00 and $9.00 respectively.
The remaining holders of class B shares are those who rejected this offer, which means they are likely seeking greater value from the position and unlikely to sell upon the liquidity event.
We believe that the aforementioned misconceptions are responsible for BRG trading down so sharply from its IPO, at $14.50.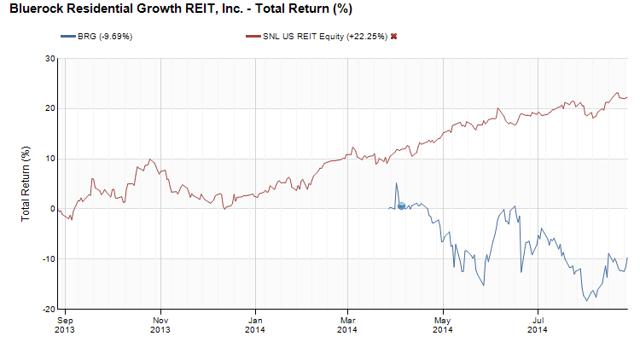 In the section below, we will show why we believe $18 to be a more reasonable, stabilized market price.
Valuation
With a FactSet consensus 2015 FFO estimate of $1.31, BRG trades at only 9.7X. Its $1.16 annual dividend (paid monthly) represents a 9.1% yield. These figures are completely out of line with the rest of the residential REIT sector.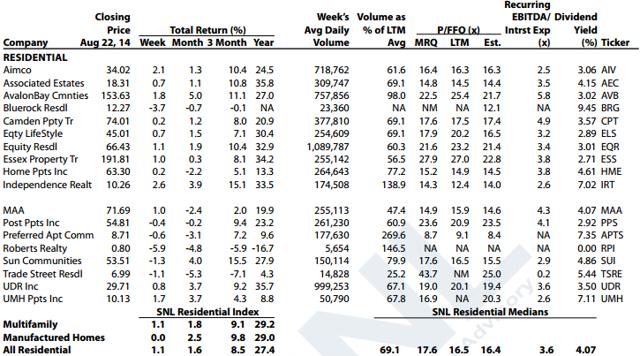 With an average multiple of 16.4X and yield of 4.07%, BRG is more than 50% cheaper and yields more than double the sector. Such a discount would only be warranted if BRG is a bad company. We therefore think that the market ascribes to the aforementioned misconceptions.
A market price of $18.0 would place BRG at 13.7X 2015 estimated FFO and a yield of 6.4%. Even at this price, it would be cheaper and higher-yielding than most of the sector. So what makes $18 its fair value?
According to data from SNL Financial, BRG's NAV is currently $17.75.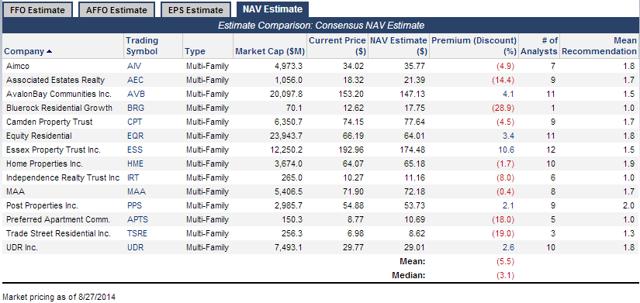 This takes its properties as is, and applies a market cap rate to them so as to come up with their value. It does not account for any value-add that management may be able to achieve.
Note that BRG's strategy is highly conducive to value-add opportunities. It will buy distressed properties and tweak them in a way that generates increased revenues. For example, BRG will acquire a condominium that is not selling as desired, and break it into upscale apartment units. When done selectively, this can result in substantially higher revenue streams from the same property and a higher yield on cost than acquiring equivalent multi-family properties in the same submarket.
The value-add nature of BRG's acquisition pipeline suggests its NAV is slightly higher than the $17.75 estimate, so $18.0 seems within reason.
From an FFO/share perspective, we believe $18 is also a reasonable value. At 13.7X 2015 est. FFO, it would still be moderately below sector average, which we feel is warranted given the following fundamental reasons for a discount.
Reduced diversification from such a small portfolio. With only 9 properties, single events can have large effects, as we saw in Q1.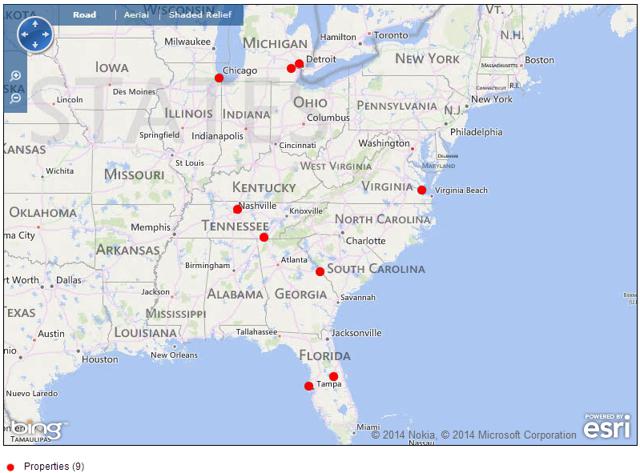 Unconsolidated property ownership: BRG has many properties with only partial ownership, which makes them both more difficult to manage and less liquid.
A slightly riskier business model. Discounted acquisitions provide extra growth, but carry some risk of not reaching stabilization as expected.
These suggest that some discounting from the market median is prudent, but further discounting beyond 13.7X may be excessive, as BRG also has some factors that positively influence its proper multiple.
BRG has a weighted average cost of debt of only 4.42%.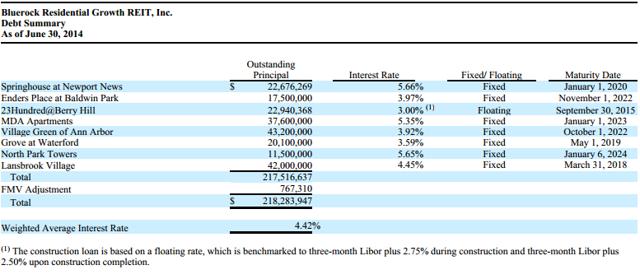 The primarily fixed rate nature of it, along with the relatively long-dated maturities largely shelters Bluerock from interest rate risk.
As an isolated factor, a faster-growing company should trade at a higher multiple. Between 2014 and 2015, BRG is on track to grow its FFO/share by 30%.
Magnitude of Opportunity
Our 1-year price target is $18, which represents 41% capital appreciation. If BRG maintains its same dividend policy, which I believe it will, holding for 1 year will generate an additional ~9% from dividends for a total return of 50%.
An intrinsic value of $18 does nothing for investors unless the market price actually gets there. The following are catalysts which we believe will drive the returns.
Catalyst #1: Correction of misconceptions
If BRG can put up strong results in Q3 and Q4, it could make great progress in dispelling beliefs of poor operations and inexperienced management. On the Q2 conference call, strong Q3 performance was foreshadowed a bit with comments about ahead-of-schedule leasing activity. On August 26th, Q3 and Q4 guidance was released with ranges of $0.19-0.22 and $0.23-$0.26 for the quarters respectively.
We believe the Class B share overhang fears will dissipate on April 2nd of 2015 when the shares go live, if the response is less severe than the market is projecting.
External management fears will be quelled upon announcement of internalization. While management has already declared intent, the amount of growth to hit their target at this point may make it seem like a long shot. However, given the current growth rate, it could start to feel more like reality in the near term.
Catalyst #2: Property stabilization
23Hundred at Berry Hill is scheduled to complete on 9/30/2014, and its leasing is ahead of schedule, with 96% leased already. Completion will provide an immediate bump to FFO run rate.

Data from SNL Financial
Its other development, UCF Publix, has quite a bit longer to wait, with expected completion at the end of 2016.
On the acquisitions side, its properties have reached stabilization much faster. This table from its earnings release shows occupancy on the April 2nd investments.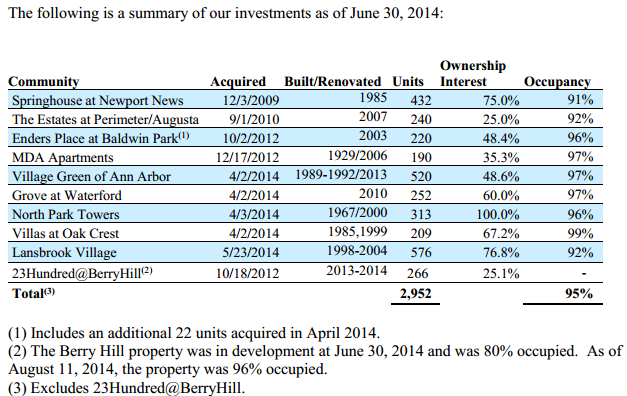 As the properties stabilize, BRG can buy up additional units to consolidate its ownership interest. A good example of this is Enders Place, which has now reached 96% occupancy. BRG purchased an additional 22 units to bring its ownership up to 48.4%.
This is our 3rd catalyst.
Catalyst #3: Built-in growth opportunities
The table above reveals that most of its properties are only partially owned. In many of the properties, BRG will have the ability to buy up the rest of the units, essentially leveraging its successful investments. In the event that external growth opportunities dry up, BRG can continue to invest in its current properties at cap rates that exceed the market.
Summary of buy thesis
Bluerock Residential Growth REIT is deeply undervalued at its current market price. It has a unique growth strategy that will allow it to succeed in a way that many other REITs cannot in the presently low cap rate environment. The extra 100-200 basis point spread it can get on investments due to its unique capabilities makes the difference between a project that is barely worth the risk and one that will be highly accretive to shareholders. When this excess spread is combined with BRG's access to low-cost debt, it fuels the company with rapid bottom line growth.
A 9% yield will not stick around long. As soon as the market realizes that the dividend is actually stable, capital appreciation could shrink the yield rather quickly, particularly in a yield-starved market.
While we are bullish on Bluerock, there are still some risks investors should be aware of.
Risks and Concerns
Multi-family property supply: Development has kicked into high gear, with increased construction and preconstruction activity. BRG could potentially be extra-sensitive to supply, given its relatively few properties. If new supply pops up specifically in one of BRG's submarkets, it could feel it to a greater extent than the nation as a whole.
Development risk: As some of its developments have a horizon before completion, market dynamics could change, which could adversely alter the return prospects.
Failure to grow: At such a small market cap, BRG needs to grow to be competitive with other REITs in terms of operating costs and access to equity markets. If it cannot accretively attain a greater size, these inefficiencies may take their toll in the long run.
The Bottom Line
BRG is a deeply undervalued growth story in a sector where growth and cheap valuation are hard to find. As near-term difficulties become less dominant, it can approach its fundamental value.
Disclosure: 2nd Market Capital and its affiliated accounts are long BRG. I am personally long BRG. This article is for informational purposes only. It is not a recommendation to buy or sell any security and is strictly the opinion of the writer.
Disclosure: The author is long BRG.
The author wrote this article themselves, and it expresses their own opinions. The author is not receiving compensation for it (other than from Seeking Alpha). The author has no business relationship with any company whose stock is mentioned in this article.
Editor's Note: This article covers one or more stocks trading at less than $1 per share and/or with less than a $100 million market cap. Please be aware of the risks associated with these stocks.