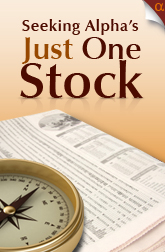 Several times a week, Seeking Alpha's Jason Aycock asks money managers about their single highest-conviction position - what they would own (or short) if they could choose just one stock or ETF.
---
James Vanasek is co-founder of the VN Capital Fund, a $47 million fund focused on six to 12 small-cap stocks and a low-turnover, conservative value investing philosophy. Since its 2002 founding the fund has returned 13.5% annually net of fees and expenses. Previously, he worked for JPMorgan Chase.
First, you've talked with us about high conviction holdings before, so welcome back.
Thanks, it's great to be back. If it had not taken us so long to amass our position in this stock (500,492 shares as publicly disclosed in our recent 13D filing), it would have been much sooner.
It's been just short of a year since we talked about your conviction holding of Big Rock Brewery (OTCPK:BRBMF) - the "Sam Adams of Alberta" - and it's up 6.2% in that span, though it swung more than 10% in either direction at times. How did the trade work out for you?
So far, Big Rock has done very well for us as we still hold our position in the company. We originally purchased shares for our fund in October 2006 at $12-13 per share and increased our holdings when the stock dipped to $6-7 per share during the market crash in late 2008/early 2009, so our overall cost basis is a little below that amount. Although there were some price swings, we'll gladly take a 35% price appreciation plus $4.92 per share of dividends during a time period where the S&P 500 was flat.
Even though the share price fluctuates a bit due to the lack of liquidity, the company keeps doing the most important thing, which is sell more and more of its great-tasting beer and generate more profits for its shareholders.
Today, if you could only hold one U.S.-traded stock position in your portfolio (long or short), what would it be?
Breeze-Eastern Corp. (NYSEMKT:BZC), a small New Jersey-based manufacturer of helicopter rescue hoists, cargo hook and weapons handling systems, with around $60 million of annual sales.
Tell us a bit more about this sector. How much is this an "industry pick" as opposed to a pure bottom-up pick?
The helicopter rescue hoist market is a tiny, stagnant sliver of the overall defense/aerospace industry. The company, however, is expanding into new areas like cargo winches for the Airbus (OTCPK:EADSY) A400M aircraft, to the point where they expect $10-20 million in additional sales per year over the next 10 years from new contracts that they have just completed development work on.
While on the margin higher defense spending does flow through to their programs, ultimately a surge in defense spending doesn't affect their programs too much. In addition, around one-third of Breeze's sales are from non-U.S. government contract work.
Tell us about Breeze-Eastern's competitive environment. How is it positioned with regard to competitors?
Breeze-Eastern has a dominant market position in helicopter rescue hoists with around 60% global market share. Yes, 60%! Their only competition consists of a small division of Goodrich (NYSE:GR) which accounts for the vast majority of all of the remaining worldwide sales. There are also a tiny number of Russian manufactured rescue hoists out there, but for all practical purposes, their threat (as well as that from any possible low-cost new Asian-manufactured hoist) is nonexistent, since I don't know of anyone who would want their life depending on a knock-off piece of equipment while they dangle from a helicopter.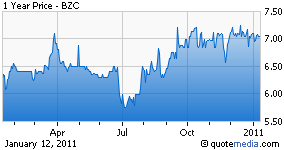 Breeze has been able to sustain this level of dominance because there are very high barriers of entry into this market. It takes years of intimate work with the large manufacturers (AgustaWestland, Bell, Sikorsky, etc.) to incorporate the rescue hoist with all of the other systems in a helicopter. Thus, once awarded the development contract, Breeze will produce rescue hoists for the program's duration - which could last up to 20 years or longer.
Given that level of effort, it is almost impossible for another manufacturer to come along after helicopter production has started to get their competing hoist certified for use. In addition, once its products are installed on a helicopter, Breeze has a monopoly position in providing the servicing, repair and maintenance for those systems - an amount that accounts for around 25% of the company's overall revenue.
Sounds like a solid position.
Unfortunately, even though Breeze is the dominant worldwide player, old management felt the need to bid very aggressively to win contracts - going so far as bearing the cost of all the design and development work up front, in order to make it up on spare parts and maintenance throughout the long production run. This exposed Breeze to all sorts of financial risk if projects were delayed or changed - which of course occurred, costing the company millions of dollars over the past few years.
Much of that could have been avoided if Breeze had (a) been more aware of its market position and not bid against itself for certain contracts, or (b) simply allowed Goodrich to "win" some of that money-losing work.
Given its market leadership, Breeze has the ability to set the ground rules for how both it and Goodrich should compete against one another, and I doubt that either company would be foolish enough to go down the path of not forcing the helicopter maker to at least pay for their development work.
Aside from competing in hoists with Goodrich, with BZC expanding into new aircraft-supply areas, does that expose them to new competitors (and, like Goodrich, bigger competitors) in that segment - such as AAR (NYSE:AIR)?
That interesting thing is that for cargo winches, Goodrich really is the only other player out there as both Hoover and Edwards have gone out of business. I suppose some other companies like Cobham Plc (OTCPK:CBHMY), ESW or Bendix could try and enter the market, but none of them have the specific technical knowledge and engineering staff to do so. Probably Columbus McKinnon (NASDAQ:CMCO) is the one company who could in theory take some of their overhead material handling equipment (hoists, lifts, chains, etc.) used on factory floors and apply them to helicopters and aircraft.
How does Breeze's valuation measure up?
With an enterprise value of $77 million, Breeze-Eastern currently trades around 5.7 times its fiscal year 2010 cash flow and 21.5 times fiscal year 2010 earnings.
It's important to realize that both of those numbers have been depressed over the last couple of years and will be boosted going forward, for a variety of reasons. First, the company has finally worked through a sizable amount of engineering and development cost surrounding a host of new programs, including millions of dollars in charges related to the A400M cargo plane winches.
Next, Breeze took an $8.1 million environmental charge dating back several years to properties disposed of by Breeze's former parent, TransTechnology Corp.; took a $3.3 million charge for obsolete inventory; and incurred $0.8 million of expenses in relocating its production facility. Third, the move into the new plant is complete and will allow for efficiency gains. Finally, potential exists for a yearly million-dollar boost to net income by going dark and avoiding public reporting requirements and Sarbanes/Oxley-related costs.
What is the current sentiment on Breeze?
Market sentiment is nonexistent as few investors have ever heard of Breeze-Eastern. Average daily volume is very low (around 8,300/shares per day are traded on the AMEX exchange) and it took us over seven months to amass our position. During that same time, one other large holder, ValueAct SmallCap Management, recently purchased their 8.4% stake in the company, leaving seven holders (including us) owning 85% of the company's outstanding float.
Anyone in the helicopter search and rescue field knows Breeze-Eastern very well, as their lives depend on the company's product.
Does the company's management play a role in your position? If so, how?
We believe that the company's management is an important piece to the investment story.
In the 1990s, Breeze-Eastern was the crown jewel division of a company called TransTechnology Corp. At the time, Chairman & CEO Michael Berthelot felt that given the limited amount of rescue hoist sales out there, the company needed new products and markets to grow. While Breeze did grow organically into natural extensions of its core product line, like weapons handling systems and cargo hooks, unfortunately TransTechnology took a lot of Breeze-Eastern's cash flow and embarked on a 10-year acquisition binge.
Of course, you can probably guess that the company overpaid for way too many poorly performing targets, nearly ruining the company under an avalanche of debt. After spending the early 2000s shedding many of those businesses at a loss, the company was in such poor financial health that in 2006 it needed an $18 million capital injection from Tinicum Partners, which eventually ended up owning 26% of the company. At the same time, another activist investor, Wynnefield Capital Management began building what would become its 21% stake in the company.
While Tinicum and Wynnefield initially worked together to remove Michael Berthelot, the two investors bickered at times with each other about the company's recovery strategy and board membership. Eventually, both parties realized that they wanted the same thing, a smooth running, profitable Breeze-Eastern run by competent management. They laid their squabbles finally to rest by splitting control of the board and appointing Mike Harlan as CEO in August 2009.
Mike's mandate was simple - clear up the project engineering backlog, move into a new plant, tighten up cost controls and make sure that the company does not enter any new developmental contracts with open-ended financial risk.
What catalysts do you see that could move the stock?
As I mentioned, Mike Harlan has spent the last sixteen months fixing problems, and after following Mike's performance closely, including a couple of company visits, we are pleased with the progress that his is making on all those fronts and his success (or failure) will be the key driver to the company's future performance. As Mike's turnaround is completed and the company does a better job of entering into related product lines, Breeze should see dramatically improved financial performance.
We also believe that the highly consolidated share ownership is a major plus going forward. First, we believe that the company will be run in a very shareholder-friendly manner, insuring that the company's owners will see the fruits of these labors. Second, we feel that Breeze is a prime candidate to "go dark" and save up to an additional $1 million per year. Finally, our guess is that once the company thrives, the board will look to either sell the company to a larger defense player or go private, either of which will be done at a premium to the company's current stock price.
Can you detail a bit for readers what would be involved with BZC going dark?
Sure. The main requirement to suspend public reporting obligations is for a company to have fewer than 300 shareholders. Thus, generally the first step to go dark is the board of directors approving a reverse stock split and subsequent odd-lot tender offer to repurchase the fractional shares. Most of the time, the offer is set at a slight premium to the current stock price so as to (a) ensure the offer gets approved, and (b) avoid any lawsuits from stockholders who say they didn't receive a fair price for their shares.
If shareholders vote in favor of the tender offer, the company conducts the reverse split, purchases shares and then files a Form 15 with the SEC which suspends the company's duty to file public financial reports. Although the company's stock is then de-listed, most of the time it will still trade on the pink sheets. In addition, many "dark" companies still post financial information on their websites or send their quarterly and annual reports directly to their shareholders.
What could go wrong with this stock pick?
Execution risk is clearly the biggest potential pitfall to this investment, or any other turnaround situation. We are pretty confident that the bloc of large shareholders will be holding Mike Harlan's feet to the fire, and in the event that he fails to fix the operation, then someone else will be brought in quickly. We also gather comfort in that if the franchise survived all the turmoil and mismanagement over the past 15 years, it could shrug off any small mistakes Mike might make going forward.
Besides execution risk, one of the company's big future projects is dependent upon the Airbus A400M cargo plane. That multinational project has suffered from a series of delays, cost overruns and customer cancellations which have put its completion at risk. While it accounts for a large part of Breeze's $130 million order backlog, cancellation would not cripple the company given its financial strength.
And thanks again for sharing your thoughts with us.
My pleasure. I look forward to discussing our next idea with you and your readers.
Disclosure: Long BZC.
Read more Just One Stock interviews »
If you are a fund manager and interested in doing an interview with us on just one stock or ETF position you'd hold, please email us at Just One Stock.