The Marcellus shale will continue to be a major force driving growth in US natural gas production. Wood Mackenzie forecasts that Marcellus output will rise to 20 billion cubic feet a day by 2020, up from 15 Bcf/d currently. To put this into perspective, back in 2010, the Marcellus was pumping out only 2 Bcf/d of natural gas. There could be $90 billion in profit left in the Marcellus, according to Wood Mackenzie, which could surprise to the upside if well costs keep heading lower or natural gas prices rise.
Lower costs higher returns
Cabot Oil & Gas Corporation (NYSE:COG) has done a tremendous job of keeping costs low in the Marcellus, which allows it to be profitable even in a low price environment. Realizing $3 mmBtu still lets Cabot make a 102% internal rate of return from a Marcellus well, which jumps to 206% if the realized price increases to $4 mmBtu.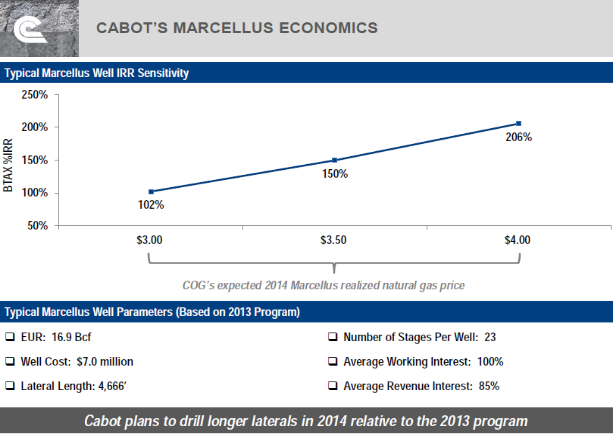 Source: Cabot Presentation
To make these kind of returns, Cabot has aggressively pushed well costs lower over the past few years.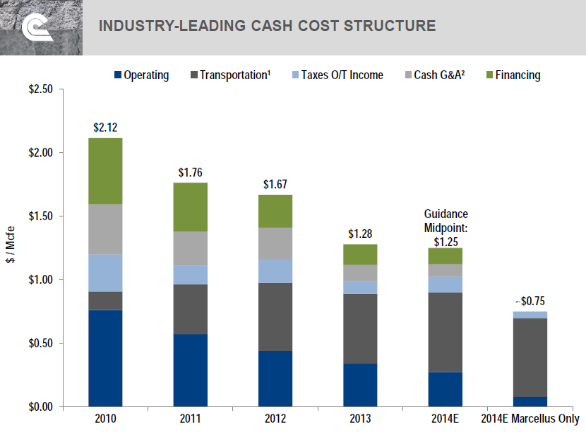 Source: Cabot Presentation
The cost to find new resources has also been decreasing, which points towards the efficacy of Cabot's exploration program and its ability to lower costs.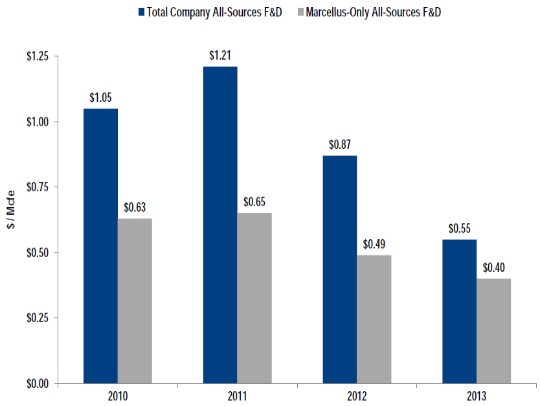 Source: Cabot Presentation
Cabot owns 200,000 net acres in the Marcellus and 53,000 net acres in the Eagle Ford, which is why it's important to make the distinction between Marcellus and company-wide costs.
Being able to make a return of 102% on a dry gas well is great, especially when the realized price only has to be $3 mmBtu. If Cabot could boost its realized price to $4 mmBtu, its bottom line would become much larger. It has been well documented that Marcellus and Utica E&P operators have experienced huge pricing differentials relative to the Henry Hub benchmark, which has held back producers like Cabot so far. But if Cabot could bridge the gap, investors would be greatly rewarded.
Landlocked and not enough pipelines
Last quarter, Cabot realized $3.47 mmBtu for its natural gas after factoring in the effects of hedges, down 15% from last year. Not factoring in hedges, Cabot realized $3.78 mmBtu, a $0.89 discount to Henry Hub. The lack of takeaway capacity out of the region is causing the differential, so the ability to move more gas out of the area and to new markets would help narrow the differential. Cabot is going to do just that by teaming up with Williams (NYSE:WMB) (NYSE:WPZ) to build the Constitution pipeline, which Cabot owns 25% of.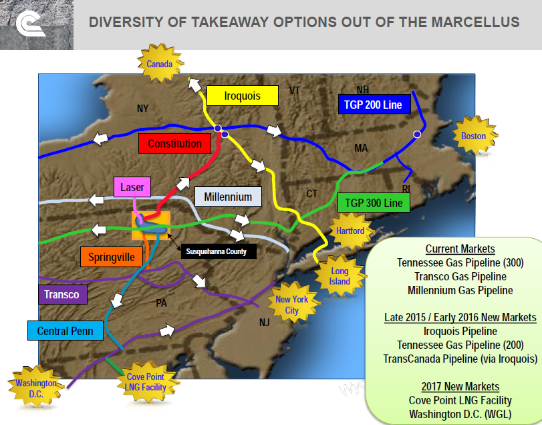 Source: Cabot Presentation
The Constitution pipeline will carry 500,000 dekatherms a day, equivalent to 500 MMcf/d, of Cabot's natural gas to the Iroquois Gas Transmission and Tennessee Gas Pipeline systems. Due to the release of the Final Environmental Impact statement being pushed backed to October 24, construction of the pipeline has been delayed. Cabot's management remains optimistic that the Constitution will be operational late 2015 or early 2016, while noting that challenges lay ahead. Williams has stated that it will still be able to complete the pipeline on schedule, but it may be more realistic to assume that the Constitution will be operational by early 2016 not late 2015.
By building additional pipeline capacity, Cabot will be able to grow its production knowing there will be ample takeaway capacity while reducing its pricing differential. The Constitution pipeline has a few hurdles to jump before it's operational, but the hurdles have more to do with when the pipeline will be ready, not if.
Cabot has a supply agreement with the Dominion Cove Point LNG export facility in Maryland. Starting in 2017, Cabot will supply 350 MMcf/d of natural gas to the facility, which is operated by Dominion Resources (NYSE:D). The United States is flushed with gas that currently can't be exported to numerous crucial markets, like Asia and Europe. Once LNG export facilities come online and begin exporting natural gas, prices could rise as foreign markets spur demand for American gas.
To supply gas to the Dominion Cove Point project Cabot will most likely use Williams' Atlantic Sunrise project, which Cabot has an equity stake in. The Atlantic Sunrise project will expand the capacity of Williams' Transco transmission system by 1.7 Bcf/d, and Cabot has already booked 850 MMcf/d of that capacity.
Teaming up with Williams was a smart idea, because now Cabot can keep cranking out double-digit production growth from the Marcellus without having to worry about transportation capacity. The delay of the Constitution pipeline has spiked worries about pricing differentials and transportation capacity, which has weighed negatively against Cabot's stock price. Once the Final Environmental Statement is complete, assuming everything goes well, construction can begin and investors won't have as much to worry about.
Final thoughts
It will take a few years, but Cabot has laid out a solid plan to reduce its pricing differential and establish the necessary infrastructure to support its growth ambitions. Once Cabot proves to investors that everything will go ahead as planned, its shares should substantially increase in value.
Cabot is guiding to grow its production by 28% - 41% this year, with production growth in 2015 expected to be between 20% - 30%. Double-digit production growth, higher margins in the future, and upside in the Eagle Ford makes Cabot a strong long-term buy.
Disclosure: The author is long COG.
The author wrote this article themselves, and it expresses their own opinions. The author is not receiving compensation for it (other than from Seeking Alpha). The author has no business relationship with any company whose stock is mentioned in this article.