Thesis
One of the most vibrant industries in the world today is the Chinese automotive industry. The nation became the leader in automotive sales in 2010, and it looks poised to continue to grow throughout the coming years. The Chinese add some 1,500 cars per day to the streets. Chinese auto sales are estimated to grow 55% by 2015, according to JDPower.com, from nearly 9 million to over 13.5 million. The industry looks poised for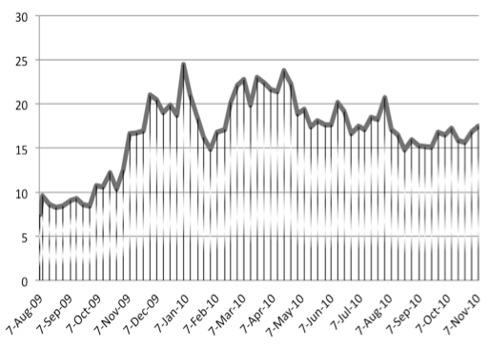 significant growth, and among all the buzz that surrounds this entry, one company has positioned itself as one of the leaders in auto parts.
China Automotive Systems Inc. (NASDAQ:
CAAS
) is one of the leading auto parts suppliers in China and as of January 2010, began a venture with its first North American company (the company has done business with North American companies that have Chinese subsidiaries), working with Chrysler LLC to send parts to the U.S. The company has grown its sales over 300% in the past five years, and the company has increased its revenue over 20% every year for the past five years. The company has positioned itself very well to continue to see growth at these levels as it distributes to over 60 Chinese automobile manufacturers including two of the five largest in FAW and Fongdeng.
The company has positioned itself well, and it should continue to see growth with the Chinese auto market. The Oxen Group originally rated the company with a FV estimate near $30 per share but have dropped our estimates as of late to only $24. While this still signifies 50% growth from current valuations on a five-year DCF, the company's growth seems to be slowing down. The company was shooting off 50%+ growth from 2008 to 2009. From 2009 to 2010 (TTM), growth has slowed to just 29%. While this growth is still significant and well above the industry average around 25%, the stock has taken a hit. Investors are starting to see this company cooling off from its tremendous growth, and unless the landscape changes, the company will most likely not be able to increase its revenue growth past the 30% mark. The company reported its lowest quarterly revenue for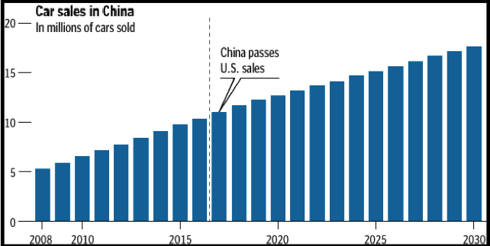 Q3FY10 since Q3FY09 with growth only at 18%. Growth in past quarters has been much greater.
Despite the downgrade in expectations, this is still a solid company with upside. One of the greatest assets that the company has is significant free cash flow. The company has increased its free cash flow each year for the past three years, and it has increased its free cash flow 700% in the past five years much better than the revenue increase. This cash flow is important for an auto supplier to be able to continually research new products and open new distribution channels throughout China and other countries. As the company sees continual increase in sales volume it will need good cash flow and working capital. Working capital for the company has continually been good, increasing over the past three years with approximately $60 million in working capital at the end of 2009.
The company, additionally, maintains a very low P/E ratio at current levels. The company has a P/E ratio at 12.5 while the auto parts industry typically is a high valuation industry with averages in the high 20s. At a fair valuation, the company would maintain a healthy 20 P/E ratio. The company definitely is undervalued given its current financials and future capabilities. The company has also increased profitability each year since 2006, seeing its net margins go from 5 to 10.69. Additionally, the company has seen its Return on Invested Capital increase significantly from 7.99 to 18.91 in the same range. A company with strong ROIC shows that the company is creating more profit with every dollar of investment.
Management gets a strong rating as well. The company's management owns 75% of all shares, which means they have a strong vested interest in the company doing well. Further, they have increased Return on Equity to a very positive 31.53 in the TTM. That is well above the industry average, and it has grown significantly since 2006 when it was only 9.6.
Over the long term, CAAS will not only benefit from the excellent domestic sales increases it expects to see, but it also has the potential to benefit from what will become the Chinese aftermarket - auto parts repairs and replacements on used cars. Further, Chinese companies are looking to enter Western markets throughout Europe and the U.S. in the coming years. FAW Group and Fongdeng both have joint ventures with VW (
OTCPK:VLKAF
), GM (NYSE:
GM
), Mazda (
OTCPK:MZDAF
) and Audi (
OTCPK:AUDVF
). These companies could be avenues for more production in Western markets and more opportunity for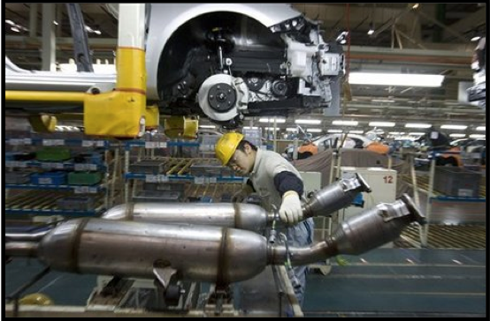 CAAS. Another emerging company that CAAS works with is BYD (
OTCPK:BYDDY
), which is a Warren Buffett-funded electric car manufacturer. The company recently signed a giant deal with Daimler (DAI) to produce an electric car by 2013.
The following comment from China Automotive's CEO Wu Qizhou sums up the prospects for CAAS:
"China Automotive Systems' near-term execution and long-term strategy remain intact. We continue to focus on expansion within existing customers and penetration into new customers. Our closer relationships with large OEMs help improve their margins and enhance their competitiveness in the marketplace. Our track record and progression with Chery Auto, BYD, Geely (OTCPK:GELYF) and Brilliance (OTC:BCAHY), all speak volumes for the successful implementation of our growth strategy. As we continue to win contracts from more high-quality OEMs who have proven growth records, we have gradually established a large customer base and ability to optimize production cycles to meet the surging needs of the top sellers. This is the reason why we can consistently outgrow the overall auto market in China," Mr. Wu concluded.
Competition for Chinese Automotive Systems comes from a number of companies in mostly other markets. The Japanese JTEKT Corporation (
OTCPK:JTEKF
) is the leading supplier for Toyota (NYSE:
TM
) and also supplies other companies internationally. In China, the leading car producer SAIC (SAI) is supplied by Shanghai ZF. Further, First Auto FKS makes steering systems in China, as well. The company, though, has made itself a market leader, and that gives the company a small economic moat. Additionally, the company has gained market share and brand name with its largest distribution line, but they do continually face competition from other small producers and the aforementioned.
Moving forward, the company is currently producing an electronic power steering system, which will be the first of its kind in China if it can be well received. The company is already sending this to Suzuki Auto (
OTCPK:SZKMF
), and it would help widen the company's economic moat and continue to increase revenue stream.
The prospects are definitely bright for CAAS, but until they show that they can increase revenue by more than its current direction, the company will not be able to obtain a higher valuation.
Valuation
Fair value estimate for China Automotive Systems is $24.00 per share based on a discounted cash-flow analysis. The company has seen incredible growth in its operating income in the past five years, and there is really no worry that the industry cannot continue to grow as demand continues to grow in China and other markets. Given the development of new markets, the company's wide distribution market, and development into new markets, the company is continuing to offer growth in its income. Estimated available cash flow starts at $27 million for this year, which is somewhat cautious in estimations of operating income versus decreases in capital expenditures.
The stock is a Buy below $16, and a Sell above $24.
Risk
Risk is low - medium with China Automotive Systems. The company, in the last five years, has been able to definitely develop itself as a leader in China, but it is in a new industry that has lots of potential for new competitors. The company, additionally, will need to establish more international presence to continue to dominate as it has thus far in its young life. Further, the company will need to have significant free cash flow and working capital in order to maintain successful as high volume increases.
Management and Stewardship
The company's CEO Wu Qizhou has been with the company since its inception as the COO. In the Fall of 2007, Wu took over as the company's CEO. Wu has a Master's in automobile engineering, which may lend itself to the fact that the company has developed the EPS system as of late. The company does have a bit of a problem with its board as the Chairman's brother-in-law is the senior VP. Too much family on the board lends itself to less capable individuals. The company has very low compensation for its executives, and they own 75% of shares.
Disclosure: I am long CAAS.