It's always important for a long-term investor to develop a guide for doing investment research. Over the years, I have developed the following list of questions to guide me in my thinking when researching the publicly traded universe. With that said, let's take a look at Carrols Restaurant Group (NASDAQ: TAST)
1.) What does the company do?
It's important for an investor to understand what a company sells. After all, when you buy shares in a company you effectively become part owner. Carrols Restaurant Group is the largest Burger King (NYSE: BKW) franchisee in the world owning and operating 560 Burger Kings as of the end of June. Carrols Restaurant Group has been taking advantage of Burger King's refranchising efforts by buying Burger King locations from Burger King Worldwide.
2.) What do the fundamentals look like?
Investors should always look for companies that grow revenue and free cash flow over the long-term and retain some of that cash for economic hard times or for reinvestment back into the business. This generally translates into superior stock price appreciation. During the last five years, Carrols Restaurant Group saw a decrease in revenue, net income, and free cash flow of 19%, 162%, and 254% respectively. This mostly stems from the 2012 spinoff of Fiesta Restaurant Group (NASDAQ: FRGI).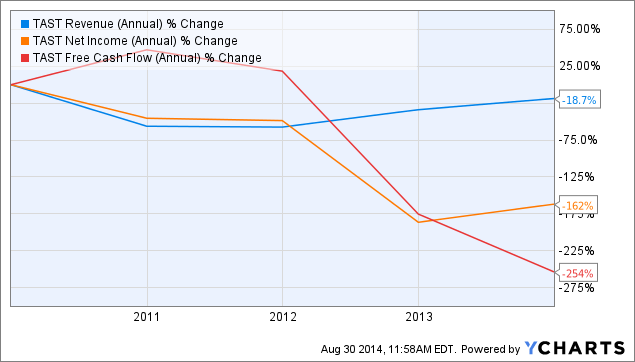 TAST Revenue (Annual) data by YCharts
Carrols Restaurant Group has seen its revenue increase 23% and its net loss shrink by 26% since becoming a purely Burger King franchisee. This explains the stock market outperformance since 2012 (chart below). In 2012, acquisitions, same store sales expansion brought on by higher traffic, higher consumer spending, and price increases contributed heavily to the top and bottom lines. However, in 2013, the top and bottom line improvements were mostly from the acquisition of Burger King locations and price increases with a decline in traffic serving as a drag on expansion.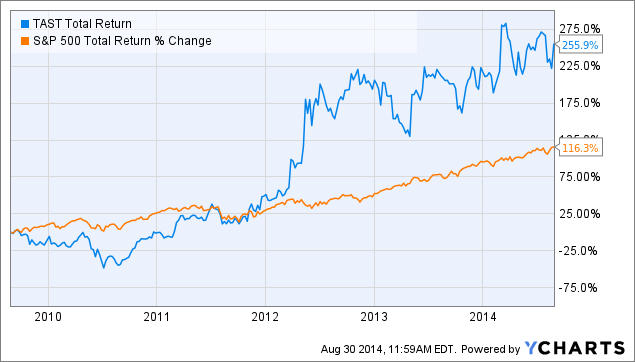 TAST Total Return Price data by YCharts
Moreover, Carrols Restaurant Group's negative free cash flow went from $16 million to a negative $32 million since spinning off Fiesta Restaurant Group due to increased capital expenditures from remodeling and upgrades.
Carrols Restaurant Group sits on a poor balance sheet. Thanks to a public offering of company shares Carrols Restaurant Group possesses nearly $56 million in cash equating to 41% of stockholders' equity. However, its $157 million in long-term debt equates to a staggering 115% of stockholders' equity. Long-term debt creates interest, which chokes out profitability and eats up cash flow. Carrols Restaurant Group turned an operating loss so far this year, which means interest coverage needs to come from external sources like the stock offering mentioned above.
3.) How much management-employee ownership is there?
Investors should always look for businesses with a high degree of ownership by their management. Managers who own a great deal of stock in the company will take better care to maximize company profits enhancing share price and their personal wealth along with that of investors. In other words, their interests are aligned with yours.
Carrols Restaurant Group's proxy reveals a lot of interesting things on the ownership front. Burger King Corporation holds a 28% beneficial ownership of the company, which definitely represents a good thing. This means Burger King has a stake in keeping its largest franchisee going or risk losing its royalty income stream. The CEO of Burger King also holds a 28% beneficial ownership of Carrols Restaurant Group. Daniel Accordino, the CEO of Carrols Restaurant Group holds 3% beneficial ownership.
4.) How does its "Report of Independent Registered Public Accounting Firm" stack up?
Every year a company employs external auditors to audit financial statements and evaluate whether the company maintains adequate financial controls. At the conclusion of the audit, the auditors generally send a letter with the language unqualified or fairly represents which generally means that the financial statements and internal controls were clean or adequate. If you see qualified or adverse in the letter's language then deeper issues in a company's financial statements may exist.
Auditors gave the financial statements of Carrols Restaurant Group an unqualified opinion and indicated that it maintained adequate financial controls last year.
5.) What types of risk does it have?
It's always important for investors to weigh various risks such as exposure to political risk in unstable parts of the world, competitive positioning, and market price risk. Carrols Restaurant Group's Burger Kings all reside in the United States, which means that political risk resides in the low range.
It should be noted that Carrols Restaurant Group lies at a disadvantage in Burger King's refranchising efforts. Burger King Worldwide can just sit back and collect royalty revenues off of franchisees like Carrols Restaurant Group. Carrols Restaurant Group has to foot the cost of rent, food, and wages. Carrols Restaurant Group's operating margin clocked in at a -1% in 2013 according to Morningstar vs. 46% for Burger King. Carrols Restaurant Group has little control over commodity costs and wages especially in the wake of increasing minimum wage. Moreover, Carrols Restaurant Group's Burger Kings faces competition from the likes of McDonald's (NYSE: MCD), and healthier and trendier restaurants such as fast casual restaurants like Chipotle Mexican Grill (NYSE: CMG)
Carrols Restaurant Group's market risk is very high considering the company is losing money. The P/E ratio is meaningless when the denominator is negative.
6.) What does its forward analysis look like?
Carrols Restaurant Group's Burger King stores face headwinds in the form of declining traffic most likely due to customers flocking to healthier and trendier fast casual restaurants. Moreover, management is predicting an acceleration in the expansion of commodity costs, especially beef, which could cause an expansion of red ink. Carrols Restaurant Group will use its cash stash to purchase more Burger King Restaurants, which may or may not be accretive to earnings. Investors would be better off with the company holding the upper hand in terms of costs-Burger King itself.
Disclosure: The author is long BKW, MCD, CMG.
The author wrote this article themselves, and it expresses their own opinions. The author is not receiving compensation for it (other than from Seeking Alpha). The author has no business relationship with any company whose stock is mentioned in this article.