Farmland Asset Class
Farmland has been an especially opaque asset class to investors, with most allocations being limited to the institutional class. Until recent listings such as Gladstone Land Corporation (NASDAQ:LAND), the retail class simply could not access farmland.
From a portfolio point of view, farmland is a highly efficient asset class.
Historically low correlation suggests farmlands' incremental returns are achieved with little additional portfolio variance.
Farmland performs well during periods of high inflation, and is desirable for many portfolios exposed to inflation from a factor risk perspective.
Looking at the historical returns below, Farmland had total annualized returns of 11.1% from 1960-2012, compared to 9.5% and 7.7% for equities and corporate bonds respectively. Farmland outperformed stocks and corporate bonds comparatively during the twenty-year period of 1960-1979 on both an absolute and risk-adjusted basis. In the twenty-year period beginning 1980, characterized by declining interest rates, taming inflation, and higher stock prices, farmland underperformed handily, albeit with a much lower risk as measure by standard deviation. During the remaining years through 2013, farmland outperformed both stocks and bonds.
Table: Historical Returns, Standard Deviations, and Correlations By Asset Class1
1960-1979

1980-1999

2000-2012

1960-2012

Farmland

Annualized Return

15.3%

5.7%

13.2%

11.1%

Standard Deviation

5.5%

5.4%

9.0%

7.7%

S&P 500

Annualized Return

6.8%

17.9%

1.7%

9.5%

Standard Deviation

16.5%

13.1%

19.1%

16.9%

Corporate Bonds

Annualized Return

3.9%

10.7%

9.0%

7.7%

Standard Deviation

7.4%

12.9%

5.0%

9.9%

Farmland Correlation Coefficient

S&P 500

-.04

.08

.14

-.14

Corporate Bonds

-.02

-.53

-.32

-.39
Portfolio Efficiency
Historically, farmland has exhibited either minuscule or negative correlation to US stocks through each of the sub-periods above and -.14 overall. Farmland's relationship to corporate bonds is more favorable with negative correlation in each sub-period and --.39 overall. For the typical equity and corporate bond portfolio, farmland can reduce the portfolio standard deviation.
The chart below displays the expected return and portfolio standard deviation, as farmland is included in a stock portfolio and corporate bond portfolio. The expected returns and standard deviation are calculated using the full-period returns, standard deviations, and correlations.
The data suggests the portfolio standard deviation for a farmland and equity portfolio would be reduced to just more than 7%. The reduction in portfolio volatility benefiting a corporate bond portfolio is even more pronounced, approaching 6%.
Historical data suggests returns exceeding 10.7% for a farmland equity portfolio and 9.8% for a farmland corporate bond portfolio lie on the efficient frontier.
Figure: Portfolio Returns and Standard Deviation with Stocks and Bonds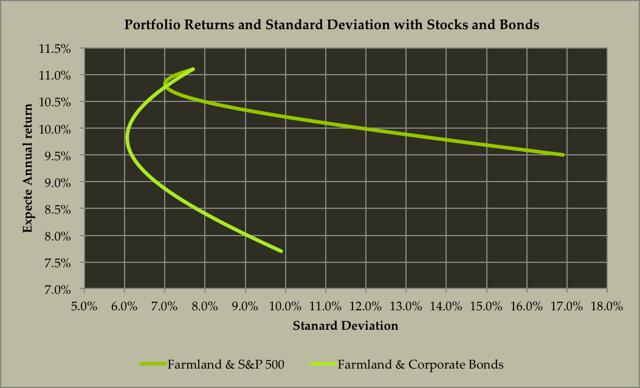 Inflation
Farmland has performed well in periods of inflation, a highly desirable investment characteristic where fixed return investments see real purchasing power greatly reduced. Farmland's positive correlation is because:
Inflated commodity prices have a positive impact on farming income and farmland capital.
Declining relative currency value has a positive impact on farming exports.
Farmland performed extraordinarily well in the higher inflation periods of the 1960-1979 sub-period, with an annual return of 15.3% and strong correlation to inflation, 0.63. As inflation declined through the 1980-1999 sub-period, performance and correlation declined yet remained positive. In the final sub period, farmland investment returns reverted higher even as inflation remained subdued, however correlation remained positive along the 1980-199 sub-period, but well below the initial sub-period levels.
Table: Farmland Returns, Inflation & Correlation Coefficient2
1960-1979

1980-1999

2000-2012

1960-2012

Farmland

Farmland Return

15.3%

5.7%

13.2%

11.1%

Inflation

4.9%

4.0%

2.5%

4.0%

Correlation

0.63

0.32

0.3

0.33
Investment Drivers
The audience and investment drivers of alternative asset investors have evolved significantly over the last several investment cycles. Initially, alternative investors sought excess returns associated with higher-risk alternative assets. The audience was typically high net worth individuals and family offices. Following the "dot com" crash, the audience began to shift toward institutional investors. Pensions, endowments, and other institutional investors were drawn by excess returns. Pensions, in particular, had been left with liability gaps following the market downturn.
As the financial crisis began, a paradigm shift of investment drivers occurred among alternative investors. Alternatives are no longer sought for excess return as much as shock absorption to traditional asset classes. In other words, investors are now taking a portfolio view, combining alternatives with traditional asset classes and gauging not only expected return and alpha generation, but overall portfolio volatility. The following illustration from Citi (NYSE:C) Prime Finance demonstrates a basic alternative overlay made popular by Bridgewater. A combination of alternative and traditional asset classes may absorb volatility in various economic scenarios varying from growth and inflation rising and falling.
Figure: All-Weather Approach Sourced from Citi Prime Finance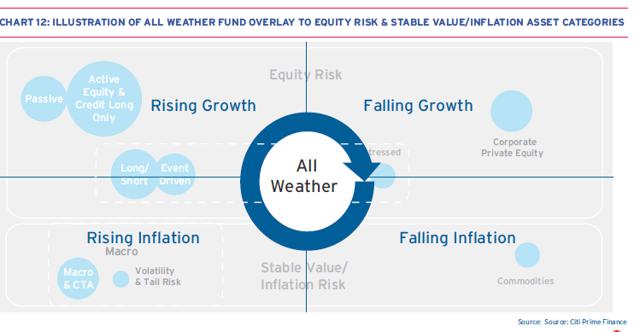 The ability for alternative asset classes, or any investment, to be marginally efficient is more critical than return alone. Alternatives must demonstrate reduced volatility or sufficient lack of correlation to traditional asset classes to reduce overall portfolio volatility.
The institutional investor is increasingly risk-averse, and reduced portfolio volatility is likely to trump increasing expected portfolio return in investment selection. Returning to farmland expected returns and correlation, it easy to see how this asset class can be efficiently added to an institutional portfolio of stocks and bonds. The institutional investor view of risk is diagramed in the illustration below from Citi Prime Finance. In constructing the portfolio, institutional investors will take a view on both the directionality of an investment and liquidity. Given the concentration of directional assets in the public markets, institutional investors are often seeking non-directional strategies. Ideally, liquidity is preferred without sacrificing expected return, but much of the available strategies are largely alpha-seeking, such as market neutral and relative value. Most low directional strategies with a long bias sacrifice liquidity and are private market. Looking at the Citi Prime Finance matrix below, low directional strategies without liquidity include infrastructure, real estate, timber, and commodities. Farmland likely resides between real estate and commodities, given its investment profile and correlation to food commodity prices.
Conclusion
To-date, farmland was only accessible in the private market. Recently, Gladstone Capital launched a publicly traded REIT that invests in farmland and farmland-related debt and joint ventures. As these and other ventures come to market, we expect investors seeking alternative assets for low directionality will benefit from the improved liquidity.
Figure: Institutional Portfolio Strategy View of Risk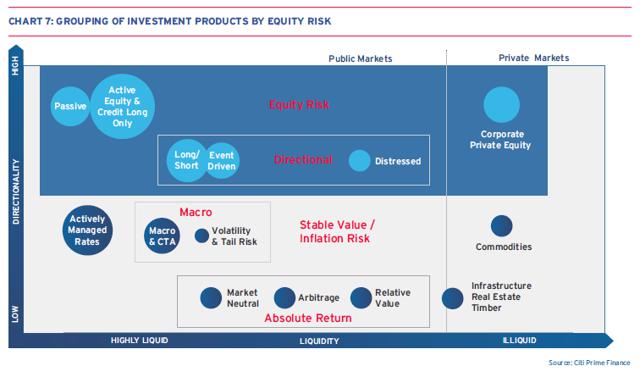 In our next part, we'll delve deeper into farmland investments accessible by the retail market.
Bibliography
Gladstone Land December 31, 2013 10-K Filing
Dahl PhD, Cody. Hancock Agricultural Investor: Farmland Investor, The Rise of Farmland as an Institutional Asset Class, Vol. 23 Number 2, Fall/Winter 2013
1 Hancock Agricultural Investor, Morningstar, NCREIF, and Bureau of Labor Statistics
2 Hancock Agricultural Investor, Morningstar, NCREIF, and Bureau of Labor Statistics
Disclosure: The author has no positions in any stocks mentioned, and no plans to initiate any positions within the next 72 hours.
The author wrote this article themselves, and it expresses their own opinions. The author is not receiving compensation for it (other than from Seeking Alpha). The author has no business relationship with any company whose stock is mentioned in this article.
Editor's Note: This article covers one or more stocks trading at less than $1 per share and/or with less than a $100 million market cap. Please be aware of the risks associated with these stocks.