For Revett Minerals (OTC:RVMID), 2011 is shaping up to be a break-out year for this small cap silver and copper mining concern. With robust commodity prices, and particularly tight silver and copper supplies, Revett is poised for highly visible cash flow in the $30 million range.
Furthermore, there are multiple catalysts that could significantly revalue the shares higher, including the approval of the company's billion dollar Rock Creek silver/copper project, a listing on a major U.S. exchange such as the AMEX, and institutional research coverage.
Revett Minerals History
Revett was formed in 1999 when it acquired their current Troy mine, the flagship Rock Creek property, and other exploration properties from Asarco and Kennecott Mining. The Troy mine was reopened in 2004 and is currently producing nearly 1.1 million ounces of silver and 10 million pounds of copper.
During the great commodity retrenchment of 2008, Revett underwent a cash crunch that sent its shares to an abysmal low of $0.25. Under the new leadership of John Shanahan, the company has methodically eliminated its debt, restructured its shareholdings, and has achieved operational excellence by tightening up costs and meeting production targets.
As a result, Revett has emerged a much healthier company with significant near term leverage to rising silver and copper prices through recent access to the higher grade C Bed mine area, and an ongoing and aggressive exploration program at Troy. Throughout these turbulent times, Revett has maintained the commitment and support of its largest shareholders, including Silver Wheaton (15.6%) and Trafigura (11.2%).
Revett Minerals Overview
Revett's value proposition can be divided into two parts – its existing Troy mine with stable and growing silver and copper production, and a free option on the commercialization of its Rock Creek project. A quick overview of each asset is needed in order to understand the latent value available by investing at the current share price.
Troy Mine
According to the latest data in December 2009, Troy has proven and probable reserves of 11.1m ounces of silver and 103.9m pounds of copper.
In the past two years Revett has initiated an aggressive exploration program and has worked hard to extend the resources in the Troy mine. The measured and indicated figures of 76.2m ounces of silver and 734.2m pounds of copper suggest a much bigger mine that could be easily expanded.
images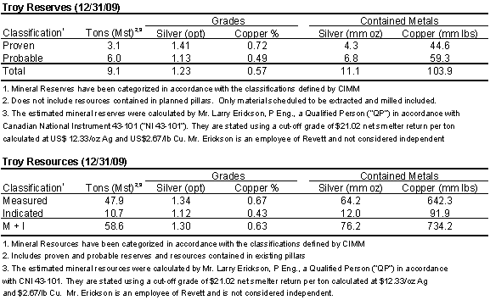 For the past two years, Revett has been actively exploring below the existing structures at around 1,200 ft. Results suggest that in this stratabound silver/copper formation, the deeper the mine depth, the higher possibility of significantly richer silver grades. At this stage, management has not announced plans of a mine expansion, but at robust commodity prices it certainly remains a real possibility.
In 2010 Revett discovered a new layer of silver formation called the I-beds, which when added to the historical resource estimates of the JF property could see mine life at Troy extend out an additional 15 years beyond the current 6 years. These may be mined as early as 2013 and has the strong potential to increase mill throughput from the current 4,000 tons per day to perhaps 6,000 or even 8,000 tons per day. Mill capacity is currently around 8,500 tons per day.
Revett is also mindful that the pillars in the Troy Mine contain over 40 million tons of materials and that can also be harvested at the right time. At these prices the pillars contain more than $300m worth of silver.
Rock Creek Mine
Rock Creek is a massive silver/copper deposit that has been embroiled in a ten year battle to get started. It lies approximately 25 air miles from the Troy Mine and is of the same geological make up, except it is much larger and higher grade. In brief, permitting commenced in 1987 and final permits (a Record of Decision) were granted in June 2003. The U.S. Forest Service (USFS) and Montana Department of Environmental Quality (MDEQ) have approved the project, but as is the usual course of mine permitting in the USA, some environmental groups have objected. The project commands strong local and state support based somewhat on the exceptional cleanliness and economic importance of the operating Troy Mine.
In March 2010, a Federal judge dismissed all the complex science based claims preventing the mine, but ordered the US Forest Service to review and reissue some administrative items through a Supplemental EIS. The resubmission should happen in Q3 2011. In the meantime, environmental groups have lodged an appeal to the 9th Circuit on the claims that were dismissed.
Based upon Revett's recent success in the Federal Courts and the amount of work that has been done by the agencies' scientists, the company must feel very confident in a positive outcome. Recent changes to Revett's Board of Directors, which includes the addition of a former EPA head, is a strong indication that the company feels it is finally reaching the end of the long road and should be successful.
As can be seen from the following chart, Rock Creek ranks among the top 10 global projects in terms of contained silver ounces.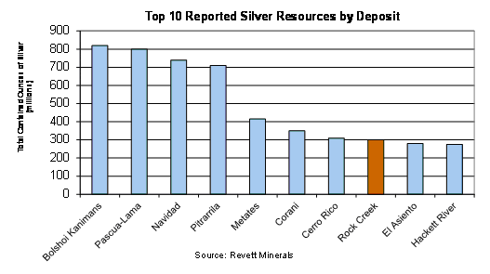 Rock Creek has inferred resources of 229 million ounces of silver and 2.0 billion pounds of copper. Mine evaluation and construction, once permitting hurdles are cleared, would take 4 to 5 years at an approximate cost of $275m. Rock Creek would produce about 6 million ounces of silver and 52 million pounds of copper per year over the estimated 20 year mine life.

At the current stock price, investors are ascribing zero value to the Rock Creek project, and receiving a free call option on a project value worth in excess of $1 billion upon approval.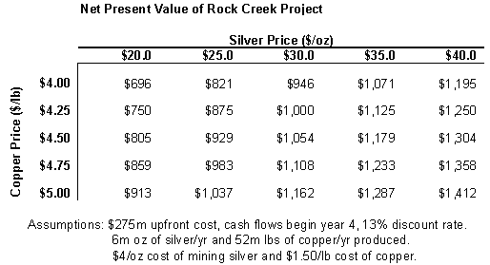 Financial Profile and Valuation
Revett's historical financial performance mirrors a company that was just ready to show record performance, before being hit by the commodity tsunami of 2008.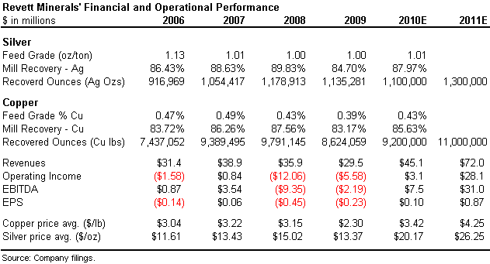 However, now the best years lie ahead for this miner. For 2011, there is a high level of visibility in its business given our conservative price assumptions of $4.00/lb copper and $25.00/oz silver. Note that Goldman Sachs commodity analysts are projecting $4.25/lb copper and $26.25/oz silver for 2011.
As can be seen in the following table, the company has hedged approximately 50% of its copper production at $3.55/lb and 25% of its silver production at $19.00/oz. This offers continued upside leverage to rising prices for 2011 and manageable and survivable cash flow should 2008 repeat itself. As prices move higher, the company may hedge some of its 2012 production, but given their objective is to cover around 75% of operating costs, the % hedged would likely be smaller.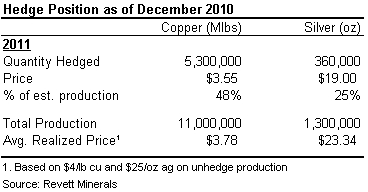 Revett also offers confidence in forecasting the cost side of its business, which allows us to get comfortable with overall cash flows. According to the company's recent guidance, 75% of its operating costs are covered; on a co-product basis, costs are estimated to be $10.39/oz of silver and $2.08/lb of copper.
Taken as a whole, we gain a high degree of confidence that Revett can produce $30 million of cash flow in 2011 and potentially much more in 2012, depending on their ultimate production, hedging program and spot prices.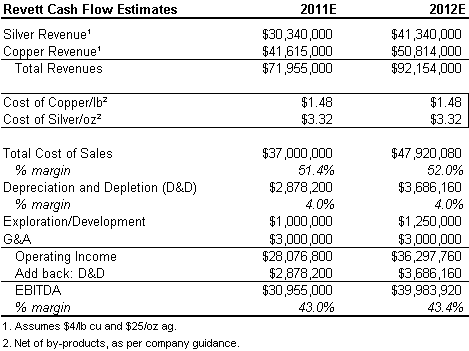 Comparative Valuation
Taking a look at valuation of producing copper and silver miners such as Freeport McMoran (NYSE:FCX), Southern Copper (NYSE:SCCO), Pan American Silver (NASDAQ:PAAS), Capstone Mining (OTCPK:CSFFF), and U.S. Silver Corp (OTC:USSIF), we see that Revett's shares are valued at a discount across nearly every valuation metric. The valuation discount is primarily attributable to the Company being a junior miner, with no research coverage, tight institutional ownership, and lower average trading volume.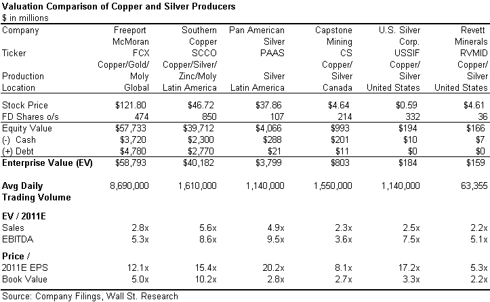 Revett's closest US-based producer of comparable size, US Silver Corp, operates the Galena mine in nearby Idaho Silver Valley. US Silver Corp, which derives around 90% of its revenues from silver (Revett is 40% silver and 60% copper, but both produce roughly the same amount in equivalent silver units), generates significantly less free cash flow due to its higher cost of mining, and ongoing capital expenditure requirements. Like Revett, US Silver Corp is well managed and has been able to continue operating through difficult times and is now refocused on mine expansion, exploration, and improving operating efficiencies.
Another worthwhile valuation comparison to Revett is Mines Management (NYSEMKT:MGN). Mines Management is an exploration company with a market capitalization of $96m that has three assets: 1) cash and securities valued at $9.2m; 2) mining equipment with a book value of $4.4m and; 3) rights to the Montanore silver/copper project with an implied value of $80m.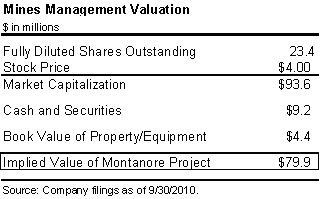 The Montanore project is located adjacent to Revett's Rock Creek deposit, separated by a major fault. Both projects contain approximately the same copper and silver resources, yet Rock Creek's resources are closer to the surface while the Montanore deposit, as outlined in a recent Preliminary Economic Assessment, extends down dip at least 12,000 feet laterally with an average dip just over 15 degrees; this makes mining more difficult and expensive.
Furthermore, in regards to the permitting process timeline for both projects, Rock Creek is significantly more advanced. To illustrate, Mines Management recently stated they will need to do a Supplemental Draft EIS in 2011, something that was completed for the Rock Creek project in 1999. According to a report from the US Forest Service in early 2007, there appears to be a distinct advantage in being first in line in the permitting process, which the Rock Creek project clearly enjoys.
Taken as a whole, this analysis suggests that Revett's share price is meaningfully undervalued. The value of the Troy mine should be at least as valuable as U.S. Silver's existing mining operations, given their similarity of size and scale. Therefore, we ascribe a conservative value of $180m - $200m for the Troy asset.
To assess the value of the Rock Creek project, we believe Mine Management's Montanore project is also a good proxy for valuation. Because Rock Creek is at a more advanced stage, and hence a somewhat lower risk project, we believe it should be valued at a premium to Montanore's implied value of $80m. We believe a conservative valuation range of $80 - $100m for Rock Creek is appropriate.
Therefore, we estimate Revett's enterprise value to be approximately $260m - $300m. The Company has no debt, $7m of cash, and only 36m shares outstanding; therefore, we derive a price target for Revett in the range of $7.20 - $8.30 per share.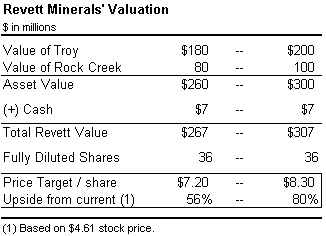 Summary
At the current share price, Revett Minerals offers investors a highly visible, near-term cash flow stream at a reasonable valuation, with significant upside catalysts on the horizon. The company's mammoth Rock Creek silver project, currently unvalued by the market, becomes increasingly economic and advantageous to the state of Montana as silver and copper prices continue to rise.
Upon project approval, Revett's share price will discount a billion dollar project and be revalued significantly higher; 2011 could be the year where the company gets green light approval. In the near term, Revett is seeking a listing on a major U.S. exchange such as the AMEX, and may receive broader institutional interest and research coverage that should narrow the significant valuation discount that currently persists.
Given several valuation benchmarks, we believe Revett's shares to be safely worth a minimum of between $7.20 to $8.30 per share..
Disclosure: I hold a long position in Revett Minerals
Disclaimer: Spruce Point Capital Management, LLC is not a broker/dealer and this is not an offer to buy/sell any security named in this article. Following publication of this article, the author and/or his company may transact in the securities of the companies covered herein. The author of this report has obtained all information contained herein from sources believed to be accurate and reliable and have included references where available and practical. However, such information is presented "as is," without warranty of any kind– whether express or implied. The author of this report make no representation, express or implied, as to the accuracy, timeliness, or completeness of any such information or with regard to the results to be obtained from its use. All expressions of opinion are subject to change without notice and the author does not undertake to update or supplement this report or any of the information contained herein. Use of this research is at your own risk. You should do your own research and due diligence before making any investment decision with respect to securities covered herein, including, but not limited to, the suitability of any transaction to your risk tolerance and investment objectives