Introduction
Pfizer (NYSE:PFE) looks like a good buy due to its (1) strong balance sheet, (2) low valuation, and (3) attractive dividend yield.
Our thesis is that PFE will use its strong balance sheet and ability to generate cash flow to grow the business pipeline, maintain an attractive yield, and create further upside for shareholders.
Pfizer's dividend yield is quite attractive at 3.5% and looks safe due to it low leverage (1.8x debt/EBITDA), low payout ratio (around 60%), and significant growth in free cash flow per share.
Balance Sheet Strength
PFE's capital structure has improved over the last 5 years with its debt to capital ratio falling from 40% in 2010 to 33% presently. This level of debt provides a nice amount of leverage for upside potential, but limits downside risk, in our view.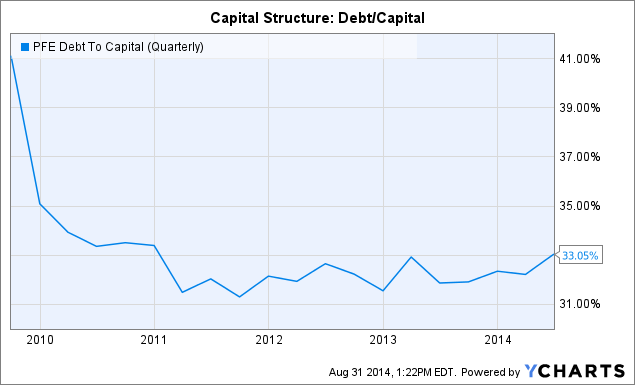 PFE Debt To Capital (Quarterly) data by YCharts
If we look at leverage on a debt/EBTIDA basis the story also looks good, with the ratio falling from a peak of 2.5 times in 2010 to 1.8 times currently. At 1.8 times, Pfizer has a very manageable debt load, which provides us with comfort in their ability to maintain and growth the dividend.
Based on our internal analysis, we believe PFE could sustain the current divided with a maximum debt level of 3.4 times EBITDA, which further adds to our conviction about the safety of their dividend.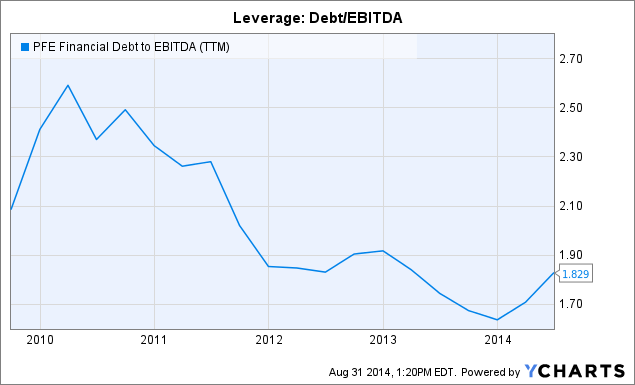 PFE Financial Debt to EBITDA (TTM) data by YCharts
Cash Flow Generation
PFE has been a phenomenal cash flow generation story, with cash flow per share (all that matters is PER SHARE) growing at a compound annual growth rate of 13% over the last 25 years.
With this type of track record of growing cash flow on a per share basis, we firmly believe there will be plenty of opportunities to increase the dividend going forward.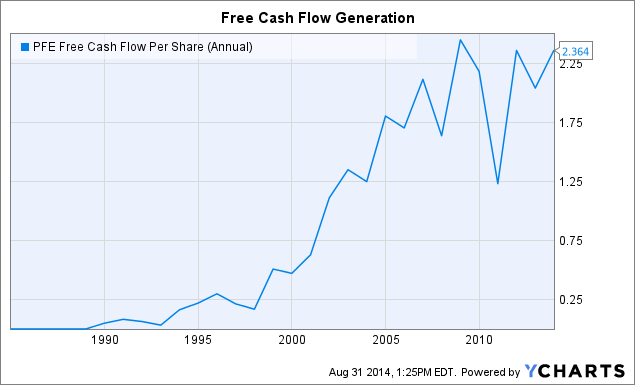 PFE Free Cash Flow Per Share (Annual) data by YCharts
Low Valuation
PFE currently trades at an attractive valuation on an EV/EBITDA basis and a P/E basis.
Pfizer traded as high as 9 times EBITDA a year ago, and now trades at a much more attractive 7.6 times. We believe this presents an compelling entry point for dividend-seeking investors.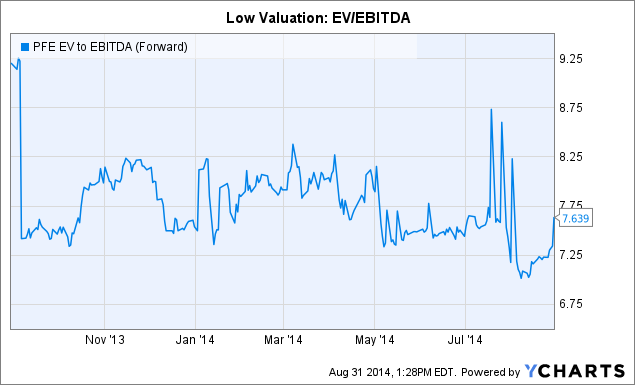 PFE EV to EBITDA (Forward) data by YCharts
On P/E basis the story is fairly similar -- the ratio reached a peak about 9 months ago at almost 15 times, versus a more reasonable 13 times currently.
Given the company's low leverage and ability to generate and grow cash flow, we are comfortable paying 13 times for earnings of such a high quality and relatively lower risk.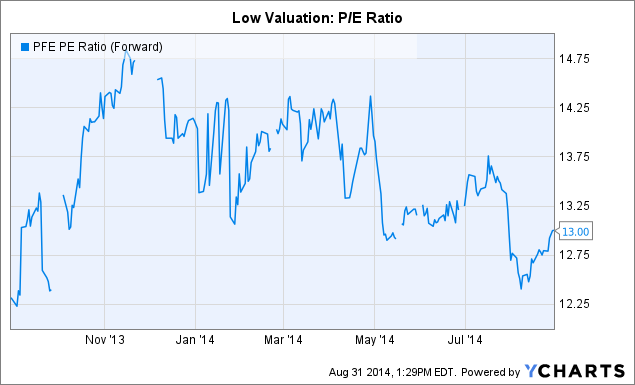 PFE P/E Ratio (Forward) data by YCharts
Dividend Yield
At the current share price Pfizer has a yield of around 3.5%. This is up from about 3% only 4 months ago and represents an attractive yield for dividend-oriented investors.
On a risk adjusted basis, it represents an even more meaningful opportunity as the payout ratio and leverage are low, while cash flow generation and growth are high.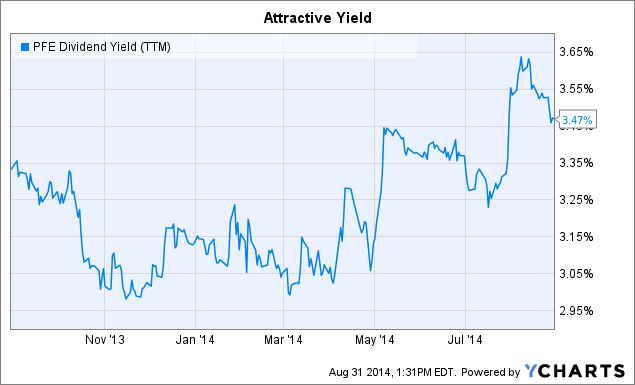 PFE Dividend Yield (TTM) data by YCharts
Conclusion
In summary, looking at all the pieces together, Pfizer offers a great opportunity to earn a 3.5% dividend yield with significant downside protection and plenty of upside. More specifically, Pfizer is expected to outperform due to its strong balance sheet and track record of free cash flow generation. All this should lead to growth in dividends per share and strong long-term share price performance.
Disclosure: The author has no positions in any stocks mentioned, and no plans to initiate any positions within the next 72 hours.
The author wrote this article themselves, and it expresses their own opinions. The author is not receiving compensation for it (other than from Seeking Alpha). The author has no business relationship with any company whose stock is mentioned in this article.