Since initially posting our short thesis on Papa Murphy's Holdings (NASDAQ:FRSH-OLD) ("Papa Murphy", "FRSH", or the "Company") this past May, the short thesis has become increasingly compelling. One of the key drivers to the short thesis is the lack of franchisee profitability and accelerated closures/issues outside of the Pacific Northwest, which should ultimately lead to significantly reduced expectations as the perception of the Company rotates from that of a growing fast-casual chain (for which it is not) to that of a mature chain.
We re-iterate our short thesis, as there are two near-term catalysts which will potentially cause the equity to re-rate to our "super-optimistic" price target of ~$5 per share or roughly 40% upside to the short thesis. Two potential near-term catalysts include a potential sponsor exit (hence the sell-side bullishness) through a secondary sale and EBITDA pressure derived from franchisee issues and royalty relief expanded upon below.
Key highlights and updates since the most recent quarter are as follows:
Franchisee Issues Continue in Key Markets: Over the past three months, two lawsuits have been filed against Papa Murphy, highlighting the issues new franchisees are facing in markets outside of the Northwest. Additionally, this past August a nine store franchisee system declared bankruptcy in the supposedly strong Texas market (business-bankruptcies.com/cases/dtd-pizza-llc), followed by the recently announced sale of an additional nine stores located in Minneapolis, Minnesota back to Papa Murphy's for roughly their replacement value. If a multi-unit franchisee was profitable, why would they dispose of the business for replacement value or lower (ex. sweat equity)? What is the most troubling is that these franchisees were multi-unit operators, not just single-unit "mom and pops".
Waiver of Royalties for New Franchisees: The Company's franchising effort recently issued a promotion for new franchisees in ~17 select "growth" markets, waiving royalties for one year, in addition to

providing $20K for digital menu boards and grand opening marketing. This suggests that FRSH cannot attract new franchisees due to the issues noted above, hence FRSH has chosen to go the Papa John's (OTCPK:PAPA) route offering various incentives. The key takeaway is that with this new promotion, profit and growth estimates should have to come down. Finally, I wouldn't be surprised to see if royalty relief and other spiffs have been extended to other newer franchisees, who appear to be suffering from low AWS as well.
Credit Facility: The Company recently refinanced their facility with GE Capital at a lower coupon. Although the Company was quick to post their refinance achievement and the new rate, no color was provided on covenants or debt amortization. Note the Company touted $2.25MM in interest savings per annum, yet on a fully-taxed basis this is amounts to only ~1.5% of new cash for potential debt pay-downs. Realistically the $2.25MM will most likely be redeployed to subsidize franchisee royalty relief.
Review of Q2'14 Financial Results
Revenues moderately increased YoY to $21.8MM in Q2'14 from $19.1MM the previous year, mainly driven by an increase in company owned stores and POS fees to franchisees.
Adjusted EBITDA declined to $4.7MM for Q2'14, compared to $5.6MM the previous year. Note that our adjustments to EBITDA exclude the Company's add-back of "state levies" and other items. Importantly, the lack of movement and degradation in EBITDA demonstrates the Company's lack of earnings power due to issues within its franchisee base, which it is attempting to prompt up through the topline (i.e. company owned stores). Recall that these Company owned stores do not pay royalty fees, and on a comparable basis are also breakeven to EBITDA negative.
On a FCF basis, the Company generated negative free cash flow of $0.6MM, leaving the LTM FCF yield under 1%. Note that the Company is levered over 4.5x, and the outlook continues to look bleak for a debt pay down.
Nonetheless, the Company "beat" earnings expectations, mostly due to a plethora of add-backs (such as stock-based comp).
Store closures going past July are not being mentioned by the Company. Earlier in August, a franchisee who operates 9 stores in the Dallas/Texas market filed for bankruptcy, a purported market of high growth potential. We believe this is one of many upcoming/current store closures in the pipeline.
Stores continue to close with over 23 franchised units closing year-to-date. Net new stores YTD are roughly 18 stores, yet as demonstrated by recent closures, these new additions tend to fail fast due to misrepresented average weekly sales and profitability, two key points brought up in two class-action franchisee lawsuits.
In reaction to the two franchisee lawsuits and lack of growth as expected, FRSH is waiving royalty fees in order to attract new franchisees. This is a strong positive for the short thesis, as sell-side estimates are completely ignoring royalty relief, the effect on future growth and the overall health of the franchise system. Reiterate our short, with a target price of ~$5.0 - $6.0 per share.
For reference, please see the most recently updated financial results: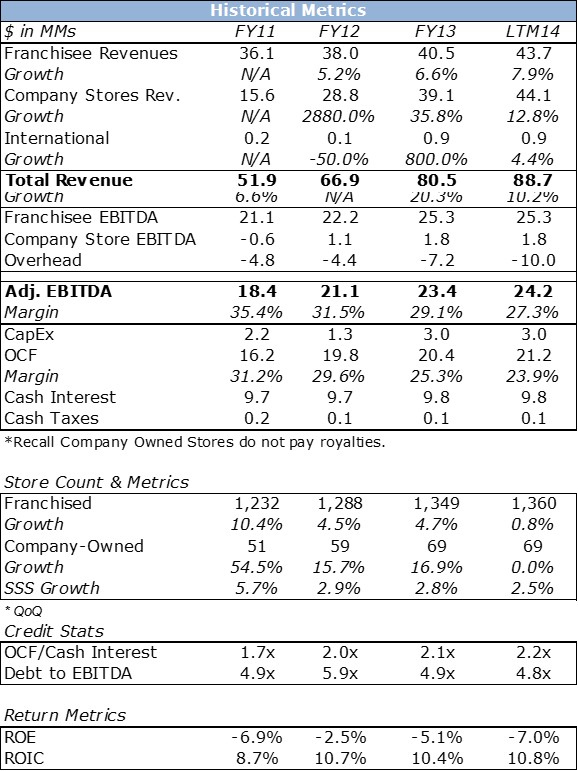 Original Thesis
The thesis is predicated on the following attributes, which make the Company a highly attractive short at current prices:
Unrealistic Valuation: FRSH trades at 11.2x LTM Adj. EBITDA of $24.3MM (which include questionable add-backs), a sub 4% LTM FCF yield and 4.7x book value. This excessive for a business operating in a competitive industry with low / no barriers to entry. Furthermore, an aggressive DCF in our yields a share price of ~$6 per share, which assumes EBITDA expansion of over 200 bps and consistent growth throughout. Using a private market approach derived from EBITDA, leads to a share price range from $2.8 to $7.2, implying significant downside due to the levered nature of the business. Recall that Lee Equity Partners paid ~9.5 Adjusted EBITDA for this asset in a competitive bidding process. Re-iterate valuation view, as FRSH trades at ~11x EBITDA, with debt to EBITDA at ~4.7x.
Poor Balance Sheet: The Company is currently levered at ~4.5x debt to EBITDA, or $115MM of debt pro-forma for the recapitalization. The Company currently pays L+575 bps for their senior secured credit facility. This has totaled ~$10MM per annum in cash interest expense, or ½ of their operating cash flow, defined as EBITDA less CapEx. Although the Company expects its interest expense to decrease with the recent pay-down, the Company is projected (by the sell-side bulls) to generate meager free cash flow, which will not allow for a rapid repayment of principal. As LIBOR rises, interest costs will possibly increase and consume a greater proportion of operating cash flow. Thesis point valid, as the Company continues to sport a poor balance sheet with little cash flow generation to pay-down debt. Although FRSH refinanced their facility with GE Capital at lower pricing, NO color was provided on covenants or debt amortization. I wouldn't be surprised to see that the Company is operating under heavier covenants, yet in this current credit environment, who knows!
Competitive Market with No Barriers to Entry: Although the management team likes to present Papa Murphy as a unique pizza concept with no real competitors, the reality is vastly different. Papa Murphy competes against traditional take-out pizza concepts such as Pizza Hut/Dominoes/Papa Johns, "mom and pop" operators, and various pizza products from supermarkets, whom carry similar products at cheaper price points. Furthermore, these concepts challenge FRSH for franchisees. For instance, it costs roughly $150K for a Noble Romans (OTCQB:NROM), a take and bake competitor, $141K - $466K for a Dominoes (DPZ), $295K - $422K for a Pizza Hut (YUM), $138K and up for a Papa John's (PZZA) unit, which carries a reduced royalty rate for five years, free ovens and no franchise fee. Compared to the ~$200K - $250K for a Papa Murphy's, the "capital-lite" value proposition for a franchisee is questionable. The recent franchisee bankruptcy, lawsuits and the new royalty relief program solidify the view on the competitive environment.
Secondary Sale: The recent IPO has created an avenue for liquidity for controlling shareholders as insiders will be able to sell in 180 days. In the initial offering, insiders and certain funds monetized a small portion of their stake, most likely due to the somewhat weak reception (IPO pricing on the low-end). A secondary sale continues to be a potential near-term catalyst.
Frothy Growth Promises: Revenue growth over the past three years has been driven by franchisee buyouts, which has allowed the Company to post double-digit returns, while the franchise business grows in the single digits. Furthermore, SSS have decelerated, tapering from ~5.7% in FY11 to 2.8% in FY13, which does not support the current multiple. Moreover, the concept has been around since 1981, and in reality, is fairly mature, making the 4,500 store promise (3.2x the current base) unrealistic. At best, FRSH is a Pacific Northwest regional concepts.
Reduction in SNAP & Potential Sales Tax: On 2/7/14, the federal government reduced SNAP benefits (formerly known as food stamps) by a staggering $8.7B, or $90 per month per family. On the low end, SNAP is estimated to amount to ~13% -16% of sales (in some cases for certain stores it is estimated at over 30%), a material proportion of the business. However it doesn't stop there. Recently, the Streamlined Sales Tax Governing Board met and approved a ruling that classified take and bake pizzas as prepared food and should be taxed as such. So far, this will impact 22% of system stores, and is another material headwind to SSS.
Issues with the Franchisee Base: Recently, a group of franchisees sued the Company, citing that FRSH misrepresented the financial profile and average revenues/margins for a store within their prospective location. It was revealed that the overall metrics are skewed as stores which are generating strong revenues and profits are located in Papa Murphy's home geography while stores in geographies such as the Texas/ Southern United States have not generated satisfactory returns for certain franchisees. Moreover, a letter from the Papa Murphy Franchisee Association ("PMFA" - available through a simple Google search) revealed significant issues, such as (1) a severe decline in franchisee profitability; (2) breakeven AWS is $10.8K compared with the $8K cited if including a manager and $175K in debt service; and (3) proposals for royalty relief on a sliding scale based on AWS and additional support for franchisees.
If FRSH wants to achieve their store growth goal, they will need to improve franchisee performance in the geographies they want to penetrate. One method would be through advertising spend, which would depress free cash flow and EBITDA, which isn't ideal for a business with a poor balance sheet and little levered free cash flow generation. As mentioned above, a second lawsuit was filed.
Bull thesis
Sell-side analysts and "growth" investors have been enamored by Papa Murphy's, as the consensus bull thesis has been predicated on:
Long-Term Mid-Single Digit SSS Growth.
Rebuttal: SSS growth over the last two years was sub-3%, inclusive of numerous promotional items which were detrimental to franchisees. Key drivers to SSS such as SNAP and the ability to be excluded from sales taxes, has also recently come under pressure.
Recall another driver of SSS growth is derived from Company owned stores, whose SSS comps are 2x franchisee SSS, not a positive when attempting to aggressively sign new franchisees. Moreover, company-owned stores do not pay the 5% royalty fee, implying poor bottom line performance when adjusted. In the near term, the Company will be facing an uphill battle for SSS comps due to $5 faves in addition to other promotional items from FY13. At the end of the day, free cash flow and the bottom line determine if a business will stay in existence and maintain creditworthiness, not SSS.
Franchisee White Space and Growth
Rebuttal: The bulls tend to drastically overlook or ignore the issues and concerns with the PMFA and the effect of the recent lawsuit, which suggests new territories are highly unprofitable, and are generating below break-even AWS.
Competitive Landscape
Rebuttal: The sell-side is only considering competition from other QSR pizza chains (which there are plenty with larger wallet share) along with new interesting true fast casual concepts like Blaze Pizza. The bulls are overlooking competition from super-market freshly prepared pizzas and importantly cheaper frozen pizzas such as DiGiorno.
Rosy Financial Projections
Rebuttal: The sell-side is even projecting tepid FCF generation ranging from $4MM (2.5%) to $8MM (inclusive of stock-based comp, a real expense for shareholders) in FY16 (5%). The repercussions are clearly negative as the Company will not be able to pay-down its tremendous debt burden with its projected FCF - magnifying the Company's reliance on the capital markets as an "out", not considering a restructuring of some sort.
Porter's Five Forces Analysis
Risk

Severity

Mitigant

Threat of New Entrants

High

As evidenced by the saturated market landscape with numerous banners, pizza concepts have low barriers to entry.

FRSH competes against well-known national franchise concepts like Pizza Hut / Papa Johns, "mom and pop" operators, and super-market frozen and fresh uncooked pizzas. Ironically, the Company likes to downplay the competitive landscape in their interviews.

Additionally, true fast casual concepts such as Blaze Pizza are growing and may offer a more compelling value proposition to not only customers, by to potential franchisees.

Threat of Substitute Products

High

Consumers have numerous choices for food. Furthermore, supermarket offerings pose one of the greatest risks to the concept.

Bargaining Power of Suppliers

Medium

As noted on the previous call, commodity costs such as the increase in cheese pricing have a material effect on margins.

Bargaining Power of Customers

High

It is clear customers have control, as simply watching TV or checking an email inbox will reveal how competitive the industry is, with numerous concepts offering all sorts of specials and coupons. At the end of the day, price, convenience and quality are the deciding factors and FRSH is not the top in those three categories.

Rivalry

High

Per the above bullet points, it is clear that rivalry is rampant in the space.
Scenario Valuation Analysis
Base Case
The base case portrays a scenario of top line growth and gradual margin improvement. Below are the assumptions used in the base case scenario:
Sales are expected to grow 8% in FY14, 6% in FY15, 4% in FY16 and 2% thereafter.
Gross margin forecasted to expand 200 bps to 58%.
EBITDA margin expected to improve from 26.7% in FY13 to 29.6% in FY18E.
Capital expenditures forecast at $3MM per annum.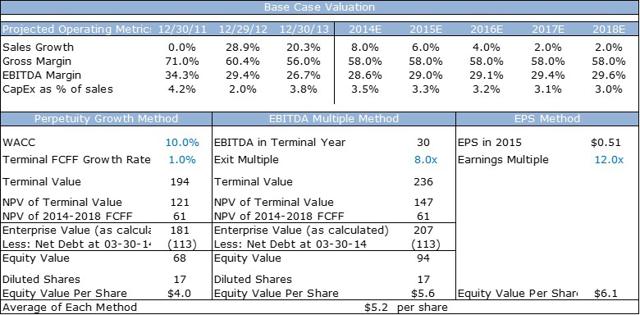 Upside Case
The upside case portrays a strong five-year forecast for the Company. When compared with the base case management's plan forecasts. Below are the assumptions used in the upside case scenario:
Sales are expected to grow 8% in FY14 & FY15, 5% in FY16 & FY17 and 3% in FY18.
Gross margin forecasted to expand 300 bps to 59%.
EBITDA margin expected to improve from 26.7% to 29.6%.
Capital expenditures forecasted at $3.0MM annually.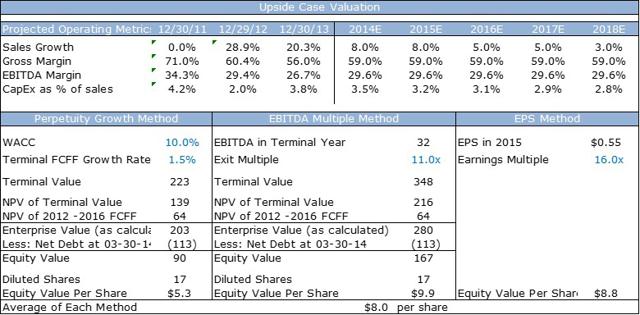 Stress Case
The stress case portrays a realistic case where margin expansion is not assumed due to weak performance in franchisee growth areas (subsidized by marketing spend), and sales mix with company owned stores. Below are the assumptions used in the stress case scenario:
Sales are expected to grow 8% in FY14, 5% in FY15 & FY16, 2% in FY17 and 1.5% in FY18.
Gross margin forecasted to expand 100 bps to 57% in FY14 and 200 bps to FY16.
EBITDA margin expected to improve from 27.6% in FY14 to 28.6% in FY18.
Capital expenditures forecasted at $3MM annually.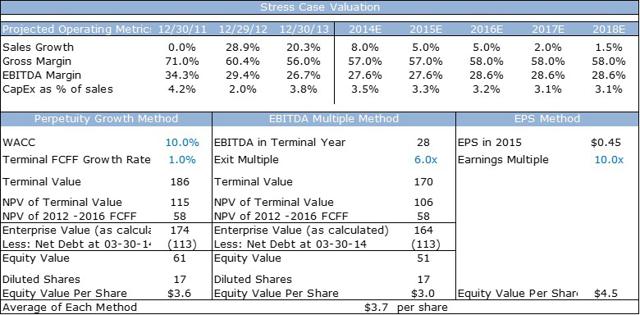 Intrinsic Valuation
Free Cash Flow to the Firm ("FCFF") was one method used to determine the intrinsic value for all three cases. The Company's terminal value was calculating using both the perpetuity growth and EBITDA exit multiple methods, 1.0% and 8.0x, respectively, for the base case, 1.5% and 11.0x for the upside case, and 1.0% and 6.0x for the stress case.

In the LBO auction held in 2010, Pap Murphy's was purchased for ~9.5x EBITDA. As shown below, a 9.5x LTM multiple would indicate a price of $6.9 per share (loss of 35%). Given the franchise issues denoted above, the business could trade for less than 9.5x. The following chart quantifies the range of hypothetical valuation outcomes:

Catalysts to Value Realization
Catalyst

Description

Sponsor Exit

One key driver for the IPO is likely to allow the sponsor to exit the business via the public markets. As we've seen with previous sponsor IPOs such as Sprout's Farmer Market, the exit is usually followed by a degradation in price.

Furthermore, as the sponsor is coming upon its 5th year of operation in FY15, I wouldn't be surprised to see an exit sooner than later, as it will boost the sponsor's IRR.

Elimination of Food Stamp Eligibility and State Sales Tax

This past February, a law was signed that reduced SNAP (formerly food stamps) by $8.6B, that will reduce household's benefits from $90 per month. Since SNAP the acceptance of SNAP is a competitive advantage for FRSH, this could potentially materially harm the business.

Moreover, the Streamlined Sales Tax governing board recently approved an amendment which would allow states to remove take and bake pizzas from the tax ineligible category. This means customers in certain states will now pay sales tax, another "competitive advantage" taken away.

Slowdown of Growth

Papa Murphy "gamed" its pre-IPO growth through franchisee acquisitions and aggressive, un-franchisee friendly promotions such as $5 favorites.

This could potentially create a difficult SSS comp set going forward into this year, and is further magnified by rising food costs.

Continued Franchisee Issues

A successful franchisor concept is ultimately dependent on the success of its franchisees, if it wants to grow and succeed. As evidenced from a group of franchisees, outside of Papa Murphy's core markets, some franchisees are making materially less than the $11k in average weekly sales suggested in the public filings and are losing their proverbial shirts.

This is supported with the recently filed court case by a group of franchisees in markets such as Texas, which asserts that FRSH misrepresented items related to franchisee financial performance.

Moreover, rising costs and lack of profitability in the underlying franchisees may lead to measures such as a royalty break, which would ultimately decrease the Company's EBITDA.
Risks & Mitigants
| | | |
| --- | --- | --- |
| Risk | Impact | Mitigant |
| Sell-side Initiation | Continued Bloated Share Price | Time arbitrage is an important factor as the market will realize the Company's meager financial performance and growth profile. |
| Irrational Growth Strategy | Near-Term Revenue Increase | The Company could continue its aggressive strategy to roll-out franchisee units in new, untested markets, which would temporarily boost franchisee income. We have seen the "success" in this strategy given the recent outcry and litigation from franchisees in regards to poor performance from their stores, implying this is a short-sighted strategy. |
| Continued Access to the Capital Markets | Mitigate Capital Structure Issues | Under its current structure, the Company will have a difficult time paying down debt principal, leaving two options (1) tapping the capital markets for a refinance or (2) a debt for equity restructure. Both outcomes are a positive for the short thesis. |
Why the Consensus is Wrong / Recommendation
The short thesis in regards to Papa Murphy is fairly simple, as the Company is being touted as a fast-growing differentiated pizza concept with tremendous white space, while in reality FRSH is a levered, mature regional concept with low barriers to entry, with an intrinsic value materially lower than the current price.