Income oriented investors have been traveling through a yield desert over the last several years. Thanks to extraordinary monetary policy from the U.S. Federal Reserve that has included keeping interest rates pinned at zero percent for the last five years, those living on fixed incomes including retirees have been forced out of the safety of FDIC insured saving deposits and into various higher risk investment vehicles in an effort to find yield. Recognizing the voracious appetite for income in the yield-starved environment, some institutions and individuals have poured into these same higher income areas of the stock market, some with the use of leverage, to not only capture but also amplify yields. While the reliance on higher risk investments has helped satisfy the demand for yield to this point, it is reasonable to consider whether unforeseen risks and unintended consequences are being fostered in the process.
The investor appetite for yield has been particularly abundant in 2014. For the year-to-date, the S&P 500 Index (NYSEARCA:SPY) has posted a positive total return including dividends of +9.68%. And at Friday's closing price of 2003, the S&P 500 Index is trading at 17.9 times trailing 12-month operating earnings. And since the start of the year, it has been the highest yielding names that have been out in front driving overall index returns.
The following shows the total 2014 year to date return for the S&P 500 Index along with the grouping of its constituent stocks that pay dividends across various yield levels. What is revealed is that the higher the yield on average, the better the return for a stock thus far in 2014. And this is true by a considerable margin.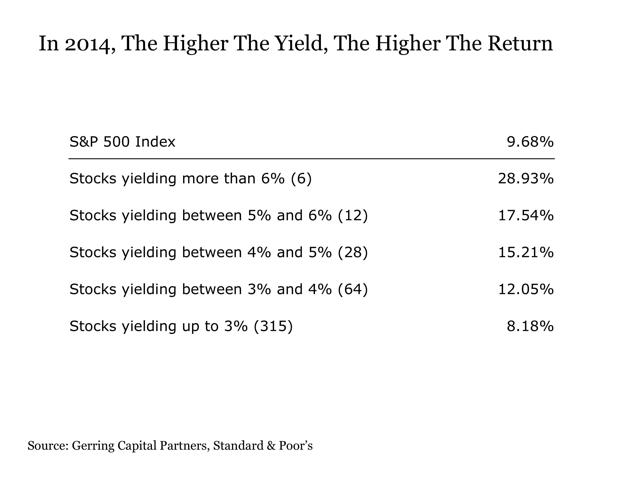 The strong performance of higher yielding stocks (NYSEARCA:DVY) is certainly a welcome development for yield thirsty investors that have been recently herded into the category. But the notable differentiation in returns does raise some other important considerations. Specifically, are the forces that are currently driving the outsized returns in high yield stocks bringing with it potentially destabilizing spillover effects at some point in the future?
One particular point of concern is the increasingly elevated valuations we are now seeing on average among these higher yielding names. For example, stocks in the S&P 500 Index that have a yield of 3% or greater currently have an average price-to-earnings ratio of 22.6 times trailing 12-month operating earnings. This not only represents a 26% premium over the price-to-earnings multiple of the broader market, but this is a notably high valuation on an absolute basis. Thus, these higher yielding stocks are potentially facing the prospects of greater volatility and downside risk at some point in the future the more these valuations elevate.
Another issue is the prospect of investors increasingly using leverage to amplify yields even further on already high yielding names. While achieving such goals through the use of margin debt or other methods can be done prudently and in a risk-controlled manner, it can just as easily be carried out more aggressively in a higher risk fashion. And regardless of the intended motivations behind using leverage to purchase high dividend stocks, the potential exists for any future downside move sparked either by a rise in interest rates or a broader market correction to be accelerated or compounded because of the increased use of leverage. Recent history has repeatedly shown that liquidation events can be ruthlessly unforgiving even on the most defensive of investors.
High yielding stocks are likely to continue performing well as long as interest rates remain low and the need for income producing investments remains high. But investors should resist becoming overly complacent under the perception that higher yield implies greater safety even among the top quality names in the group. Increasingly elevated valuations highlight the importance now more than ever to focus on the subset of high yielding stocks that are consistently growing earnings and dividends over time (NYSEARCA:SDY) and are still trading at attractive valuations either on a relative or absolute basis. A close eye should also be maintained on forces that may rise to destabilize the broader market at any given point in the future, for any losses in principal value that take place during any future corrections may take longer and be more difficult to recover than they have been in recent years.
So while high yielding stocks continue to bask in what has been a very good year in 2014, investors should remain alert for any future shifts in the market tide, not only to protect against the loss of principal but also to potentially capitalize when the dust starts to settle.
Disclosure: This article is for information purposes only. There are risks involved with investing including loss of principal. Gerring Capital Partners makes no explicit or implicit guarantee with respect to performance or the outcome of any investment or projections made. There is no guarantee that the goals of the strategies discussed by Gerring Capital Partners will be met.
Disclosure: The author has no positions in any stocks mentioned, and no plans to initiate any positions within the next 72 hours.
The author wrote this article themselves, and it expresses their own opinions. The author is not receiving compensation for it (other than from Seeking Alpha). The author has no business relationship with any company whose stock is mentioned in this article.
Additional disclosure: I am long stocks via the SPLV and XLU as well as selected individual names. I also hold a meaningful allocation to cash at the present time.