Marlin Business Services Corp. (NASDAQ:MRLN) Overview
Marlin Business Services is an equipment leasing company servicing small and mid-size businesses ($248 MM market cap @ closing price of 19.78 on 8/29/2014). Marlin operates in the small (<$250K) / micro-ticket (<$25K) leasing markets. At the end of 2013, Marlin had approximately 75,000 active equipment leases and 63,000 customers. Average original lease amount was $13,000. Customers are acquired primarily through a network of independent commercial equipment dealers and national accounts with equipment manufacturers. They typically issue a non-cancellable lease for the full cost of the equipment + profit. Marlin leases over 100 categories of equipment - top categories include copiers, commercial / industrial, computer software, telecommunications equipment, and computers. Marlin's funding comes primarily through CDs that sourced from brokers and other banks.
Investment Thesis - Buy Marlin Business Services
Marlin is benefiting from a long term growth tailwind - As traditional lending sources dry up, small businesses are increasingly turning to micro ticket leases to fund their growth. Technology makes it more and more convenient for customers and allows lenders to respond faster to demand. "Reports indicate that up to 80 percent of US businesses lease their equipment. And since small businesses are the true backbone of the U.S. economy, micro-ticket lenders have a tremendous market opportunity. This is a niche industry, currently estimated to be around $6 billion - but it's growing as the economy improves and small businesses expand."
Competitors are exiting Marlin's market - Marlin's primary competitors are captive leasing companies & banks. Banks are focusing on higher value loans and the consumer markets. Captive leasing companies are "outsourcing" more of the financing function to focus on their core business. In a 2014 industry survey - "After lagging for several years, independent equipment finance organizations led the industry in new business volume growth rates. Independents saw the strongest increase in new business volume (17.7%), while captives saw their volume grow by 11.3% and banks saw a 6.2% increase."
Growing dividend with share buybacks - At the end of July, Marlin increased the dividend by another 13.6%. Marlin also announced a $15 MM stock repurchase program (~6% of shares outstanding). On the 2Q earnings call, the CEO talked about Marlin's commitment to returning cash to shareholders - "On the topic of the dividend program, this quarter's increase and reauthorization to buy back shares is indicative of management and the board's favorable outlook for the business, along with the desire to prudently manage the company's well capitalized position to enhance returns to shareholders."
Conservative use of leverage with a hefty cash cushion - Marlin has $98 MM in cash on its balance sheet - 40% of its market cap. Tier 1 Capital Ratio is 22.81% (vs. 6% required for a well-capitalized bank). At the end of 2Q 2014, loans more than 30 days late declined to 0.79% from 0.85% at the end of the first quarter. Marlin's allowance for credit losses covers 159% of these late loans.
Sell targets for different investment timelines are listed below. Returns are based on the closing price of 19.78 on 8/29/2014. Estimated returns include dividends.
Investors with a < 6 month timeline should sell above 21.6 for a 13.3% return
Investors with a 1 year timeline should sell above 23.3 for a 26.7% return
Investors with a 3 year timeline should sell above 27.5 for a 66.6% return
Investors with a 5 year timeline should sell between 33.6 and 61 for a 85.1% to 226.4% return
Risk-Based Valuation
The risk-based valuation for Marlin estimates a worst case, expected, and best case investment return over a 5 year time horizon.
Stock Price = ((Revenue * Net Margin) / Shares) * P/E … based on 5 year forward projections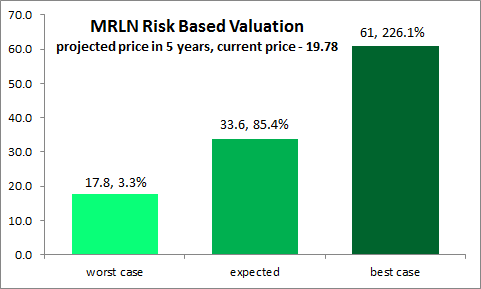 The waterfall chart below shows the relative impact that projected earnings, dividends, buy-backs, and PE Ratio have on Marlin's estimated valuation (expected case, 5 year forward view). Revenue growth has the greatest impact, driving 27.6% price appreciation. Net Margin expansion drives a 14.9% positive return, share buybacks increase return by 9.2%, an increase in P/E ratio increases return by 8.1%, and dividends add 15.4%, resulting in an 85.4% expected return.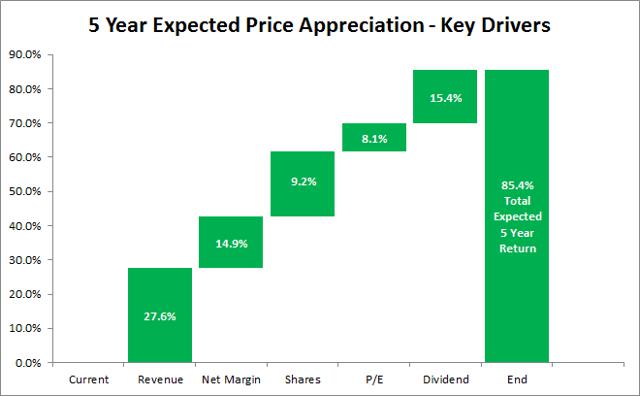 Key Assumptions for the Risk Based Valuation are listed below: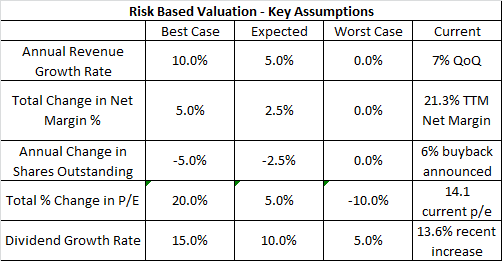 Risks to the Investment Thesis
Recession in U.S. economy - Marlin is heavily reliant on small to medium size businesses. During a financial crisis, Marlin takes a double hit - revenue drops as companies stop ordering new equipment and loan quality deteriorates resulting in higher credit losses.
New technology / new competitors - A company with a web-based business model could take significant share away from Marlin. They could potentially reach out directly to customers making it very easy and convenient to arrange an equipment lease.
Increase in funding costs - Competition from other banks or an increase in interest rates could raise Marlin's borrowing costs. They would have to pay a higher rate on the CDs that are the primary source of funding for their leasing business.
Disclosure: The author has no positions in any stocks mentioned, and no plans to initiate any positions within the next 72 hours.
The author wrote this article themselves, and it expresses their own opinions. The author is not receiving compensation for it (other than from Seeking Alpha). The author has no business relationship with any company whose stock is mentioned in this article.