After last week's release of Q2 results, Xueda Education Group (NYSE:XUE) shed almost a quarter of its market capitalization. It was a miss, both on revenues and on earnings, though the 27 cent EPS was only two cents off of the 29 cent estimates floating around before the release.
Xueda has been defined, for good or ill, as a growth stock, and that's what happens when growth stocks miss. Yet the stock wasn't trading at the gaudy multiples typical of most growth stocks, and with the latest post-miss blood-letting, Xueda can fairly be examined both as a value play, and as a growth at a reasonable price play.
Xueda Technology: Where it all began
Xueda's history is a fascinating example of companies finding a way around onerous regulatory systems. It got its start as Xueda Technology, an online education portal.
Online was hot, but the real demand in China was for tutoring services and private schools. Unfortunately, what the customer wanted and what the PRC government regulations allowed were two very different things. Xueda Technology's status as a company with substantial foreign investment meant it simply wasn't able to get permits to establish such schools.
Where there's a will there's a way though, even if it's a bit sneaky. Xueda reorganized in 2010 as Xueda Education Group, a series of interlocking companies. The tutoring centers and schools are nominally owned by Xueda Information, a company which on paper is privately owned by Chinese citizens, but which is contractually required to give "substantially all" of its benefits to the group, neatly skirting the foreign investment regulation.
The number of schools and training centers has grown impressively, and as of the end of FY2013, they were operating 408 centers and 111 tutoring schools across the PRC, spanning dozens of cities both medium sized and large.
Continuing growth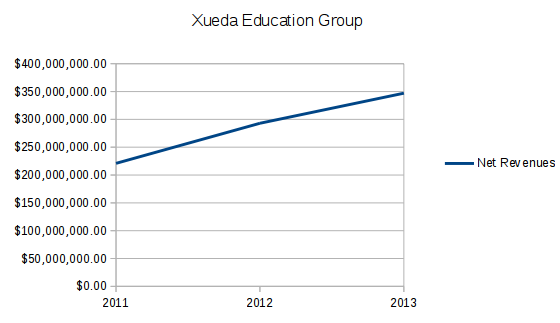 Xueda's revenue growth has been excellent over the past few years, and though it's obviously going to slow a bit in the next few, Xueda has established itself as both a market leader across most major cities in the PRC and a recognized brand nationwide.
That's a huge benefit, because the primary competitors to Xueda are not other national education companies. Rather, the competitors are mostly operating in a single city or a single province, and have so far proven no match for Xueda when it decides to move into their market.
The growth isn't all coming from new operations, either. The Q2 earnings report showed a healthy 30.5% year-over-year increase in student retention, and continued increase in new student sign-ups.
Exactly how big of a market tutoring can be in China remains unclear, but there seems to be considerable room for growth, not only in the markets where Xueda is already the clear-cut leader, but in the cities where they have yet to move.
Improving margins
Revenue growth is all well and good, and it may well be the bread and butter of growth investors, but what value investors really care about is the earnings. In this regard, the news is extremely good.
| | | | |
| --- | --- | --- | --- |
| | 2012 | 2013 | 1H 2014 |
| Net Revenues | $293 million | $347 million | $206 million |
| Operating Income | ($4 million) | $15.0 million | $18.6 million |
| Operating Margin | (1.36%) | 4.32% | 9.02% |
One of the biggest challenges for many growth stocks is how to transition from a fast growing juggernaut into a profitable venture that's actually taking that revenue and translating it into EPS. Xueda has answered that question quite successfully, and should move closer to double figure operating margins in the next year.
Returning value to shareholders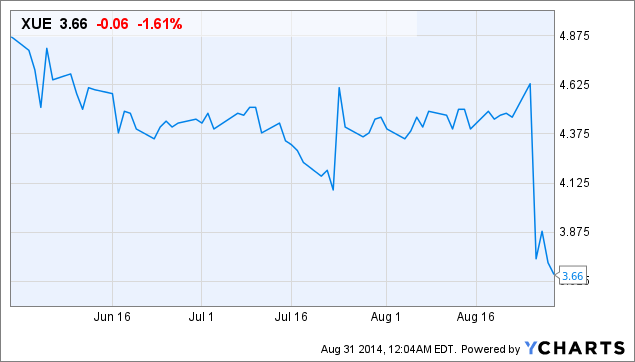 With Xueda dropping so much, the question of how the company will return value to its shareholders becomes all the more pressing. The most recent 20-F continues to maintain that most future earnings will be spent expanding the business. Whether that's still the case as revenue growth slows down is unclear.
Xueda has some history of both stock buybacks, with over 4.6 million ADS bought back in 2011 and 2012, and the occasional special dividend, most recently 16 cents per ADS in April.
With growing margins helping the bottom line, there is going to be growing pressure on Xueda to start paying regular dividends, and plenty of free cash flow to support a meaningful one. Xueda is going to have to find a way to afford both growth and dividends in the future, if it wants to prove its maturity as a company.
Conclusion
Xueda continues to trade at a little under two times book value, and at a PE ratio of 15. There aren't really great estimates of future earnings, but growing revenue and improving margins certainly add up to higher earnings going forward, and we're already seeing that with first half earnings of 25 cents per share.
At these prices, Xueda is a nice small cap value play, and one that looks like it has considerable growth still down the road. The Q2 earnings release last week may have been a disappointing miss for those already long the stock, but it has presented a potential buying opportunity for everyone else.
Disclosure: The author has no positions in any stocks mentioned, and no plans to initiate any positions within the next 72 hours.
The author wrote this article themselves, and it expresses their own opinions. The author is not receiving compensation for it (other than from Seeking Alpha). The author has no business relationship with any company whose stock is mentioned in this article.