You see, Michael, you'll be part of;
Railways through Africa!
Dams across the Nile!
Fleets of ocean greyhounds!
Majestic, self-amortizing canals!
Plantations of ripening tea!

All from tuppence, prudently, fruitfully, frugally invested
In the, to be specific:
In the Dawes, Tomes, Mousely, Grubbs, Fidelity Fiduciary Bank!

-George Banks and Co. - Mary Poppins
In an interesting divergence, Ships Finance Limited (NYSE:SFL) reported better than expected earnings and a strong outlook when it released earnings. This is in stark contrast to the results reported by their peer Frontline Ltd. (NYSE:FRO). The results, and difference, can be more attributed to Ships Finance diversified exposure to seaborne shipping and operations than to any other single factor.
This article will summarize the results of the second quarter, including the dividend declaration, highlight the diversified operations of the company, and discuss the ongoing disassociation with Fontline.
Review
I first outlined Ships Finance back in December 2013 when shares were trading around $16, and price has recently neared my long term projection, closing at $19.79 last week. As shipping markets have seen some marginal improvement over the first half, I am not prepared to call the shares overvalued and continue to hold my position in the company stock.
That position is drastically different from my opinion of Frontline Ltd., which reported on the exact same day. However, since they are related companies, with an overlap in ownership and directorship, I feel it is necessary to clarify my differing outlook with respect to the companies.
Q2 Results
(Horizon Hawk)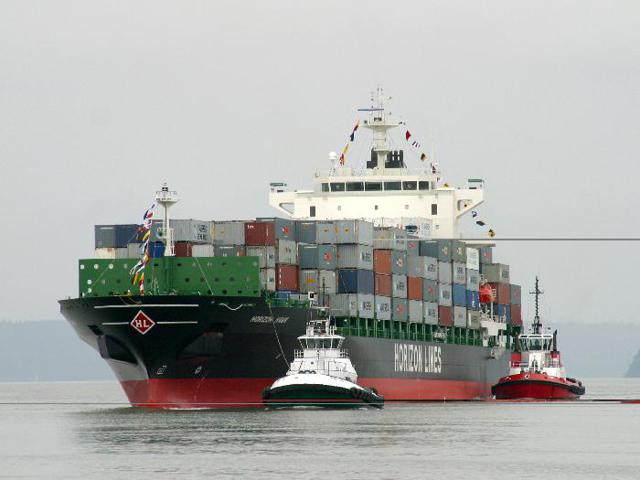 Ships Finance reported net income for the quarter of $22 million or $0.24 per share. This included a $7 million negative mark-to-market on interest swaps and costs relating to one of the companies convertible notes. This beat estimates of $0.20 per share. The company also reported aggregate charter revenues of nearly $160 million in the quarter, and net revenue of $73.0 million, or $0.78 per share.
The Board has declared a $0.41 dividend this quarter, unchanged from the previous quarter. The dividend represents $1.64 per share on an annualized basis for a yield of 8.4%. This is one of the reasons the shares are so attractive. The Company has been a consistent dividend payer and reports that it has paid an aggregate of nearly $18 per share since 2004.
Diversified Operations
(Investors Presentation page 3)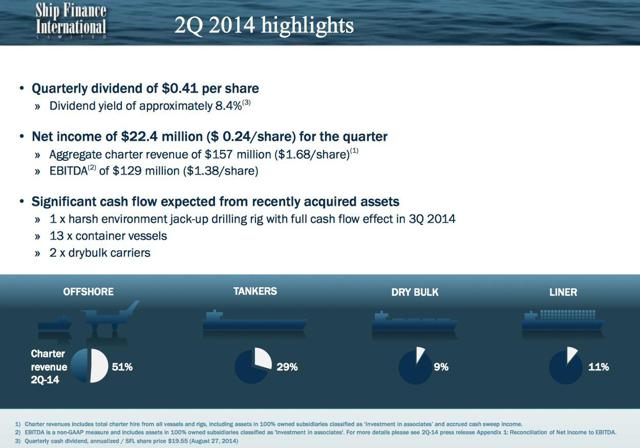 From the above graphic, we see that approximately 50% of the company's revenues came from the offshore segment. Only 30% came from tankers and the remaining 20% split between drybulk and container assets.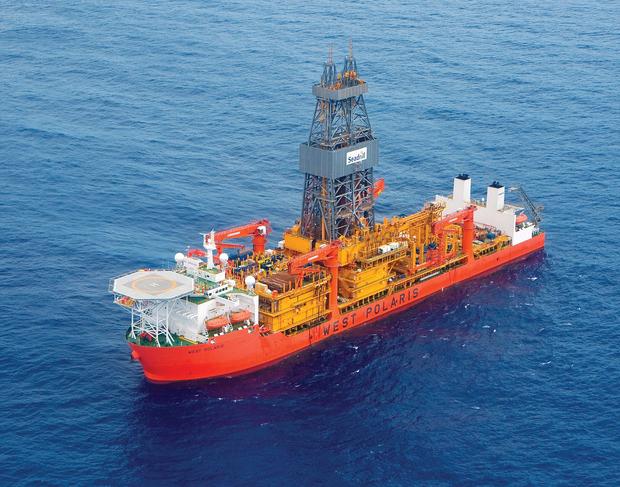 (West Polaris Drillship)
The increase in offshore revenues is mainly due to the new West Linus rig. The company took delivery in February, and announced a sub-charter to ConocoPhillips in end of May. Management said that this sub-charter would have a full effect in the third quarter. In total, the Company has five drilling units on long-term fixed-rate contracts. The rigs generated approximately $80 million in aggregate EBITDA in the second quarter of 2014, and the company stated that based on the fixed-rate charter structure the company is not directly impacted by short-term fluctuations in the drilling market.
With respect to container shipping, the company expects the container share to increase over the course of the next 12 months. Ships Finance reportedly will take the delivery of new 8700 TEU vessels later this year and early next year. This has been an area of expansion for the company as Ships Finance received nine second-hand container vessels between 4,100 and 5,800 TEU in the first half. Three of the vessels were delivered in March and the remaining six vessels were delivered during the second quarter. These purchases were smartly executed as the price paid was a fraction of the construction cost and only marginally higher than current scrap values.
With respect to the tanker segment, the company said that revenues from VLCCs are in line with the previous quarter while revenues from Suezmaxes were down in the quarter. Management attributed the lower earnings to two Suezmaxes trading in the spot market. The company also announced an agreement to sell three 1999 built VLCCs for an expected $77.5 million in aggregate. This includes a cash compensation from Frontline Ltd. and approximately $48 million in 7.25% amortizing notes from Frontline.
Finally, with respect to the dry bulk segment, the company disclosed that four Handysize dry-bulk carriers were chartered out on short-term time-charters with a fixed base rate and 50% profit share. That generated approximately $0.3 million in additional earnings in the second quarter. The Company intends to continue to keep those four vessels in the short-term charter market until long-term rates improve.
(SPL Spey Handysize Carrier)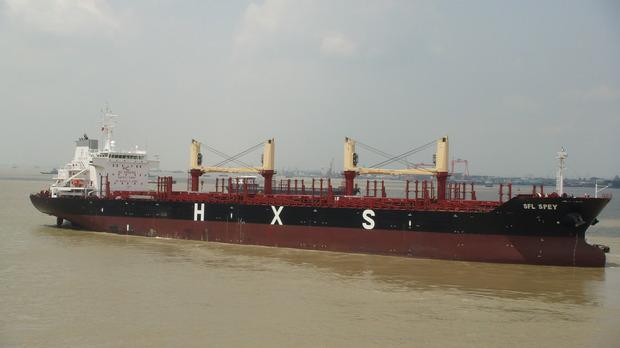 Ships Finance also received two 82,000 dwt Kamsarmax dry-bulk carriers built in 2012. They were delivered to the company in July and August 2014, with 8-year time-charters already in place. The estimated aggregate EBITDA contribution from the vessels is reported to be approximately $7 million per year on average. during the charter period.
Disassociation with Frontline
During the conference call, Ships Finance management made this statement:
We cannot comment on Frontline's financial position or their plans for refinancing their convertible loan due in April next year but we do note that they reported more than $60 million of free cash at the end of the second quarter after taking delivery of a Suezmax new building without leverage and they have raised more than $50 million over the last few quarters by issuing new shares. And to put our exposure to Frontline in perspective, the EBITDA backlog from all the Frontline vessels put together is approximately the same as the EBITDA backlog from the single drilling rig West Linus, which we took delivery of earlier this year.
The company does still have liabilities associated with 15 VLCCs and 5 Suezmaxes related to Frontline. And, Harald Gurvin, CFO specifically addressed this in the conference call and investor presentation. He said:
With respect to Frontline, we have the interesting combination of very low financial leverage, well below current scrap levels and significant leverage to the market through the cash sweep arrangement. We have amortized down the debt of these vessels very quickly and have reduced the loan amounts by more than 80% since 2008. Even compared to reported scrap value levels, the financial leverage is very comfortable as illustrated by the red line in the graph.
(Investors Presentation page 6)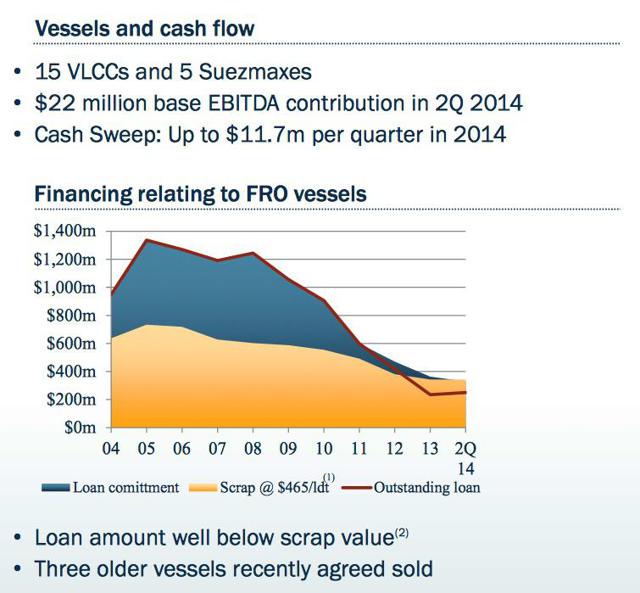 This is a comfort to long shareholder, and a purposeful deviation that the company has implemented over time. It used to be that Frontline accounted for 100% of Ships Finance backlog, but through diversification in business segments and a portfolio of counter parties, Ships Finance is less and less reliant on an ongoing relationship with Frontline.
Conclusion
Ships Finance Limited is an attractive dividend payer with diversified operations in four separate seaborne segments that reduces the companies overall exposure to industry market fluctuations. Although share prices have risen rather significantly this year, the dividend yield still makes the current price fairly attractive as a long term hold. Shareholders should not expect significant capital appreciation in the short term, and per share price should revert to a more reasonable level after the ex-date.
As a result, I am revising my short term (<1 year) price target to $19.50 and long term up to $21.50.
But, I still haven't found that tea plantation...
Disclosure: The author is long SFL.
The author wrote this article themselves, and it expresses their own opinions. The author is not receiving compensation for it (other than from Seeking Alpha). The author has no business relationship with any company whose stock is mentioned in this article.
Additional disclosure: This information is not investment advice, nor is it a suggestion to either buy or sell any of these securities. Retail investors should do their own research and fully understand the risks associated with these companies.