The 2010 November Japan trade surplus dropped by 15.7% compared to the same month in 2009. The relatively successful auction of Portuguese bonds boosted risky assets (equity and commodity) in the U.S. These two seemly unrelated pieces of news should have one common implication: A rising USDJPY.
A shrinking trade balance suggested that Japanese exporters are losing ground in the international market due to the expensive JPY. As the fear of a Portugal debt crisis is abated for now, "risk on" mode returned to the market. The typical "safe harbor" currency like JPY should also see its value declining as investors leave for risky currencies. But USDJPY dropped by 0.3% on Wednesday instead.
Though I do not want to focus too much on the one day movement of a currency pair, in recent days USDJPY has defied the major pattern set last year. In 2010, the correlation between USDJPY and the yield spread between one-year government bonds in both countries was significantly positive, 0.85. The correlation between USDJPY and the yield spread between 10-year government bonds in both countries was 0.77 in 2010. And the correlation between USDJPY and the Nikkei 225 Index was 0.66 in 2010.
Since December 2010, this pattern has slowly changed. Based on the 30-day rolling correlation between USDJPY and various yield spreads and the Nikkei 225 Index, the relationship between USDJPY and the differences of asset prices became ambivalent starting in mid-December. Another correlation, between USDJPY and USDCNY, began to grow stronger.
[Click to enlarge]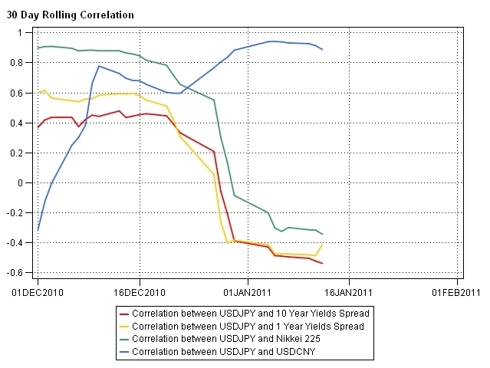 Since inflation became a much more severe problem in China near the end of last year, expectations of Chinese interest rate hiking and currency appreciation have run high. Although the recently widely-publicized offshore yuan bonds market in Hong Kong is attracting a lot of eyeballs, there are still few instruments available for investors to directly bet on the appreciation of the yuan. One indirect way to profit from that appreciation is still to bet on the appreciation of currencies of other East Asian exporters, just like in 2006 and 2007.
In the next few weeks, the China December CPI will be released. Given the record new loan growth in 2010 and strong commodity prices in December, CPI is likely to rise despite the anti-inflationary policies taken by the policy-makers in Beijing. Moreover, the US-China leadership summit in one week also implies that China will be more comfortable with yuan appreciation in the next few days. If the recent positive correlation between USDJPY and USDCNY holds, odds are that USDJPY is going to drop further in this environment, even when the risk appetite comes back, and the Japanese economy may be slowing at the same time.
Disclosure: I have no positions in any stocks mentioned, and no plans to initiate any positions within the next 72 hours.