Salesforce.com Inc. (NYSE:CRM) is a computer software company that could be an interesting play for investors. The stock closed at 7.3% last week due to the solid performance of the second quarter of fiscal year 2015.The rock solid second quarter performance caused the company to boost its full year guidance and the company now expects to generate between $5.34 billion and $5.37 billion in revenues reflecting a full year growth of 32%.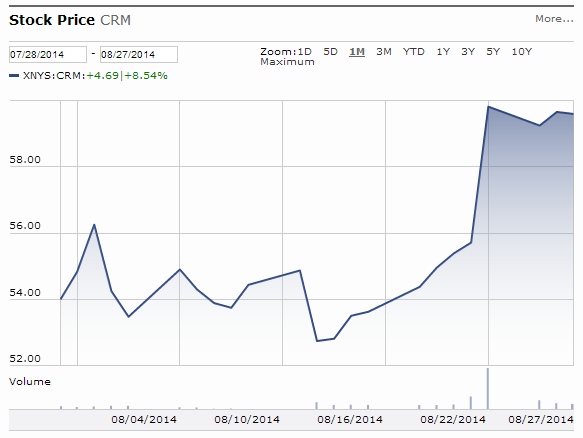 Source:Morning Star
These positive revisions have made analyst more optimistic regarding Salesforce.com for the coming quarter and year. In the past 30 days, 5 estimates have been revised higher for Salesforce.com and only one was lowered. Deutsche Bank has raised its price target for the stock to $70, reflecting an upside of almost 21% on the current stock price. Pivotal research has also raised its price target from $70 to $71.
Second Quarter Performance
Salesforce.com reported outstanding second quarter results with revenues of $1.32 billion reflecting an increase of 38% compared to the figure reported in the second quarter last year. The second quarter 2014 revenue also beat analysts' estimates of $1.29 billion. The increase in revenue is attributed to the fast adoption of the company's cloud-based solutions and acquisition of Exact Target. In less than a year the company surpassed the $4 billion revenue run rate and is now sitting at $5 billion; the company is now eyeing $10 billion. The operating cash flows for the company rose to $246 million reflecting an increase of 34% compared to the figure reported in the second quarter of 2013. The company achieved operating cash flows of more than $1.1 billion this year which is an incredible achievement. The company's operating expense increased by almost 33% mainly due to higher expenditure in marketing and sales and research and development. This is not a cause for concern because in the future the company will reap the benefits in the form of increases in sales and profitability.
The Company's Future is Backed by Salesforce1
The core of the company's cloud and customer platform is Salesforce 1, which was announced last year. Salesforce1 has generated $346.3 million during the first half of the year which brings the annual revenue run rate to $700 million. The market for customer relationship management is expanding and is expected to grow at a CAGR of 15% to $36.5 billion by 2017.Nowadays companies are running their entire business from their mobile phones and Salesforce1 can provide capability in this mobile environment. With 1.7 million developers on the platform and 10 times more APIs, Salesforce has positioned itself well for growth in this mobile CRM environment.
In order to capitalize on the growing CRM market Salesforce has recently launched Salesforce1 its community cloud. This will enable companies to create their own trusted, LinkedIn-like communities that are connected to their unique business processes in order to engage customers, partners and employees in a whole new way. The launch of the community cloud propels Salesforce to the enterprise social network market which had sales of $1.24 billion last year and is projected to grow to $3.5 billion by 2018. Companies that use community cloud technology can get Salesforce applications such as billing and recruiting. The starting price of this product is $500 per month and about 2000 social networks are supported by this technology.
International Growth Opportunities
Salesforce generates almost 70% of its revenue from the US. The growing CRM markets in Europe and the Asia-Pacific region could provide growth for the company. In the past Salesforce experienced problems providing CRM services in Europe especially in Germany. Europeans don't trust cloud vendor providers in the US because of the spying accusations against the National Security Agency. Data on US-based cloud is under surveillance by the US Government and many countries are very sensitive to foreign spying.
In order to overcome this problem, Salesforce is seeking to acquire German software companies and also plans to open a German data center in partnership with Deutsche Telekom. If Salesforce succeeds in opening a data center in Germany it will alleviate much of the problems associated with US-based cloud vendors. The National Security Agency has no access to a cloud in Germany. In addition to Germany, Salesforce opened up headquarters in France, a tower in London, and landed a big deal with Philips in Netherlands. Europe could prove to be a growth catalyst for the company in the near future.
Conclusion
Salesforce.com recently reported a loss and hasn't offered any dividends to date. This doesn't mean that investor should sell their stakes. The company is spending more than half of its revenue on marketing activities. With time present losses may be converted into profits. The company is considering international growth through acquisitions and moving into new markets to drive growth. Based on this analysis I am bullish on Salesforce.com.
Disclosure: The author has no positions in any stocks mentioned, and no plans to initiate any positions within the next 72 hours.
The author wrote this article themselves, and it expresses their own opinions. The author is not receiving compensation for it (other than from Seeking Alpha). The author has no business relationship with any company whose stock is mentioned in this article.