With the exception of its Angola LNG operations, Chevron (NYSE:CVX) turned in a solid first-half of 2014. The stock is undervalued: its P/E is significantly below the average S&P 500 stock while its dividend yield is significantly above the average yield. With a clear line-of-sight to a significant increase in Gulf of Mexico ("GoM") production, the company is about to enter a new phase of production growth while capital expenses will decline. Investors seeking relatively safe income and exposure to capital appreciation potential should take a close look at CVX. I rate the stock a BUY and have a year-end price target of $138. In addition, 2015 should be a great year for Chevron as it ramps up these new projects toward full capacity.
The following slide was taken from the Q2 conference call presentation (available here) and summarizes the status of Chevron's major GoM projects: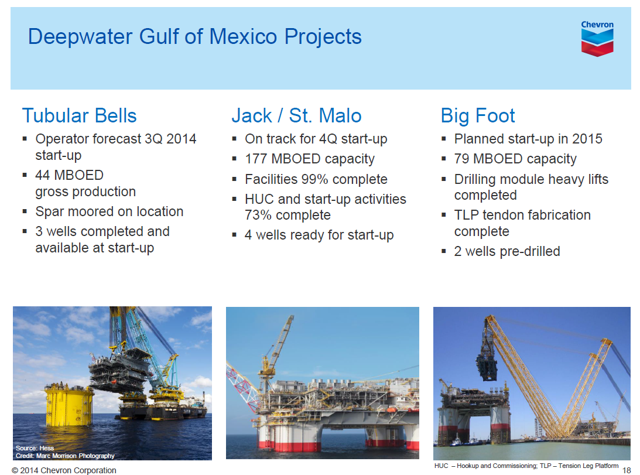 Here is some additional information acquired from the Seeking Alpha Q2 conference call transcript:
The Tubular Bells project is nearing startup. All key tie-ins have been installed and tested and the wells are ready for production. Production operations are anticipated to come online in Q3.
The remaining work on Jack/St. Malo is progressing well and the project remains on track for late Q4 startup. Overall hookup in commissioning and startup progress is now 73% complete. Tie-in spools for the steel risers have been installed and gas pipeline pre-commissioning is complete. Jack/St. Malo will be a key contributor to our production growth in 2015 as production ramps up (gross max production 177,000 boe/day).
Bigfoot shipyard related construction is over 90% complete and preparations are being made for a Q4 sail away. Fabrication work on the tension leg platform tendons is now complete. Topside integration is nearing completion. The project marked a major milestone with the heavy lifts of the drilling modules this quarter (see the picture above). Bigfoot remains on track for a 2015 startup.
Chevron said shareholders will see a significant uptick in production as these 3 projects ramp up. At peak capacity, these projects will deliver ~100,000 bpd (net) of new production. You can read more details about each of these projects in my earlier Seeking Alpha article Chevron: 2014 A Big Year For Startups In The Gulf Of Mexico. In addition to Gorgon, these GoM projects represent the largest major capital projects ("MCP") contributing to production growth in the 2015/16 timeframe: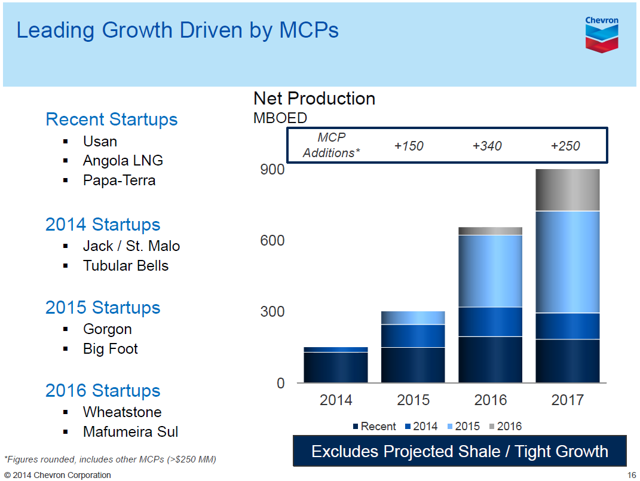 Obviously, new GoM production is a powerful catalyst for Chevron going forward and will pull the company out of its rather stagnant production profile of the last several quarters.
The Permian Basin
Note the chart above excludes projected shale/tight production growth. However, on that front shareholders also have some good news. On the conference call, Chevron reported it is the largest producer in the Permian Basin. That honor used to belong to Occidental Petroleum (NYSE:OXY). Chevron has the largest developed leasehold in the Permian and says 90% of its acreage is either low or no royalty. CVX has identified over 17,000 drilling locations and reports the potential to add 8-10,000 more prospects. But the company is in no hurry, so its approach has been to allow others to de-risk the surrounding acreage.
As a result, Chevron is focusing Permian cap-ex on development wells rather than exploration and appraisal. CVX has 17 rigs operating in the Midland basin and 10 rigs operating in the Delaware basin. Of the 27 total rigs, the company says 14 are verticals and 13 are horizontals. The company is on track to drill more than 500 wells this year in the Permian basin and says production in the Permian was up 5,000 bbls qoq. This was part of the reason US Upstream results were $142 million higher in Q2 as compared to Q1.
Angola LNG
Angola LNG didn't quite turn out to be the "Crown Jewel" I reported in my earlier SA article Finally Cashing In On Big Angola LNG Investment. At least not yet. In early April, Angola LNG experienced a failure in the flare blow-down piping system. Following a thorough analysis, Chevron identified a number of design issues which will require modifications. In addition to the piping repairs, the LNG team will take advantage of the shutdown to perform capacity and reliability enhancements to the plant. The plant is now expected to achieve sustained production in the second half of 2015.
Financials
Despite the unplanned outage at Angola LNG, which reduced production by ~15,000 bpd, Chevron had a very solid Q2: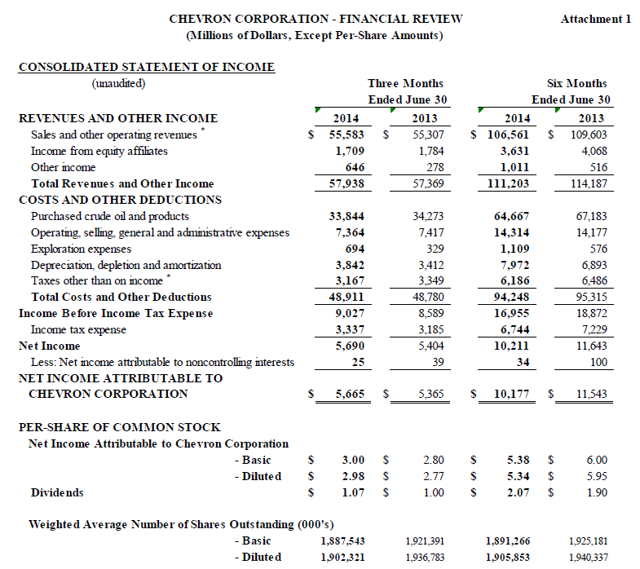 Highlights include:
$5.7 billion in earnings
EPS of $2.98 per fully diluted share
Trailing 12-month ROCE of 11.8%
A debt ratio of 13.3%
Q2 stock repurchases of $1.25 billion
Asset Dispositions
Some of you may have read my recent article Chevron Should Form An MLP To Unleash Shareholder Value. While Chevron has not (at least not yet...) decided to do so, the company is doing some asset sales to boost shareholder returns. In March, Chevron said it planned to deliver $10 billion in asset sales over the 2014-2016 time period. As part of this plan, note the company recently monetized its Chad assets for $1.3 billion. Chevron also reports it is progressing with the sale of several other mature assets including in the Netherlands, its non-operated interest in Draugen, Norway, leases in Nigeria, as well as several smaller assets from its conventional North American portfolio. These asset sales well help boost EPS and keep debt levels low - currently only 13.3%. The sales will also keep share buybacks on track - the company says to expect another $1.25 billion in Q3 - and keep Chevron's dividend healthy. Meantime, the company continues to be the best of its peer group when it comes to the important adjusted earnings/boe metric: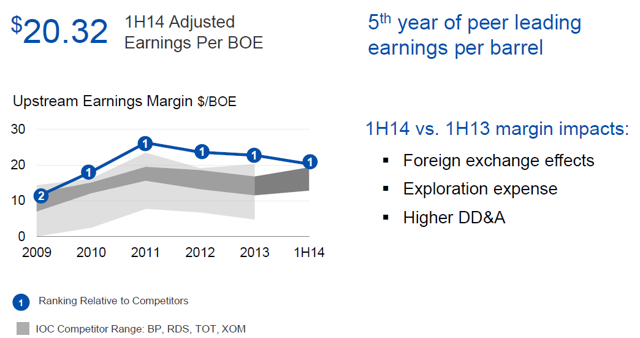 Summary & Conclusion
Chevron continues to be my favorite international integrated oil company. While the stock price has not appreciated as much as say ConocoPhillips (NYSE:COP), and the company has not taken aggressive steps to unleash shareholder value in the midstream arena as I would like, Chevron is poised to enter a new phase of production growth driven in part by large capital projects in the Gulf of Mexico. Currently the company is paying an above average dividend ($4.28/share or 3.3%) in comparison to the S&P500 average of 1.87%. Its P/E ratio (12.6) is ~36% lower than the S&P500 average (19.8). An article in this week's Barron's magazine (Drilling Deep For Value) also recognizes that large IOCs are selling at a steep discount to the relative valuation of the overall market. The article points out that large multi-year capital projects (like CVX's projects in the GoM) are beginning to come online just as capital expenditures will drop significantly. So we have a clearly visible production growth profile combined with lower cap-ex. Perfect. Anyway you look at it Chevron is undervalued. Current analyst EPS estimates are for $10.73 for full-year 2014. Put a P/E of 13 on that, and Chevron is at $139 by the end of the year (up ~8%). Throw in the dividend, and you have a very nice annualized return. Plus, you will own a stock that will have outstanding 2015. Chevron is a BUY.
| | |
| --- | --- |
| Market Cap: | $245.82B |
| P/E ("ttm"): | 12.61 |
| EPS ("ttm"): | $10.27 |
| Div & Yield: | $4.28 (3.30%) |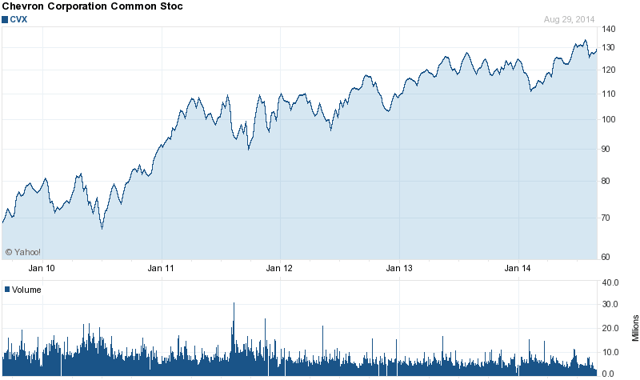 Disclosure: The author is long COP, CVX.
The author wrote this article themselves, and it expresses their own opinions. The author is not receiving compensation for it (other than from Seeking Alpha). The author has no business relationship with any company whose stock is mentioned in this article.
Additional disclosure: I am an engineer, not a CFA. The information and data presented in this article were obtained from company documents and/or sources believed to be reliable, but have not been independently verified. Therefore, the author cannot guarantee their accuracy. Please do your own research and contact a qualified investment advisor. I am not responsible for investment decisions you make. Thanks for reading and good luck!