As followers of this weekly ETF Pullback strategy (see Appendix below for explanation and performance data) have seen, we've lately had quite a ride going back and forth between exposure to developing countries and precious metals. This week's list has both, but adds a couple of areas we haven't seen lately, U.S. sector stakes. Here's this week's list:
This is last week's list:
As you can see, one of the four precious-metals ETFs remains in the portfolio. Meanwhile, those who've followed this series should recognize the Thailand and Chile ETFs, both of which have often been on the list during the latter months of 2010. Frankly, though, it came as a mini shock to me when I saw the Retail and Telecomm ETFs. I thought when I launched this model that there would be a good deal of rotation in and out of ETF like these. As it turns out, however, I'd almost forgotten about them considering how seldom I've seen them since the strategy went live in late July.
Bear in mind it takes a fair amount of positive trending to get any ETF into this portfolio (see Appendix for details). So the fact that U.S. sector ETFs have been so scarce in the second half, combined with the fact that we're now seeing two of them, may be telling us something about the U.S. equity market. After the financial crisis (2007-08), the buy-everything initial recovery (2009) and a will-employment-rise-and-will-Europe-implode-but-the-U.S.-really-does-seem-to-be-improving period of indecisiveness (2010), we might now actually be entering into some sort of normalcy.
The operative word there is "might." I can't draw any conclusions from a single week. But it is hard to ignore the fact that this particular week looks so different from so much of what I've seen since going live with the strategy.
I know it's hard to think in terms of normalcy right now. The market has been relentlessly bullish since mid-2010. It fell on the open today, but after what we've been seeing so often in recent months, I wouldn't be at all shocked if it weren't higher, if not by the end of this day, then by the end of tomorrow or Monday. Sellers have generally been hiding to an extent that is definitely not normal.
But this is just January. There's a lot left to 2011. Sooner or later, buying is going to run out of steam and sellers may become more willing to pull the trigger. Perhaps this becomes manifest through a correction, Maybe we see it as a more subtle flattening. Either way, it would lead us to the sort of market environment that could persist for a long time, however long it takes until we reach the next cyclical crisis, the kind of crisis we don't yet know enough to talk about.
The nature of the sector ETFs we're now seeing supports this. Retailers seem to have put the recession behind them this past holiday season and could enjoy a lot more upside going forward assuming employment gradually improves from still lackluster levels. And it's hard to imagine anyone not seeing a multi-year case for credible telecom companies such as those that figure prominently in IYZ; the top two holdings, Verizon (NYSE:VZ) and AT&T (NYSE:T) account for nearly 27% of the fund's assets as of this writing. (Depending on the latest industry developments and the path of stock prices, one may be bullish or bearish at a specific moment in time, but on the whole, I think it's hard to dispute the notion that companies like these ought to enjoy reasonable participation in a multi-year up-cycle.)
Anyway, normalcy would be encouraging for this model since such an environment, even with the little ups and downs that regularly punctuate such intervals, would most closely resemble the lion's share of the periods that produced the strong backtest results depicted in the Appendix.
Figure 1, a screen shot from the FolioInvesting.com account I use to trade the model, shows its real-money performance. I evaluated it in depth last week and explained why I can live with its recent failure to beat the market.
Figure 1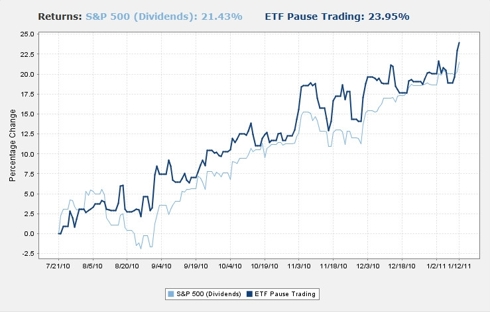 APPENDIX
To create this model, I started with a very broad-based ETF screen I created in StockScreen123.com.
Eliminate ETFs for which volume averaged less than 10,000 shares over the past five trading days

Eliminate HOLDRs (I don't want to be bothered with the need to trade in multiples of 100 shares)

Eliminate leveraged and short ETFs (I think of these as hedging tools rather than standard ETF investments of even trading vehicles)
Then I sorted the results and select the top 5 ETFs based on the StockScreen123 ETF Rotation - Basic ranking system, which is based on the following factors:
120-day share price percent change - higher is better (15%)

1-Year Sharpe Ratio - higher is better (15%)

5-day share price percent change - lower is better (70%)
The idea of using weakness as a bullish indicator is certainly not new. But often, it's an add-on to other factors that, on the whole, emphasize strength. Here, the weakness factor is dominant, with a 70 percent weighting.
This model is designed to be re-run every week with the list being refreshed accordingly. I trade through FolioInvesting.com, where I pay a flat annual fee rather than a per-trade commission, so I don't care about the fact that turnover form week to week is often 80%-100%. If you want to follow an approach like this but do have to worry about commissions, the strategy tests reasonably well with three ETFs, or even with one. (Cutting the number of ETFs is far preferable to extending the holding period.)
Figure 2 shows the result of a StockScreen123 backtest of the strategy from 3/31/01 through 12/30/10.
Figure 2
Figure 3 covers the past five years, a very challenging market environment that witnessed the fizzling of many strategies that had succeeded for a long time.
Figure 3