Culp, Inc. (CFI) is scheduled to report FY2015 Q1 earnings on Thursday after market close, with an earnings call scheduled for Friday at 11 am. CFI, trading at a trailing P/E less than 13 with a dividend yield of about 1%, is worth a look considering two of its largest customers have already reported improved sales, positive recent industry data has been released, and it has refined its capital allocation strategy.
CFI's Industries
CFI, which derives most of its revenue from the US, has two primary segments, bedding and upholstery. In the bedding segment, it designs, manufactures and markets mattress fabrics to mattress manufacturers. In the upholstery segment, CFI designs, markets and to a limited extent manufactures various upholstery fabrics for furniture manufacturers. Besides synergies resulting from operating in related industries, some raw materials necessary for manufacture are the same for both lines of business.
Sales of mattresses are related to new household formation and general economic growth. However since there isn't much of a market for used mattresses (for obvious reasons), most of the purchases are replacement. Recent consumer preferences for organic or natural products or mattresses claiming health benefits through improved sleep have also influenced sales in recent years. Most mattresses in the US market are made in the USA and for a variety of reasons this will likely continue. CFI's competitors are mainly privately held firms and their customers tend to be large buyers.
Sales in the residential furniture also are correlated with new household formation and general economic growth. Manufacturing of the components used in furniture is primarily accomplished in low cost countries such as China and is trending toward kits. Price competition has become fierce as most firms (including CFI) have trended toward as "asset light" strategy where the design elements are kept in-house and the actual manufacture is outsourced. Competitors are also mainly private firms and/or the furniture manufacturing firms themselves and their customers are large buyers who have been consolidating recently.
Threat of Backward Integration

CFI derives a significant portion of its revenue from major customers in both industries. La-Z-Boy (NYSE:LZB), a major customer of CFI's upholstery products accounting for 13% of net sales, manufactures cut-and-sewn upholstery in Mexico. LZB has recently been increasing the percent it manufactures versus the percent it purchases from suppliers, which now stands at 60%-40%. However, LZB's growth strategy is focused on consumer facing initiatives and lean and efficient manufacturing structure rather than backward integration. Moreover, it has been increasing its purchases from CFI over time. CFI is one of LZB's Chinese suppliers. Although it is not explicitly stated, one can calculate that CFI is one of the 2 major suppliers to LZB that account for over 90% of its cut-and-sewn products.
Serta and Simmons and Tempur Sealy International (NYSE:TPX) account for over 30% over CFI's net sales. The overall trend has been an increase in purchases from CFI but one should watch the level of TPX given the recent merger. In June 2014, TPX has sold some of its manufacturing facilities to suppliers so it does not appear as if they are interested in backward integration at this time.
Performance
CFI has been able to grow its revenue in both segments. Net income, on the other hand, has been variable. FY2014 net income was depressed due to a litigation settlement and unfavorable foreign exchange. Margins have held steady, even though the upholstery business has become more competitive.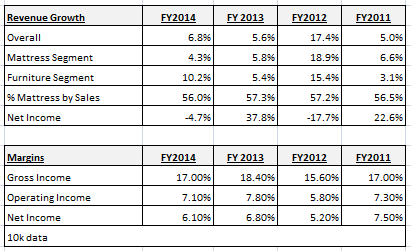 In the past, CFI's operations were hindered by excessive leverage and it took numerous write-downs. It has since shifted to an "asset-light" strategy for its upholstery business. The PP&E for this segment is now only 5% of the total PP&E. CFI still invests in capital for its mattress fabrics business. It has managed to fund this segment and pay down its debt with cash from operations. It has almost doubled its normal capital expenditures in FY2015 with an anticipated $9.5 million building addition and added capacity.

CFI manages its inventory for its mattress business under a "make to stock" model due to competitive pressures and its upholstery segment under a "make to order" basis. The days in inventory has ticked up slightly but this trend is also observed in a publicly traded peer that among other businesses manufactures components for the ultimate mattress manufacturer.

CFI has also improved its inventory write-downs as a percent of inventory.

CFI has tax loss carry forwards and thus it does not expect to pay US tax in the next few years.
Industry & Customer Data
Mattress Sales
CFI's Q1 encompasses May, June and July. International Sleep Product Association releases timely data on mattress sales.

TPX and LZB Quarterly Earnings
One of the benefits of having public companies as customers is that we can look at their sales data and infer what our target company's sales should look like. TPX's data has an overlap of two months and LZB's data overlaps almost perfectly.
The segment data was used rather than total company sales data. Inventory data is not broken out per segment. The dramatic increases in inventory for TPX is attributable to business not related to CFI. Based on these data points, one would not expect disappointing results. Guidance for the 14 week quarter was for 4-9% increase in revenue and a pretax profit of $4.8 - $5.7 million.
Growth Opportunities
After FY 2015 close, both lines of business announced new vice-president level "promotions" without an outgoing executive mention which would suggest that the business need more organization as they grow. The mattress fabric business is moving forward with capex investments. It has also begun sales of a new product offering with mattress covers in Q3 FY2014 with A Lava & Son. The rollout has not been far from perfect. It can also continue to take market share from competitors. On the upholstery side, sales in Europe have been disappointing. Any improvement here could propel earnings higher.
Valuation and Capital Return to Shareholders
CFI is trading below 13 P/E but is smaller (market cap of ~$225 mil) than many of its "peers." As mentioned above, most of its competitors are privately held firms.

Recent Capital Allocation Strategy
In August, CFI presented its capital allocation strategy. First, cash will be used to fund working capital requirements and secondly capex spending. As mentioned above, capex will be more intense for the mattress fabrics portion of its business, as the upholstery segment has converted to an "asset light" model. Third, it would like to pay down its debt and should have one remaining payment in August 2015 at $2.2 million (unless it has taken on new lines of credit or debt). It pays a quarterly dividend, $0.05, (1% yield) which it intends to increase over time. CFI paid a special dividend in July 2014 ($0.40), just as it did in 12/12 ($0.50).
When net cash is above $25 million and there are neither potential acquisitions, nor negative economic conditions, it will pay the special dividend after the end of fiscal year.
CFI also will engage in share repurchase when the price reflects a discount to its calculated intrinsic value which it has done at an average of $9.23/share from 6/11 to 4/14. As of February 2014, it has $5 million share repurchase authorization. Note that subsequent to fiscal year end, CFI repurchased 22,101 shares for $381,000, an average price of $17.24. Perhaps this is a new signal to the market of what it believes a "discount to conservatively calculated intrinsic value per share" to be.
CFI certainly has potential with its demonstrated revenue growth, low P/E and clarified capital allocation strategy. I will be listening to the call this week for a little more clarity on a few issues such as the mattress cover product rollout and European product sales.
Disclosure: The author has no positions in any stocks mentioned, and no plans to initiate any positions within the next 72 hours.
The author wrote this article themselves, and it expresses their own opinions. The author is not receiving compensation for it (other than from Seeking Alpha). The author has no business relationship with any company whose stock is mentioned in this article.