Original Publication Date: July 31, 2014 by Matt Margolis via PTT Research FORENSICS
Micron (NASDAQ:MU) was my most volatile investment for several years. The company was repositioning itself for the long term in a memory industry that was shaking out unsustainable players. Over the past year, however, the company's share price and financial performance have been on autopilot. Shares of Micron have risen from under $15 to almost $35 over the last 12 months. Micron has transformed itself into a sustainably profitable company with an improving cash position. Micron primarily operates in two very mature markets (DRAM and NAND) as well as the very competitive solid-state drive (SSD) market.
Micron Continues to Focus on Shareholder Value
During the first three quarters of FY 2014, Micron used 83% of its free operating cash flow to eliminate dilutive convertible shares. On July 23rd, it announced a $1.15B offering of 5.5% senior notes due in 2025. The primary use of the debt is to "extinguish its obligations with respect to its 1.875% convertible senior notes due 2031."
"Micron intends to use a portion of the net proceeds from this offering to extinguish its obligations with respect to its 1.875% convertible senior notes due 2031 (the "2031B Notes"), which may include payments in settlement of conversions of or to repurchase or redeem such notes. Micron expects to use the balance of the net proceeds for retirement of other convertible notes and debt and other general corporate purposes. On July 23, 2014, Micron gave notice to holders of the 2031B Notes that their notes will be redeemed on August 22, 2014, except to the extent such notes are converted or repurchased by Micron prior to such date, and its current intent is to settle any such conversions entirely in cash with a portion of the proceeds from the offering."
The senior notes constitute a straight debt offering. The proceeds are being used to buy back convertible debt. Convertible debt eventually converts into shares, so the buyback of convertibles reduces shareholder dilution. It also protects Micron's cash. The alternatives were 1) for Micron to continue buying back convertible debt with cash in the open market, which would have become more and more expensive as Micron shares increased in value, and 2) to allow the convertible debt to convert to shares at the end of its term, resulting in dilution of the value of the shares you and I own. Instead Micron chose to issue straight debt and settle a large chunk of convertible debt, buying out the convertibles at today's market price. I personally applaud Micron's decision to eliminate as much convertible debt as possible right away.
Shares of Memory Provider SanDisk (SNDK) are Down 14% since July 16th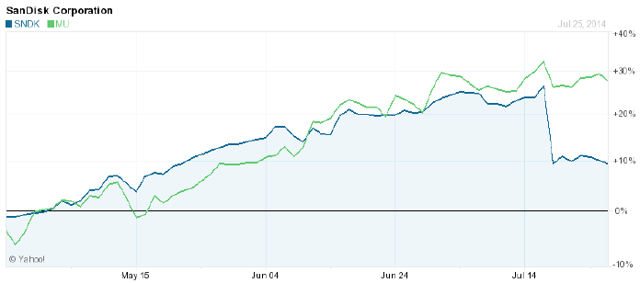 Micron's peer SanDisk reported Q2 2014 results on July 16. Its shares have since fallen 14%. Micron also took a small hit because the market interpreted SanDisk's earnings as reflective of weakness in the NAND market. Shares of MU have since rebounded, while shares of SanDisk have stabilized but have failed to recover.
Even after its 14% tumble, SanDisk trades at a much higher P/E than Micron - 20X versus 14X. I have watched SNDK and MU trade in sync over the past three months. I believe investors now realize which company has better prospects, and I will tell you why.
Update as of August 23rd: Shares of SanDisk are still off 9% since July 16th while Micron is only down 3% from its 52-week high.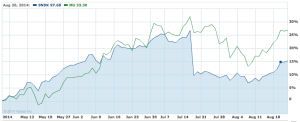 DRAM, NAND and Solid-State Drives
SanDisk's primary sources of revenue are SSDs (40%), removable storage (29%) and embedded flash (NAND) storage. SanDisk held the #3 spot in SSD in 2013, primarily driven by the company's acquisition of Fusion-io.
Micron is the #2 supplier of DRAM, following Samsung (OTC:SSNLF) and leading Hynix (OTC:HXSCF). These three control 80% of the market.
Micron is the #3 supplier of NAND, behind Samsung and Toshiba (OTCPK:TOSBF). Again, the combined market share of the top 3 players is 80%.
Micron is the #4 supplier of SSDs, behind Samsung, Intel (NASDAQ:INTC) and SanDisk. The combined market share of the top 3 players is 54%. Micron's leap from #8 in 2012 to #4 in 2013 was propelled by organic growth (i.e., without the aid of an acquisition such as SanDisk's).
The main reason I prefer shares of Micron to SanDisk is that 40% of SanDisk's revenue comes from SSDs. SSD is by far the most competitive memory sector. Micron already controls a top 3 spot in both DRAM and NAND marketplaces, in which the top 3 control 80% of revenue. The top 3 players account for only 54% of the SSD market, however. If you include #4 (Micron) and #5, the top players still control only 66% of the market. This leaves plenty of room for consolidation, possibly at SanDisk's expense. Micron, meanwhile, is taking market share in the SSD space.
Better Investment: Micron or SanDisk?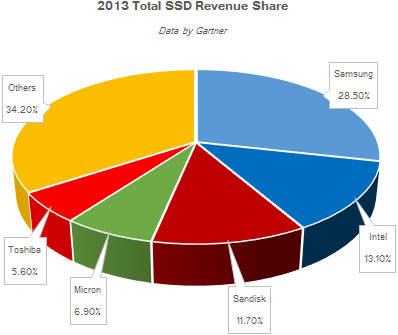 SSD industry revenue reached $10.9B in 2013. According to the IDC chart below, the growth trend is expected to continue over the next several years. Micron continues to aggressively grow sales by marketing Micron-branded SSDs. Keep in mind that Micron is the world's #3 supplier of NAND, a key component in SSDs. It thus controls a crucial piece of its own supply chain. SanDisk, by contrast, co-owns NAND fabs with Toshiba. Its NAND supply is thus susceptible to compromise. Controlling its own NAND inventory improves Micron's ability to market and sell its SSD products.
The SSD market will likely continue to consolidate for the next several years. Eventually it will probably resemble the NAND and DRAM markets, with the top 3 players controlling more than 80%. As the NAND and DRAM markets consolidated, Micron emerged as one of the top 3 players. I believe Micron's strong balance sheet and proven survival skills will win a place on the SSD winner's podium when everything is said and done. I currently maintain a $61 price target for shares of Micron and rate the company a strong buy.
Prepare for "Big Data" Explosion
Data consumption and growth is just beginning to ramp. Sensors made by InvenSense (NYSE:INVN) and others will gather and store information about our habits and environment. Retail stores are already beginning to deploy interactive technology to improve the shopping experience. Apple (NASDAQ:AAPL) recently announced a partnership with IBM (NYSE:IBM) to transform "enterprise mobility through a new class of business apps-bringing IBM's big data and analytics capabilities to iPhone and iPad."
This partnership will require the iPhone and iPad to have more memory and computing power in order to enable intensive data analysis. This is a long-term positive for shares of Micron Technology. iPad and iPhone sales will likely grow faster than the smartphone and tablet industries as corporate customers opt for mobile devices with Apple/IBM apps for data analysis.
GT Advanced Technologies (GTAT) will also benefit from the Apple/IBM partnership. As corporate customers purchase more Apple devices with sapphire cover screens, GTAT should enjoy healthy revenue growth.

PTTResearch.com, PoisedToTriple.com, WallStreetForensics.com, SolarStockIdeas.com, and The PTT Insider are property of PTT Capital, LLC. This information is confidential and for the information of the addressee only, and may not be reproduced, in whole or in part, copies made or circulated, or disclosed by the addressee to another party, without the prior written consent of PTT Capital, LLC. Our content should not be consumed without reviewing our latest Methodology, which discloses our investment philosophy and trading practices. Mark Gomes' Methodology is subject to updating, but publicly available at PoisedToTriple.com or upon written request. Information and opinions presented herein has been compiled from sources believed to be reliable, but PTT Capital, LLC makes no representation at their accuracy or completeness. This communication reflects PTT Capital, LLC's opinion as to the securities mentioned herein, but is neither an offer to sell nor a solicitation to buy them. Copyright 2014 PTT Capital, LLC. All rights reserved. Past performance does not indicate or guarantee future results.
Disclosure: The author is long MU, GTAT.
The author wrote this article themselves, and it expresses their own opinions. The author is not receiving compensation for it. The author has no business relationship with any company whose stock is mentioned in this article.