By Chris McKhann
Significant call activity is lighting up our screens today after shares of Williams (NYSE:WMB) gapped higher this morning.
The natural-gas producer trades at $26.66, up 2.97 percent on the day, even as it pulls back from the session's peak at $27.06. These are the highest prices for WMB since September 2008 and represent a 50 percent increase from support at $18 last seen in September 2010.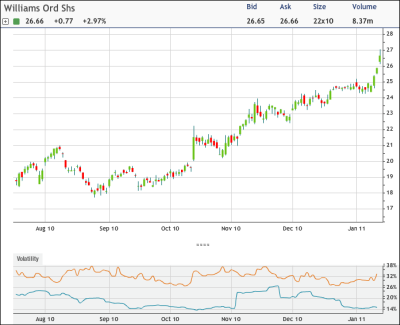 The total option volume in WMB today is 115,000 contracts, about 100,000 more than the daily average of the last month. Much of this is tied up in a large call spread.
A trader sold 49,031 February 28 calls for $0.44. This was less than the open interest of more than 74,000. At the exact same time 16,933 May 28 calls bought for $1.24 against open interest of just 462.
This could be a roll or a calendar ratio spread. The former would simply involve the trader closing out an existing long position in the February calls and buying essentially the equivalent dollar amount of the further-out calls.
The calendar ratio spread would mean that both sides of the trade were new opening positions. In that case the overall position would be bearish at the outset but would take its maximum profit--from time decay--if shares are around $28 at expiration.

Disclosure: No position