Today, we want to focus less on the companies behind the commodities and more upon recent factors which have been driving commodity prices. The strength in the US Dollar has been gaining steam, and attention, but that paired with the strength in US treasuries and US equities had us scratching our head recently. The only explanation for the trifecta was that outside capital was flowing into the US as geopolitical concerns were causing investors to once again seek a safe harbor.
While it does appear that outside capital has been behind the move, the speculation in recent days that the ECB is in some way behind the move adds intrigue to this situation. It could also lead to further headwinds for commodity prices and short-term pain for those betting that the ECB moves to implement some sort of quantitative easing program(s) come Thursday.
Looking to the commodity market, we want to direct readers' attention toward the gasoline, gold, natural gas and oil markets. All four commodities are under pressure and some are now approaching levels which have been support during previous downturns.
Chart of the Day:
The two-year chart below of the euro in US Dollar terms highlights the weakness in recent months for the euro and shows the euro trading very close to one-year lows.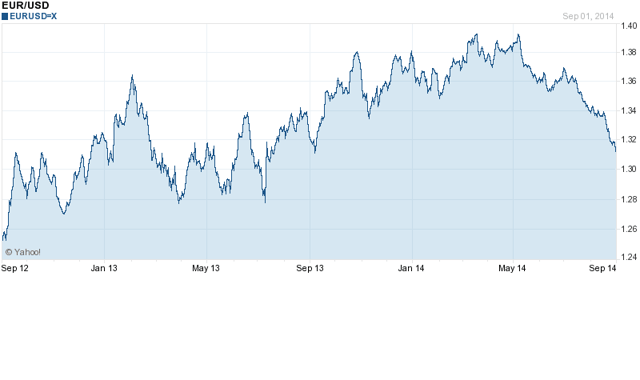 Source: Yahoo Finance
Commodity prices are as follows (at time of submission):
Gold: $1,265.30/ounce, down by $22.10/ounce
Silver: $19.16/ounce, down by $0.332/ounce
Oil: $93.87/barrel, down by $2.10/barrel
RBOB Gas: $2.5684/gallon, down by $0.0545/gallon
Natural Gas: $3.908/MMbtu, down by $0.157/MMbtu
Copper: $3.1665/pound, up by $0.006/pound
Platinum: $1,411.90/ounce, down by $12.80/ounce
Looking At The Eurozone
We read a number of interesting newsletters and articles this weekend which lead us to believe that the ECB will probably not discuss a QE program because there is already one underway. As readers of our daily articles know, we have spent a good deal of time covering the US Dollar Index due to its importance to the commodity market and pricing. The index has been quite strong as of late and much of the speculation has been on capital inflows from geopolitical events.
But maybe, just maybe, the ECB has already begun a QE program whereby they seek to devalue the euro while increasing the US Dollar via the US treasury market. If the speculation here is correct, then it would appear that the ECB is injecting money into the world economy to devalue their currency to give exporters, German exporters, a boost and to potentially help member states with their debts long-term.
With the ECB getting a lower euro right now, we would be surprised if they announced QE programs or measures on Thursday.
New EU Sanctions?
With rumors of fresh sanctions on the way, investors are focusing on news that the EU may include in the latest sanctions a ban on the transfer of energy technology to Russia. While this is all talk right now, it could impact big names in the energy sector including BP (NYSE:BP) and Royal Dutch Shell (NYSE:RDS.A) (NYSE:RDS.B). Both companies have joint venture operations in Russia which focus on very complicated projects and are using technology from the West to increase production and make these projects more profitable long-term.
BP was already an attractively priced 'Big Oil' stock, and with the recent pullback it once again looks cheap when compared to some peers.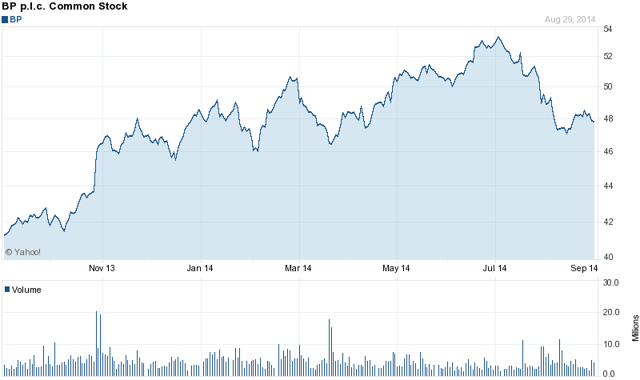 Source: Yahoo Finance
As we look at BP, we are still attracted by the value in the name, but recognize that right now there is an awful lot of risk on the table with possible sanctions coming from the EU. We think it's more saber rattling and talk than a planned course of action, but still we think investors need to hedge their bets right now. For those looking to buy right now, we think that a buying program should be put into place with no more than 50% of a desired position being purchased in the present and future purchases being made closer to $46/share; an area where we see a lot of support for the shares.
Disclosure: The author has no positions in any stocks mentioned, and no plans to initiate any positions within the next 72 hours.
The author wrote this article themselves, and it expresses their own opinions. The author is not receiving compensation for it (other than from Seeking Alpha). The author has no business relationship with any company whose stock is mentioned in this article.
Additional disclosure: BP has previously been recommended.