There are three broad technology ETFs that dominate the competition. These are the $14 billion in assets SPDR Technology Select Sector Fund (NYSEARCA:XLK); the nearly $6 billion Vanguard Information Technology Index Fund (NYSEARCA:VGT) and the $4 billion iShares U.S. Technology Sector Index Fund (NYSEARCA:IYW). All three of these funds are popular with investors, but the funds have some important differences between them.
Expenses
VGT is slightly cheaper, at 0.14 percent, than XLK, at 0.16 percent. IYW is relatively expensive at 0.46 percent.
VGT can be traded commission free at Vanguard.
Indexes
VGT tracks the MSCI US Investable Market Information Technology 25/50 Index
XLK tracks the S&P Technology Select Sector Index
IYW tracks the Dow Jones U.S. Technology Index
Of these three indexes, XLK has the greatest difference because its index includes telecommunications services. Verizon (NYSE:VZ) and AT&T (NYSE:T) combine for 10 percent of XLK's assets, and other small holdings lift the sector to 11 percent of assets. Investors bullish on the telecommunications sector will want to lean towards XLK, while investors looking for pure technology exposure may want to pass on the fund.
XLK and VGT also hold credit card companies MasterCard (NYSE:MA) and Visa (NYSE:V), firms such as Automatic Data Processing (NASDAQ:ADP) and Accenture (NYSE:ACN), in addition to a few other non-core technology holdings. For investors looking for pure technology exposure, XLK's portfolio is only offering around 82 percent exposure to technology. VGT offers about 11 percent more exposure thanks to not holding telecoms, but otherwise holds many similar names with only slightly smaller weightings than XLK.
In terms of pure technology exposure, investors will want to look to IYW first, followed by VGT and XLK.
Portfolios
All three funds use market capitalization weighted indexes and this leads to some hefty overweighting of the top ten holdings. VGT is the least overweight of the three, with 56.1 percent of assets in the top 10 as of July 31. XLK has 58.6 percent of assets in the top 10 and IYW has 65.6 percent.
However, VGT counts holdings in two classes of Google (NASDAQ:GOOG) (NASDAQ:GOOGL) shares as a single holding. Splitting Google Class A and Class B into two holdings as XLK and IYW do drops VGT's top 10 weighting to 53.5 percent.
When it comes to individual holdings, VGT is again the least concentrated. Top holding Apple (NASDAQ:AAPL) has 14.8 percent of assets. XLK has 15.9 percent of assets in Apple and IYW places a whopping 18.7 percent in the stock.
VGT has by far the most holdings overall, with 462, more than triple the holdings in IYW and more than six times as many as XLK.
Taking into account the hefty over-weighing of top holdings in IYW, VGT is the superior fund in terms of diversification, with XLK not far behind.
Income
Thanks to its telecom exposure, XLK wins the income category going away. Its 1.65 percent yield is well ahead of IYW's 1.03 percent yield and VGT's 0.93 percent yield.
Performance
Past performance does not equal future results, but over the past 10 years, VGT has an annualized return of 10.16 percent, versus 9.84 percent for IYW and 9.40 percent for XLK.
Over the past 5 years, VGT has an annualized return of 16.91 percent versus 16.51 percent for XLK and 16.06 percent for IYW.
Over the past 3 years, VGT has an annualized return of 22.02 percent versus 21.11 for XLK and 20.67 percent for IYW.
In the past 1 year, IYW has a return of 33.32 percent, versus 31.18 percent for VGT and 30.20 percent for XLK.
The charts below show how funds trade in relation to other. All three track very tightly as their returns show, but the charts below isolate their relative performance using price ratios. The first is the price of VGT divided by the price of XLK; VGT divided by IYW in the second, and XLK divided by IYW in the third. These prices are adjusted for dividends. A rising line indicates outperformance for the first fund listed.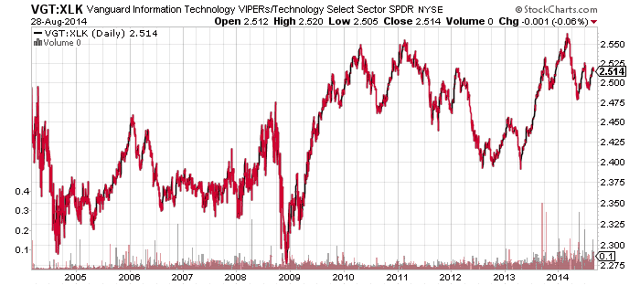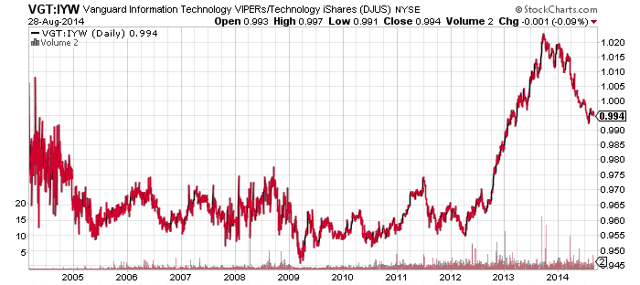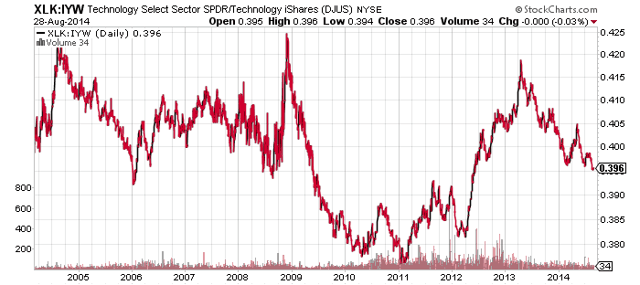 The charts show a general outperformance trend by VGT versus XLK, and also for IYW versus XLK. The chart of VGT and IYW is the most interesting. It shows VGT and IYW relatively consistent, with a slight bias in IYW's favor, until late 2012. What can account for the sudden surge in relative performance by VGT? Apple. The stock traded above $700 per share in September 2012 and shares didn't bottom until falling below $400 in the summer of 2013, a loss of more than 40 percent.
The changing price of Apple would change its weight in the portfolios, but using the current weights, if Apple were to move 40 percent in one day, it would translate into a 5.92 percent move in VGT and a 7.48 percent move in IYW.
The chart below shows the price of Apple as a dashed line behind the VGT and IYW ratio chart, starting in summer 2012. Notice that the occasional price spikes up and down in Apple tend to line up with opposite spikes in the ratio chart, since it measures VGT over IYW. This is the effect of heavy single-stock exposure on a fund.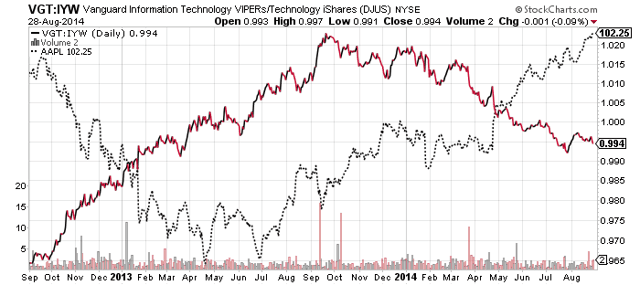 Conclusion
All three of these funds have something in their favor. XLK has higher income, IYW the purest technology exposure, and VGT the most diversified across holdings.
They also have weaknesses: XLK has a lot of telecommunications and non-tech exposure, IYW is heavily overweight its top holdings, while VGT has some non-tech exposure.
Taking into account everything, including expenses, VGT should be the default choice among the three. VGT isn't perfect with pure technology exposure in the low 90 percent range, but it's well ahead of XLK's low 80 percent figure. VGT also has less single stock exposure to Apple and has a more diversified portfolio. Over time, those advantages, plus low fees, work in VGT's favor.
Disclosure: The author has no positions in any stocks mentioned, and no plans to initiate any positions within the next 72 hours.
The author wrote this article themselves, and it expresses their own opinions. The author is not receiving compensation for it (other than from Seeking Alpha). The author has no business relationship with any company whose stock is mentioned in this article.