Catalent, Inc. (NYSE:CTLT) - Buy Recommendation - $22.75.
The 40-day quiet period on underwriter analyses that began with the July 30 IPO of Catalent, Inc. will come to an end on September 8, allowing the firm's IPO underwriters to publish analyses of the Blackstone-backed drug delivery firm on September 9.
CTLT's share prices will likely see a temporary rise, in response to the release of the underwriter reports.
Powerful Underwriters Could Boost Share Price At Quiet Period Expiration
CTLT's IPO underwriters, including J.P. Morgan Securities LLC; Morgan Stanley & Co. LLC; Blackstone Advisory Partners (NYSE:BX); Deutsche Bank Securities Inc.; BofA Merrill Lynch; Evercore Group L.L.C; Jefferies LLC; Piper Jaffray & Co.; Wells Fargo Securities, LLC; Goldman, Sachs & Co.; Raymond James and Associates, Inc.; and William Blair and Co., L.L.C will seek to capitalize on the stock's recent growth through the release of positive reports beginning with the conclusion of the quiet period.
Dan Bradley, PhD, CFA, affiliated with the University of South Florida, and his colleagues describe how analysts initiate coverage immediately for 76% of firms upon the conclusion of the quiet period, almost always with a rating of "Buy" or "Strong Buy" (Journal of Finance 2003).
Share prices typically rise before the date of the quiet period expiration, as investors anticipate positive reports from the IPO underwriters and purchase shares ahead of the expiration in order to take advantage of the forthcoming analyses.
For the two days preceding and the two days following the date of initiation, additional studies show abnormal positive returns, ranging from 2% (Highfield, Lach, and White, 2001) to 4.1%-6.4% (Carter, Piwowar, and Strader, 2001).
Bradley et al. also find a significant correlation between the quantity and visibility of IPO underwriters, and increasing share prices near the expiration of the quiet period.
Our own research, conducted on a sample of 2014 IPOs, finds above-market returns of 2.3% within an 8-day (-5, +2) period (day 0 being expiration). These data are statistically significant at the 90% level. When we exclude IPOs for banks and REITs, returns increase further and remain within the 90% significance level. We also find that a greater number of underwriters can lead to diminished volatility of returns in the quiet period. We observed no significant linear relationship between market capitalization and returns or volatility of returns in the same period. We also observed no significant linear relationship between the percentage of the company floated at the time of the IPO and returns or volatility of returns.
Early Market Performance
CTLT's IPO priced at the midpoint of its expected price range of $19-$22 per share, at $20.50 per share, during an overcrowded week of 15 IPOs; the stock made a small first-day loss of 2.5%. CTLT dropped to close as low as $19.85 per share on August 1, before bouncing back to close at its IPO price on August 11.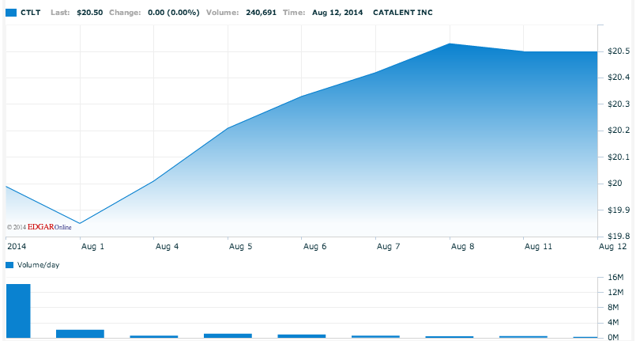 (Nasdaq.com)
Business Overview: Customers Include Pfizer, J&J, Merck, GlaxoSmithKline, Teva, & More
CTLT is a global provider of numerous health products and drug delivery technologies, including products for large molecule biologics, small molecules, and consumer health products.
CTLT's solutions have had a part in nearly half of the new drug products approved by the FDA over the last decade; the firm produces more than 70 billion doses for nearly 7,000 products per year. CTLT's major customers include Pfizer (NYSE:PFE), Johnson & Johnson (NYSE:JNJ), Novartis (NYSE:NVS), Merck (NYSE:MRK), GlaxoSmithKline (NYSE:GSK), Teva (NYSE:TEVA), and many others.
The firm is often able to form long-term relationships with its customers over the course of a given product's lifetime, and the specificity and complexity required of the firm's solutions often lead its customers to include CTLT in its regulatory filings. CTLT holds approximately 1,300 patents and patent applications related to its products. The firm's technologies include its oral dissolving tablets, softgel capsules, unit dose liquids, and many others.
Blackstone-Backed, No Direct Comparable Competitors
The Blackstone Group acquired CTLT in April 2007; the firm had been the Pharmaceutical Technologies and Services segment of Cardinal Health (NYSE:CAH). CTLT has enjoyed growing revenues and declining losses since Blackstone's takeover, though it has not yet achieved profitability.
CTLT has no directly comparable competitors, but does compete with various other firms on a product-by-product basis.
The firm could face problematic competition in some markets from firms with greater financial resources, particularly in markets where its intellectual property rights may not be respected, such as India.
Management: 20 Years Prior With GE Healthcare
John R. Chiminski has served as CTLT's president and CEO since March 2009.
He previously worked in various in engineering, operations, and senior leadership positions with GE Healthcare over the course of over 20 years, including stints as the president and CEO of GE Medical Diagnostics, vice president and general manager of GE Healthcare's Global Magnetic Resonance Business, and vice president and general manager of Global Healthcare Services.
Mr. Chiminski holds a B.S. from Michigan State University and an M.S. from Purdue University, both in electrical engineering, as well as a Master in Management degree from the Kellogg School of Management at Northwestern University.
Conclusion: Slow Start, Strong Potential
Though CTLT got off to a slow start on the market, we remain optimistic for the firm's future.
CTLT is a leader in its field, and has a proven track record of building strong relationships with leading drug and health companies.
The firm should be able to maintain its leadership position through the significant barriers to entry for potential competitors - manufacturing demands and proprietary technologies, as well as others.
Investors who wish to buy into CTLT may wish to take advantage of the strong buying opportunity presented by the upcoming quiet period expiration, and the fact of it being backed by very powerful underwriters.
We encourage readers wishing to join the discussion on IPO quiet period expirations to click +FOLLOW above the title of this article - and those wishing for the latest updates to click +Get real-time alerts.
Disclosure: The author is long CTLT. The author wrote this article themselves, and it expresses their own opinions. The author is not receiving compensation for it (other than from Seeking Alpha). The author has no business relationship with any company whose stock is mentioned in this article.