In 2005 and 2006, the Federal Reserve's quarter point interest rate hikes were too measured and too slow to curb real estate speculation (insert Greenspan blame here). Moreover, our central bank hesitated to slash rates more rapidly at the first signs of economic contraction in Q4, 2007. (Insert Bernanke blame here.)
Still, on a calendar year basis, 2007 was a solid 12-month period for the broader U.S. equity market. Granted, fears of sub-prime loans had rattled financial stocks. Sure, weak discretionary spending was having an adverse affect on the consumer sector. But otherwise, 2007 marked the fifth straight year of gains for the S&P 500.
"Systemic shock" didn't actually rear its ugly head until Q1, 2008. Crisis-level volatility didn't actually appear on the CBOE Volatility Index (VIX) until the Fed began orchestrating the J.P. Morgan Chase buyout of Bear Stearns in March of '08. (And for little more than a dance and a song!)
Shortly thereafter, of course, risk assets from stocks to commodities to foreign currencies to bonds cratered in unison. What's more, when it came to finding fault with the rapid destruction of wealth, many an expert turned to the chairman of the Fed and his confidantes. How did James Cramer put it... "They know nothing!"
Perhaps ironically, one might decide that China is in the early stages of the same dilemma; that is, the People's Bank alongside the Chinese government has been too slow to curb excesses in mainland property speculation.
For the record, I do not view the extreme appreciation in Chinese real estate in the same manner as I viewe/viewed the U.S. housing bubble. Is China real estate speculative? Yes. Could Chinese homeowners lose a bundle? They could. Yet the citizens are not over-leveraged the way Americans were nor is China's government as far behind the eight-ball as America was.
(Quite frankly, China could bail out its people if it really had to. It's a creditor nation, not a debtor nation like the U.S. Not that I really think it will ever come to that.)
Nevertheless, the U.S. housing mess did cripple fairly valued or slightly overvalued U.S. stocks. And specific U.S. sectors – consumer discretionary, financials — severely underperformed the broader U.S. market in 2007… well before the 2008 apocalypse.
Strangely enough, it's been a tough road for Global X China Financials (NYSEARCA:CHIX) and Global X China Consumer (NYSEARCA:CHIQ). Not only are these ETFs flirting with tenuous support at respective 200-day moving averages, but they are down 5% and 10% over the last 3 months. SPDR China (NYSEARCA:GXC) is flat over the same time period.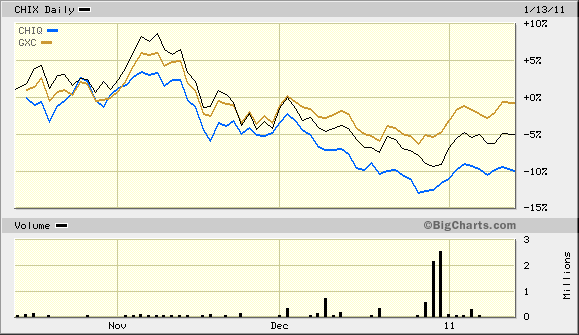 In my estimation, you simply can't draw parallel lines between the disparate scenarios. Here, China is engineering a soft economic landing by curbing excesses. In so doing, consumer purchasing power and consumer lending are feeling the pain.
By the same token, keep a watchful eye out for the time that China's monetary/fiscal policy shifts from restrictive to neutral/accomodative. Shares of Global X China Financials (CHIX) and Global X China Consumer (CHIQ) could very well be in high demand.
Disclosure: Gary Gordon, MS, CFP is the president of Pacific Park Financial, Inc., a Registered Investment Adviser with the SEC. Gary Gordon, Pacific Park Financial, Inc, and/or its clients may hold positions in the ETFs, mutual funds, and/or any investment asset mentioned above. The commentary does not constitute individualized investment advice. The opinions offered herein are not personalized recommendations to buy, sell or hold securities. At times, issuers of exchange-traded products compensate Pacific Park Financial, Inc. or its subsidiaries for advertising at the ETF Expert web site. ETF Expert content is created independently of any advertising relationships.