Most readers of this esteemed website know what an Alpha is. For the benefit of others, let me define Alpha. Alpha is the excess returns that a portfolio manager can add over the returns of a relevant index. For the stock market in general, the S&P 500 index (NYSEARCA:SPY) is considered as a proxy. It is the benchmark against which many mutual fund and hedge fund managers who focus on stocks are measured. Many portfolio managers charge exorbitant fees for the promise of beating the S&P 500 and 99.99% of them fail to deliver on that promise. A typical portfolio manager who generates Alpha with a smaller portfolio fails to beat the S&P 500 index as size goes up. Warren Buffett famously said, size is an anchor to performance.
Many smart investors who lack the time and energy have realized that the indexing option is the best way to go. Even Warren Buffett recommends investing in the S&P 500 and wrote this in his will.
"What I advise here is essentially identical to certain instructions I've laid out in my will. One bequest provides that cash will be delivered to a trustee for my wife's benefit…My advice to the trustee could not be more simple: Put 10% of the cash in short-term government bonds and 90% in a very low-cost S&P 500 index fund. (I suggest Vanguard's.) I believe the trust's long-term results from this policy will be superior to those attained by most investors…"
Indexing, particularly in the form of ETF offers lower cost, lower portfolio turnover, lower tax impact and worry free investing. The S&P says "The S&P 500® is widely regarded as the best single gauge of large cap U.S. equities. There is over USD 5.14 trillion benchmarked to the index, with index assets comprising approximately USD 1.6 trillion of this total. The index includes 500 leading companies and captures approximately 80% coverage of available market capitalization". 1.6 trillion dollars is a staggering amount of money.
Can these investors do better with some other options. I'm not recommending investing with active portfolio managers who dazzle us with great performance for a decade and then leave the investors high and dry (Bill Miller anyone?). I recommend these five low cost index based ETFs that have consistently beaten the S&P 500 over the last 15 years. There is a high probability that their outperformance would continue in the foreseeable future.
The 5 ETFs that beat the S&P 500 index are:
All these 5 index based ETFs have more than $5 billion in assets, sport a low turnover, ultra-low expenses and comparable yields. The table below shows the returns over 1, 3, 5, 10 and 15 year periods. Note that over 5 years and above, these ETFs handily the beat S&P 500.

If the small difference (alpha) doesn't impress you, then wait until you see how much a hypothetical $10,000 investment has generated the excess returns.

Here is another way to look at the relative performances. Look how the S&P 500 (in yellow) is in the bottom of the pack.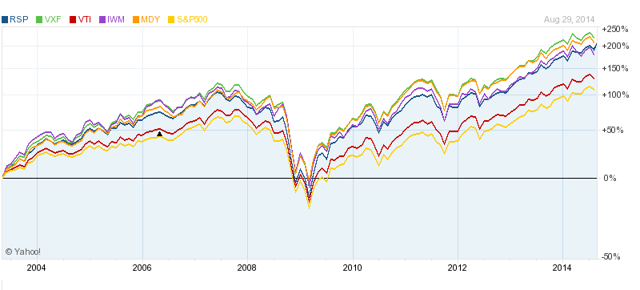 The underperformance over the 3-year period for MDY & IWM is very small. It really begs the question, how can the market be so inefficient? Why are investors mesmerized by the S&P 500 index? There could be several reasons. If I venture a guess, then it could be the following:
1. Investors are more familiar with S&P 500 compared to other indices. The media uses S&P 500 as a proxy for the market.
2. The S&P 500 index was one of the first indices to gain traction.
3. There is a fundamental bias against small & mid-cap stocks. The large caps in the S&P 500 are viewed as inherently safe stocks. On an individual basis, large cap stock is inherently safer compared to small and mid-caps but on an aggregate level, the risk is diversified away.
A prudent investor should take advantage of these biases and profit from it.
References:
Disclosure: The author has no positions in any stocks mentioned, and no plans to initiate any positions within the next 72 hours.
The author wrote this article themselves, and it expresses their own opinions. The author is not receiving compensation for it (other than from Seeking Alpha). The author has no business relationship with any company whose stock is mentioned in this article.