Every investor should have an asset allocation strategy that is appropriate for their time horizon and investment goals. Assuming an investor is trying to accumulate wealth to fund their retirement, an investor needs to select an asset allocation strategy, pick optimal investments for each asset class, and make changes as age or circumstances change. There is an opportunity for investors to track an appropriate asset allocation and implement it with low cost ETFs.
How the Market Tells us the Appropriate Asset Allocation Strategy
If we assume that wealth to fund retirement is the goal and ask 25 mutual fund companies for an appropriate asset allocation strategy, we will get 25 different strategies. Each mutual fund company's asset allocation strategy are effectively presented to investors in the form of target date funds. The asset allocation is designed to change over time to grow more conservative as the investor approaches retirement. This is called the glide path. MarketGlide is a methodology that analyzes the top 25 target date funds and generates the market consensus asset allocation strategy for every year and therefore provides the glide path for the market (whitepaper published in Journal of Indexes is available here). This consensus is effectively the average of the top professional asset managers' asset allocation strategies.
As an example, the current MarketGlide 2030 asset allocation looks like this:
MarketGlide 2030 Target Date Asset Allocation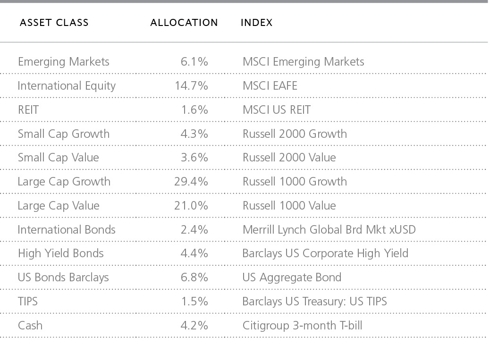 This reflects the market's average asset allocation strategy for the target retirement year 2030. Someone who is 45 today and targeting retirement in 2030 at age 65 could use this asset allocation strategy and make changes quarterly as the market changes.
Implementing the Market Consensus Asset Class Strategy with ETFs:
MarketGlide provides the market consensus asset allocation strategy for each target year. Using the MarketGlide allocation for any given target year, investors can now create portfolios with low cost or free ETFs that best track each asset class in the MarketGlide portfolio. Here is an example of how an investor can implement the 2030 MarketGlide portfolio using free or low cost ETFs at brokerages with iShares: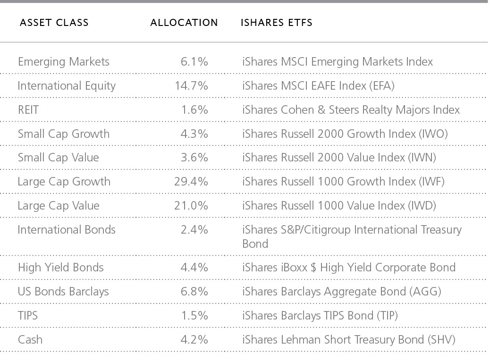 MarketGlide portfolios are rebalanced quarterly and an investor who invests in the tracking portfolio will benefit from a portfolio that will always reflect the changes that evolve in the market as the professional asset managers implement those in their target date funds.
Additional Information – Performance
MarketGlide Performance:
Here is the performance of the MarketGlide asset allocation strategy implemented with ETF portfolios compared against the top 3 target date fund providers: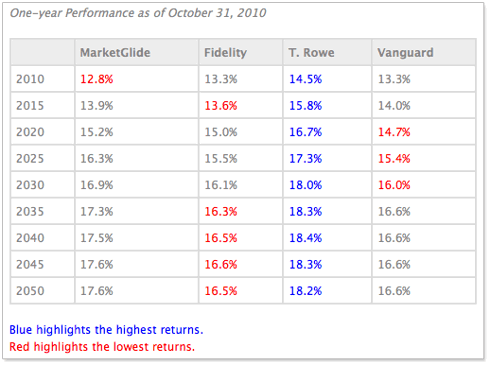 Disclosure: I have no positions in any stocks mentioned, and no plans to initiate any positions within the next 72 hours. Marketglide is a methodology created by Business Logic, but there is no cost to investors. This is just like any other asset allocation strategy provided by other contributors in other articles.